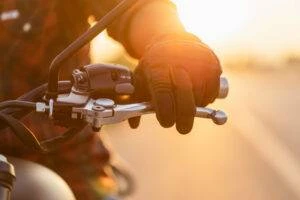 Riding a motorcycle is a freeing feeling and gives you a better view when you're traveling through Edwardsville. However, most drivers don't respect the space you deserve as a motorcyclist. As a result, you could suffer injuries in a severe accident, but our team of Edwardsville motorcycle accident lawyers can help.
At Morelli Law Firm, we have over 24 years of experience helping injured people get the justice and compensation they need. Our Edwardsville, IL, personal injury lawyers can help you build a motorcycle accident case.
What Is the Statute of Limitations for a Motorcycle Accident in Edwardsville, IL?
Illinois gives you two years from your motorcycle accident date to file a personal injury claim. This deadline is set to prevent courts from being overwhelmed and from filing delayed legal action years after the accident.
The statute of limitations is the most important deadline in your case. If you miss it and fail to file your claim, you won't be eligible to recover compensation. So, it's best to file your claim as early as you can.
For most people, it's after you receive medical care that you'll file your claim. Getting medical care after you suffer injuries is beneficial to your health and your case. After your examination, you'll have a full picture of all the damages you can recover.
What Injuries Can You Suffer in an Edwardsville Motorcycle Accident?
When you're a motorcycle rider, you're more vulnerable to injuries. Due to the lack of protection that cars have, injuries you suffer are more likely to take a tougher toll on your body. Here are the most common injuries you can suffer in a motorcycle accident:
Head and Brain Injuries
If you're in a motorcycle crash without a helmet, your head is at severe risk of traumatic injuries. Even at low impact speeds, your skull could fracture on the pavement, causing internal bleeding and bruising on the brain tissue. You may suffer a concussion that leads to ongoing cognitive issues or lose consciousness entirely.
The effects of a traumatic brain injury can be long-lasting and change your life completely; you might endure chronic headaches, memory loss, and difficulties with problem-solving or multitasking. Our motorcycle accident attorneys in Edwardsville ensure all present and future costs associated with brain injury rehabilitation, therapy, and care plans are addressed through a full damage recovery.
Spinal Cord and Back Injuries
Without sufficient back and neck protection, the force of an accident can twist your spine in dangerous ways. Extension injuries may result in broken or herniated discs that directly impact the spinal cord.
You could face paralysis below the neck or lifelong chronic pain limiting your mobility and activities. Even after intensive physical therapy, spinal injuries often come with long-term disability; you may have to give up your career, take on daily care costs, or live with a reduced quality of life. Our attorneys will pursue damages sufficient to compensate you for surgeries, lost income, ongoing medical needs, and more.
Upper Extremity Fractures and Dislocations
In the event of a crash, your arms have nowhere to go but outward. The impact could shatter bones, dislocate shoulders or elbows, or tear ligaments in your hands and wrists without thick protection.
As a result, you may need pins, plates, or reconstructive procedures to repair significant damage. Long-term, you may find it difficult to perform everyday tasks or return to your regular duties at work with lingering limitations. We'll make sure that you get proper compensation to cover the expense of upper body injuries and their effects throughout your lifetime.
Lower Limb Fractures
Even with protective motorcycle boots, crashes can result in gruesome injuries below the waist. A direct collision or sliding along the pavement may leave you with compound or comminuted lower leg or ankle fractures, broken knees, or crushed feet and toes.
Severe leg injuries often dictate a lengthy hospital stay and reconstruction using hardware like rods, plates, and screws. You'll face arduous rehabilitation to regain mobility, but some disabilities from lower limb trauma may be permanent. Our Edwardsville motorcycle lawyer advocates maximum damages for the costs of your care and lost ability to engage in life activities.
What Damages Can Morelli Law Firm Help You Recover?
After suffering injuries and losses in a motorcycle accident, our law firm is ready to help you. Here are the damages an Edwardsville motorcycle accident lawyer can recover for you:
Medical expenses

: Past and future costs for hospital bills, surgery, prescribed medications, rehabilitation therapies, and other costs.

Lost wages

: If you miss time from work while recovering, you can recover the income lost.

Property damage

: If your motorcycle was damaged or totaled, its diminished value is recoverable.

Pain and suffering

: Compensation for physical and emotional pain from injuries and disfigurement.

Loss of enjoyment of life

: Inability to participate in activities or hobbies as you enjoyed pre-crash.

Trauma and psychological impacts

: PTSD, anxiety, depression, or other mental or emotional consequences.

Loss of consortium (if married)

: Damages for how the crash affected your spouse's companionship.
What Damages Can You Recover for Wrongful Death in Illinois?
If you lost a loved one in a motorcycle accident, our team of accident lawyers is truly sorry for your loss. We understand that losing someone you love is an immensely difficult time.
We know that no amount of money can bring back your loved one, but recovering damages could help you deal with the economic consequences. Our team of Edwardsville, IL, wrongful death lawyers can help you recover wrongful death damages such as:
Funeral and burial expenses
Medical bills that were left unpaid
Loss of inheritance and benefits
Loss of household services
Pain and suffering
Loss of companionship
Loss of protection and nurturing
Loss of consortium
Contact Us Today to Start Your Edwardsville Motorcycle Crash Case
At Morelli Law Firm, our team of Edwardsville motorcycle lawyers is ready to help you gather evidence to build a strong motorcycle accident case. We offer a free case consultation where we can tell you what damages you qualify for.
Contact us today for a free case evaluation.