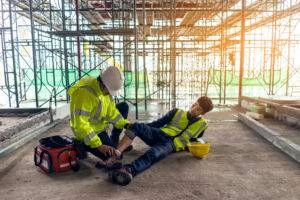 The construction industry is among the most dangerous. Catastrophic injuries occur on construction sites at a high rate due to the various hazards workers face daily. If you were injured at work, there are options for financial recovery. A construction accident lawyer in Edwardsville, IL, will determine if you should file a workers' comp claim or a lawsuit based on the details of your case.
If you have suffered a severe injury while on the job, recovering compensation is critical. At the Morelli Law Firm, we have helped countless construction accident victims get the money they need after an injury. Contact us today to get a free consultation with one of our Edwardsville personal injury lawyers.
Liability Will Determine Your Options for Recovering Compensation
Proving liability is a critical first step when attempting to recover compensation after an injury. In a construction accident case, establishing fault will inform you of who to pursue compensation from and determine how you can pursue damages.
If your injury was caused by an unavoidable danger of the job, you will likely have to file a workers' comp claim to get the money you need. However, there are cases in which you can file a personal injury lawsuit against your employer instead. For example, if your employer intentionally caused you harm, you will be able to sue them for damages.
Employers are required to respect the Occupational Safety and Health Administration (OSHA) standards for the construction industry and provide a reasonably safe work environment. Although construction comes with inherent risks, unnecessary hazards should be removed, and adequate safety equipment should be provided. If your employer fails in this duty, you can file a lawsuit.
You could also file a third-party liability claim against parties other than your employer. This could include subcontractors, property owners, or equipment manufacturers whose negligent actions contributed to your injury on the construction site.
The Pros and Cons of Settling Out of Court
The majority of construction accident cases conclude in out-of-court settlements. The reason settlements are so common is that they are generally in the best interest of both parties.
For the injury victim, a settlement offers a means of recovering compensation that is far quicker than going to court. While a trial could result in collecting a larger payout from the at-fault party, the possibility of an unpredictable jury trial ending in a verdict that is not favorable is rarely worth the risk.
For the defendant, a settlement offers the added benefit of reduced legal fees. While going to trial could result in a win, a compromise is often the safer bet. Settling also allows the defendant to avoid any unwanted media coverage that may accompany a trial.
Negotiating With Insurance Companies for Maximum Compensation
Construction accidents can result in significant physical, emotional, and financial burdens. Dealing with insurance adjusters on top of this adds to the stress you are experiencing. Furthermore, successfully navigating the insurance landscape requires a skilled and strategic approach.
We understand the tactics employed by insurance companies to minimize payouts, and we're here to counteract those efforts. With a deep understanding of construction industry nuances, we know how to build a compelling case that demands fair compensation.
Damages You Can Recover After a Construction Accident in Edwardsville
After getting injured in a construction accident in Edwardsville, there are many damages you could recover. Determining the specific damages that apply to your case will depend on the details of your accident and the compensation path you are pursuing.
If, for example, you are attempting to recover compensation through a workers' comp claim, you will be unable to pursue non-economic damages. However, when filing a personal injury lawsuit, you will be eligible to recover all forms of compensatory damages and may be able to collect punitive damages as well.
Economic Damages
All losses caused by your accident that impact you financially are categorized as economic damages. These cover all the money that your accident forced you to spend. Additionally, you can receive economic damages for the income you were prevented from earning because of your accident. Economic damages cover current costs and can also be awarded for future expenses.
Some of the most often claimed economic damages in construction accident cases include:
Medical bills

The cost of future medical care

Property damage

Lost wages

Diminished ability to earn income
Non-Economic Damages
Any other losses resulting from your accident are considered non-economic damages. While these are considered intangible losses, their impact on your life will still likely be significant. Non-economic damages are often very personal and usually can not be replaced. Because of this, the money awarded for these losses tends to be significant.
Some of the most often claimed non-economic damages in construction accident cases include:
Emotional distress

Diminished quality of life

Pain and suffering

Permanent disability

Loss of consortium
Our dedicated team will work closely with you to evaluate the full extent of your losses. While non-economic damages may be more difficult to calculate, we will rely on a wide range of evidence (such as medical records, witness statements, and expert witness testimonies) to build a convincing case.
Punitive Damages
Only available in a small percentage of cases, punitive damages are used to punish the liable party for the part they played in causing the accident. Punitive damages are only used in extreme cases where the liable party acted in a manner deemed grossly negligent or if they acted in a manner intended to cause harm.
Make Sure to File the Necessary Paperwork for Your Worker's Comp on Time
In Illinois, construction accident victims must report any injury to their employer within 45 days if filing a workers' comp claim. They will then have three years from the date of the injury to submit an official claim.
If you decide to file a personal injury claim against the responsible party, you have a limited time to do that. Under Illinois' statute of limitations, you generally have two years to submit all the necessary documents. However, based on the details of your case, a different time limit may apply.
If you miss the filing deadline, there is a strong chance that you will be out of options for recovering damages. However, in certain situations, the filing deadline can be altered by the details of the case. An exception to the deadline could result in an extension or limitation on the time you have to file.
The best thing to do when trying to figure out the deadlines that apply to your case is to hire an experienced construction accident attorney in Edwardsville as soon as possible after your incident.
Legal Action After a Fatal Construction Accident in Edwardsville
If you lost a loved one in a fatal construction accident, please accept our deepest condolences. We recognize the profound impact such a tragedy can have on a family and offer our support during this difficult time. In the face of such devastating loss, our Edwardsville wrongful death lawyers provide compassionate support.
While we understand that no amount of compensation can replace the loss of a loved one, we strive to alleviate the financial burdens that may arise. Holding the liable party accountable for their action may allow you to focus on healing and remembering your loved one.
Reach Out to an Experienced Edwardsville Construction Accident Attorney Today
To give yourself the best chance of recovering the money you need after an accident, hire an experienced personal injury lawyer. At the Morelli Law Firm, our team of construction accident attorneys has a history of securing favorable compensation both through settlement deals and court-ordered payouts.
Our compassionate lawyers will guide you through the legal process and help you secure fair compensation. Contact us today by phone or through our website to schedule a free case review with an experienced personal injury attorney.