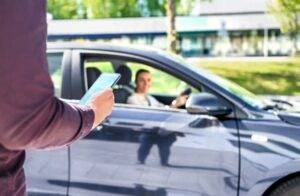 In the event of a rideshare accident in Edwardsville, having the expertise of a professional rideshare accident lawyer is crucial.
This article delves into the significance of hiring an Edwardsville rideshare accident lawyer, the legal process involved in such cases, and the ways in which these lawyers can assist in navigating insurance claims. Contact Morelli Law Firm now to speak with an Edwardsville personal injury lawyer.
The Importance of Hiring a Rideshare Accident Lawyer
When it comes to navigating the complex legal landscape surrounding rideshare accidents, hiring an experienced and knowledgeable rideshare accident lawyer in Edwardsville is of utmost importance. Rideshare accidents can be complicated, involving multiple parties, insurance companies, and legal regulations.
A skilled lawyer who specializes in rideshare accidents is well-versed in the specific laws and regulations that apply to these cases. They understand the unique challenges that arise when dealing with rideshare companies and can effectively advocate for the rights of their clients.
An Edwardsville rideshare accident lawyer can investigate the car accident, collect convincing evidence, communicate with insurance companies, and pursue a fair settlement or take the case to court if necessary. By hiring a trusted legal professional, individuals involved in rideshare accidents can ensure they have the best possible chance of obtaining the compensation they deserve.
Understanding the Legal Process in Edwardsville Rideshare Accident Cases
Throughout the course of Edwardsville rideshare accident cases, it is crucial to have a clear understanding of the legal process involved. Being aware of the steps and procedures can help victims navigate through the complexities of the case and ensure that their rights are protected.
Here are four important aspects to consider:
Filing a claim:

Understanding the process of filing a claim with the rideshare company and their insurance provider is essential. Victims need to gather evidence, document their injuries, and submit the necessary paperwork to initiate legal proceedings.

Determining liability:

Identifying the responsible party in a rideshare accident can be challenging. It requires a thorough investigation into the circumstances surrounding the accident, including the actions of the rideshare driver, other motorists, and potential third parties.

Negotiating a settlement:

In many cases, the parties involved may opt for a settlement instead of going to trial. Understanding the negotiation process and having skilled legal representation can help victims secure fair compensation for their

injuries

and damages.

Litigation: If a settlement cannot be reached, the case may proceed to litigation. Knowing the court procedures, deadlines, and rules of evidence is crucial to presenting a strong case and seeking justice.
How a Rideshare Accident Lawyer in IL Can Help You Navigate Insurance Claims
With the expertise of a rideshare accident lawyer in Edwardsville, victims can effectively navigate through insurance claims and ensure their rights are protected. Dealing with insurance companies can be a complex and frustrating process, especially when it comes to rideshare accidents. Insurance companies often try to minimize their liability and offer low settlements to victims.
However, an experienced rideshare accident lawyer can help victims understand their rights and negotiate with insurance companies on their behalf. They can gather evidence, evaluate the extent of the damages, and calculate the fair compensation that victims deserve.
Additionally, an Edwardsville rideshare collision lawyer can handle all the paperwork and deadlines associated with insurance claims, ensuring that victims receive the maximum compensation they are entitled to. By having a skilled lawyer by their side, victims can have peace of mind knowing that their interests are being protected throughout the insurance claim process.
Seeking Compensation for Injuries in Edwardsville Rideshare Accidents
How can victims seek compensation for their injuries in Edwardsville car accidents involving rideshare companies?
Hiring a knowledgeable rideshare accident lawyer who can help navigate the legal process and ensure victims receive fair compensation.
Gathering evidence such as accident reports, witness statements, and medical records to support the claim.
Filing a claim with the rideshare company's insurance provider, as they typically provide coverage for accidents involving their drivers.
Pursuing a personal injury lawsuit against the at-fault party, which may include the rideshare driver, another driver involved in the accident, or even the rideshare company itself.
Victims of rideshare accidents in Edwardsville have the right to seek compensation for their injuries. By following these steps and working with an experienced lawyer, they can increase their chances of obtaining the compensation they deserve.
Holding Rideshare Companies Accountable: Edwardsville Rideshare Accident Lawsuits
Rideshare accident victims in Edwardsville can hold rideshare companies accountable by filing lawsuits against them.
When a person is involved in an accident while using a rideshare service, they may suffer injuries and incur significant medical expenses, lost wages, and other damages. In such cases, it is crucial to understand that rideshare companies can be held liable for the actions of their drivers.
By filing a lawsuit against the rideshare company, victims can seek compensation for their injuries and hold the company responsible for any negligence or wrongdoing that contributed to the accident. These lawsuits can help bring about justice for the victims and ensure that rideshare companies prioritize safety and accountability in their operations. It is advisable for rideshare accident victims to consult with an experienced rideshare accident lawyer to understand their legal rights and pursue their claims effectively.
Contact a Rideshare Accident Lawyer in Edwardsville, IL
Hiring an Edwardsville rideshare accident lawyer is crucial for navigating the legal process, dealing with insurance claims, seeking compensation for injuries, and holding rideshare companies accountable.
With our experience in this area of law, Morelli Law Firm can provide the necessary guidance and support to ensure that victims of rideshare accidents receive the justice and compensation they deserve. Contact us now for a free consultation.