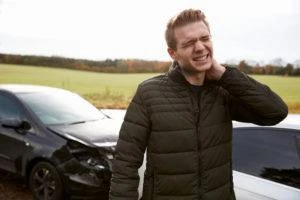 Recovering from a serious car accident can be extremely difficult without the assistance of an experienced lawyer. A seasoned car accident attorney can guide you through the claim-filing process and fight for the compensation you need to afford adequate medical treatment.
If you've been injured in a wreck, our Edwardsville car accident lawyers can help you build a claim that abides by state laws and yields a hefty settlement. The attorneys at Morelli Law Firm have helped auto collision victims get the settlements they're owed for years, so you can rest assured that your case is in good hands.
An Edwardsville Car Accident Attorney Will Assess Your Damages
To get the insurance payment you need to cover your medical bills, missed wages, and other losses, a car accident lawyer must assess your damages. They'll assign an accurate monetary value to each loss you've taken on as a result of the crash.
Once they've determined exactly how much you're owed, they'll be able to negotiate an insurance settlement that's sufficient enough to get you back on your feet. Depending on how the crash has affected your physical health, mental health, and financial status, you may be entitled to several of the following damages:
Economic Damages
Economic damages can replace tangible financial losses you've suffered due to your accident. They can be used to pay for doctor's appointments, hospital treatments, medication, and any other medical expenses you incur. Economic damages can also cover the cost of repairing your vehicle.
If you've had to take time off from work to see the doctor or simply to stay home and get the rest you need to heal, these damages can make up for the wages you've lost. They can also help you support yourself financially if your injuries have reduced your ability to earn money.
Non-Economic Damages
Non-economic damages can make up for less tangible losses that don't have an obvious monetary value. A car accident attorney from our team will work with experts to assign a dollar amount to your non-economic losses to ensure you receive the correct amount of money..
The damages you receive will compensate for the pain and suffering your injuries have caused you as well as the mental distress you've experienced as a result of the crash. If you feel that your injuries have reduced your quality of life, non-economic damages can help you cope.
Punitive Damages
According to ILCS § 2-1115.05, claimants who sustain an injury as a result of the malicious or extremely reckless action of another party are permitted to file for punitive damages. Such damages don't replace a specific loss but rather act as a form of punishment for the at-fault party and set an example for others.
If you were injured in a collision with an intoxicated driver or a motorist who was driving with exceptional disregard for the safety of others in Edwardsville, your lawyer may add these damages to your car accident claim.
Comparative Fault in an Edwardsville Car Accident
To get the damages you're eligible to receive, your car accident attorney in Edwardsville must prove that the other driver caused the accident and is liable for your injuries. Illinois follows a comparative negligence rule, which means both parties involved in the crash may be assigned a percentage of fault.
For example, if it's found that you were distracted during the crash and the other driver was fatigued, you'll both be assigned a percentage of fault equivalent to the part you played in causing the accident. You may be assigned 10% fault, which means you'll only be able to receive 90% of the damages available to you.
A Car Accident Lawyer Will Investigate Your Collision to Prove Fault
To ensure fault is assigned fairly and accurately, your lawyer will build a strong case that shows who is responsible for the accident. To do so, they'll need to collect substantial evidence and present it in a compelling way. Here are some of the documents and records they'll gather to build a winning claim on your behalf:
Videos and photos of the crash and its aftermath

Police reports or EMT records

Your medical records and bills

Witness testimony

Accident reconstruction expert testimony
Once a car accident attorney has collected and analyzed the evidence mentioned above, they'll be able to build a convincing claim for you. Once they've finished constructing your claim, they'll bring it to the guilty party's insurance company to negotiate a settlement.
Statute of Limitations for Car Accident Cases in Edwardsville
If you're seeking compensation for a car accident, you'll need to take legal action before Illinois' legal filing deadline. ILCS § 5/13-202 states that you have two years from the date of your auto collision to submit a civil suit.
Your Edwardsville car accident attorney will be familiar with the state's filing deadline and will work diligently to submit everything on time. However, they might not be able to file your suit before its due date if you don't give them enough time to do so.
Hiring an attorney immediately after a car wreck will give them more than enough time to meet important deadlines. That being said, there are expectations to the statute of limitations. If you believe you've waited too long to speak with a lawyer, contact one to see if your case qualifies for an extended timeline.
Speak With a Car Accident Lawyer From Edwardsville Today
Getting started on your case today will ensure that all deadlines are met and help you get the compensation you need ASAP. Reach out to an Edwardsville car accident lawyer from our team to take the first step towards your settlement. They'll offer you a free consultation, and if they decide to take on your case, represent you for a contingency fee.
Our attorneys are highly experienced and have an impressive history of achieving favorable case results. If you want to maximize the amount of compensation you receive for your injuries and emotional hardships, contact the team at Morelli Law Firm today for a free cas evaluation.