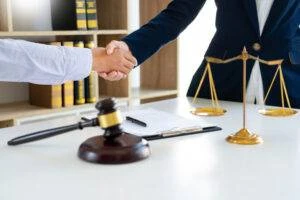 When disputes disrupt commercial operations, quick and effective legal representation makes all the difference. Competing against experienced opposition alone can put your business at risk.
As legal counsel for businesses throughout Illinois, the Edwardsville personal injury attorneys at Morelli Law are well-versed in successfully resolving complex civil matters efficiently.
Our approach emphasizes informed guidance complemented by thorough advocacy.
You will have a team on your side working diligently to minimize disruption and costs. Let our Edwardsville commercial litigation lawyers provide an assessment of your situation and find out how we can mitigate risks while keeping your organization moving forward successfully.
Types of Commercial Cases We Handle
We handle a wide variety of commercial litigation and business law claims. Here are some examples of the common types of cases we handle:
Intellectual Property Protection
We defend against intellectual property infringement claims and aggressively assert rights to protect valuable trademarks, copyrights, patents, trade secrets, and more from misuse. Early monitoring of IP rights helps avoid costly surprises down the road.
Real Estate Matters
As a full-service commercial law practice, Morelli Law represents clients in complex real estate litigation, leasing issues, property disputes, title insurance claims, and development/zoning compliance problems involving land.
Shareholder and Partnership Disputes
Disagreements within business ownership structures can endanger hard-won stability and success if not handled properly. At Morelli Law, we understand the various pressures and complex relationships that exist between shareholders, owners, partners, and boards of directors.
Unfortunately, disputes do arise over internal governance, decision-making, finances, and more. Our attorneys can assist with a range of issues like oppression claims, dissolution actions, buy-sell agreements, shareholder rights, deadlock breaks, and ownership interest valuation disagreements.
We aim to resolve frictions constructively and restore alignment amongst ownership through open-minded guidance. If consensus cannot be reached, we will thoroughly prepare and represent your interests in legal proceedings regarding partnership or corporate disputes.
Contract Disputes
Contracts are crucial to any business, but disagreements do sometimes arise over terms, conditions, or performance expectations. We aim to minimize your risk of contractual issues through carefully crafted documentation and senior legal counsel available from inception.
Whether negotiating deals, drafting, or reviewing all manner of business contracts, our attorneys will advocate strongly for our clients' interests. If disputes do occur, rest assured that we will aggressively handle litigation to settle conflicts efficiently and in your favor.
Our team understands the complexities involved and will work diligently to obtain a resolution through mediation or trial that allows your business relationships and operations to continue without disruption.
Commercial Disputes
When disagreements between businesses arise, it's important to resolve them efficiently while protecting your interests. Our commercial litigation attorneys in Edwardsville have the resources to handle a wide variety of commercial disputes, such as contract breaches, intellectual property issues, real estate conflicts, and more.
Employment Disputes
Unfortunately, workplace conflicts do arise from time to time, whether due to discrimination, harassment, wage violations, or other issues. Such disputes can be hugely distracting for a business if not resolved appropriately.
We understand how damaging these situations might be to productivity, morale, and your operations. If conflicts can't be avoided, we are prepared to vigorously defend client employers against any allegations or claims in court.
We have successfully represented numerous regional companies across a wide range of employment matters. You can feel confident leaving the legal handling of any workplace conflicts in our capable hands so you can keep your focus on productive business and job creation.
Collection Matters
Slow payments or non-payment from clients can significantly impact a business's cash flow and bottom line. Unfortunately, uncollected invoices are a common challenge that many companies face at some point. Our attorneys are equipped to aggressively pursue all potential remedies to recover unpaid debts and invoices owed to your business.
If needed, we will litigate collection matters in court and explore all legal means available. However, our preferred approach is to resolve matters efficiently before litigation becomes necessary whenever possible.
With Morelli Law assisting, you do not have to try handling problematic debtors alone. We aim to get your business properly paid so cash flow disruptions do not hinder daily activities or growth plans.
Alternative Dispute Resolution
When applicable, we utilize mediation, arbitration, and other alternative dispute resolution methods to bring a faster, cost-effective solution without protracted court battles.
Contact A Commercial Litigation Law Firm in Edwardsville Today
You need counsel who understands the realities of operating in today's legal landscape and will strive to resolve conflicts constructively without protracted battles. Morelli Law Firm is ready to put our extensive experience to work for your organization. Evaluating matters early is one less concern on your plate.
Our singular focus is on achieving an outcome that allows your company to thrive despite any dispute. Please contact us to arrange an initial consultation where we can discuss your situation in full confidence.
Our goal is to empower you with clear options and allow your company to continue growing. Let us demonstrate how we can effectively handle what you need, so you can get back to business as usual. Contact us today.