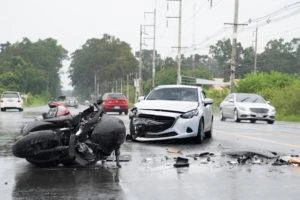 Due to the lack of protection offered by a motorcycle, when a rider gets into a crash, the resulting injuries are often significant. Unfortunately, in addition to being deadly, motorcycle accidents are also quite common. The frequency of these crashes is because these vehicles are harder to see and less stable, and many motorcyclists also take unnecessary risks.
If you get hurt in a motorcycle accident, securing compensation from the liable party is often an essential step on the road to recovery. At the Morelli Law Firm, we have helped countless motorcycle accident victims get the money they need. Contact us today for a free consultation with one of our Albany motorcycle accident attorneys.
Steps Your Motorcycle Accident Lawyer Will Take
After hiring a motorcycle accident lawyer, they will assume responsibility for all aspects of your legal case, allowing you to focus on recovering from your injuries. They will begin their duties as your representative by investigating your accident. The purpose of this inquiry will be to establish liability and build your compensation claim by accumulating evidence.
The steps of this investigation will likely include:
Visiting the scene of your motorcycle accident to gather evidence and take photos
Interviewing all available witnesses
Consulting with experts
Obtaining a copy of the official accident report
Reviewing your medical files related to your injury
Once this investigation is complete, your lawyer will calculate the value of your claim. They will then present their findings to you and advise you of the strength of your case and your best options to collect compensation. Next, your attorney will probably either file a personal injury lawsuit with the court or submit an insurance claim to the liable party's insurance provider.
When pursuing a lawsuit, your lawyer will go through the steps of the pretrial process as they build your case and prepare for a courtroom trial. However, most motorcycle accidents never make it to trial. Instead, they usually get settled through negotiations between your attorney and opposing counsel. This gets you paid quickly and lets you avoid the unpredictability of a trial.
Motorcycle Accident Attorneys Get Paid Based on Results
While many other lawyers charge their clients based on the number of hours they spend working on their cases, personal injury lawyers do things a bit differently. When you hire a motorcycle accident attorney, you won't pay any money upfront or have to worry about paying fees throughout the process.
Instead, your attorney will receive a single payment once your case reaches a conclusion. Their fee will be assessed as a portion of the compensation you receive. You will agree upon a percentage when you first hire your lawyer.
Under this contingency fee-based payment system, the money that your lawyer takes home increases when they get you more compensation. Alternatively, if they fail to secure you a payout, they don't earn a penny. Since your fates are intertwined, you can feel confident they will do everything in their power to secure you as much money as possible.
Claiming Damages After a Motorcycle Accident
After an injury sustained in a motorcycle accident, you will likely be able to recover several types of damages. The particular damages for which you will be eligible will depend on the specifics of your case. All of the damages you can potentially claim are divided into three main categories:
Economic
Non-economic
Punitive
Economic Damages
Economic damages are anything that directly costs your money. These losses include both money that you are unable to earn and money that you are forced to spend because of your accident. Both current and future losses can be reimbursed through economic damages. Commonly claimed economic damages include:
Medical bills
Future medical expense
Lost wages
Decreased earning capacity
Property damage
Non-Economic Damages
Any other losses you suffer are considered non-economic damages. While these losses don't directly cost you money, the losses you do incur are often far more substantial. Because of this, the amount awarded for these losses can be quite significant. Common non-economic damages include:
Diminished quality of life
Loss of consortium
Pain and suffering
Permanent disability
Punitive Damages
Punitive damages are far less common. These damages are only awarded in extreme cases. Punitive damages are different in that they are focused on the actions of the liable party rather than the losses of the accident victim. Punitive damages are only assessed when the at-fault party acted with criminal negligence or with willful and wanton disregard for the safety of others.
The Statute of Limitations for a Motorcycle Accident Lawsuit in Albany
The state of New York generally gives motorcycle accident victims three years from the date of the accident to file a lawsuit. However, you must be aware that certain circumstances can alter the amount of time you have to file. For example, if the liable party was a government agency, your window for recovering compensation shrinks dramatically.
The best way to protect yourself and ensure that all deadlines are met is to hire a motorcycle accident lawyer in Albany as soon as possible after you are injured. An experienced lawyer will be aware of anything that could affect your filing time and ensure that you don't miss your chance to recover compensation.
Speak With an Albany Motorcycle Accident Attorney About Your Case Today
At the Morelli Law Firm, we strive to ensure that all our clients recover the compensation they need and deserve after an accident. Our team of motorcycle accident lawyers in Albany has a proven track record of getting substantial settlements and court-ordered payouts for the accident victims we represent.
To get a free consultation with a member of our team, give us a call or fill out our online contact form today.