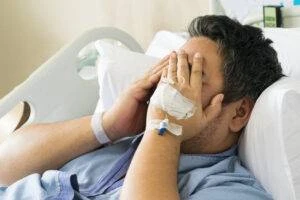 If you or a loved one has suffered injury or a medical condition due to the negligence of a doctor, nurse, or medical professional, you have the right to seek damages. While preparing and filing a legal claim might sound difficult, an experienced personal injury lawyer from Edwardsville can help you throughout the process.
At Morelli Law, we've represented malpractice victims since 1998. During that time, we've recovered life-changing case results and gained a great deal of experience in the field. We're confident that an Edwardsville medical malpractice lawyer from our team has what it takes to get the compensation you're owed.
Understanding Medical Malpractice Laws in Edwardsville
Medical malpractice cases are governed by specific laws and regulations. These laws outline the legal standards and procedures for pursuing compensation.They also establish a standard of care that all healthcare professionals must uphold and define what constitutes medical negligence.
Additionally, they set limitations on the amount of damages that can be awarded and establish the statute of limitations within which a claim must be filed. Understanding these laws can be difficult, especially if you're dealing with a painful injury and stressful financial circumstances.
The good news is that you don't have to have a comprehensive understanding of the law to file a successful claim. At Morelli Law, our Edwardsviulle medical malpractice lawyers are closely familiar with the laws that govern your case. They can determine if you have grounds for a claim, establish negligence, and fight for the damages you deserve.
How an Edwardsville Medical Malpractice Attorney Can Win Your Case
Your attorney can take many steps to file a successful claim on your behalf and secure the damages you need to recuperate from your injury. Here's what a medical malpractice lawyer from our team in Edwardsville can do to get the results you're looking for:
Thoroughly investigate your case

Gather evidence such as medical records, statements from medical professionals, and more

Calculate how much you're owed for medical expenses, lost wages, pain and suffering, and more

Use evidence and testimony from medical experts to establish the

four elements of medical malpractice

Negotiate with insurance companies and healthcare providers to secure fair compensation
If the at-fault party doesn't offer a fair settlement, your attorney can also represent you in court. At trial, your lawyer will present strong evidence and compelling arguments, making sure to do everything they can to secure a positive verdict.
Common Types of Medical Malpractice Cases in Edwardsville
When a doctor or nurse fails to provide the standard of care expected in their profession, you can suffer injury in a number of different incidents. Our medical malpractice attorneys in Edwardsville have worked on countless cases like yours, giving them the experience and in-depth legal knowledge required to litigate claims after any of the following scenarios:
Misdiagnosis or delayed diagnosis: This occurs when a healthcare provider fails to correctly diagnose your condition or delays the diagnosis, leading you to endure further harm or complications.
Surgical errors: Mistakes made during surgery, such as

wrong-site surgery

, damage to surrounding tissues, or abandoned surgical instruments can lead to serious complications.

Medication errors: This involves prescribing the wrong medication, incorrect dosage, or administering medication to the wrong patient, which can lead to serious adverse effects or even death.
Failure to treat: This form of malpractice refers to when a doctor fails to monitor a known medical condition, refuses to refer you to a specialist that you need to see, or provides medical treatment so slowly that you suffer adverse health effects. 
If you've been injured in one of the common malpractice incidents listed above, you likely have grounds for a claim against the medical professional who caused your injury. A medical malpractice attorney from Edwardsville can pursue the compensation and justice you need to have peace of mind.
Compensation Our Edwardsville Medical Malpractice Attorneys Can Pursue
When you work with our medical malpractice lawyers in Edwardsville they'll comb through every detail of your unique situation to determine how much compensation you're owed. Once they've figured out which damages you're entitled to receive and how much your claim is worth, they'll pursue several or more of the following remedies:
Current and future medical expenses

Lost wages

Decreased earning ability due to long-term conditions

Pain and suffering

Emotional distress

Loss of enjoyment of life

Punitive damages

, if appropriate
Schedule a Free Consultation With an Edwardsville Medical Malpractice Attorney
Dealing with a medical malpractice injury can be painful and incredibly stressful. Fortunately, the team at Morelli Law is here to guide you through the process of filing a legal claim. An Edwardsville medical malpractice lawyer from our team can offer the advice and representation you need to recover fair compensation for your injuries, pain, and losses.
Contact us today to schedule a free consultation with a trusted lawyer. They'll ask you about your incident, injuries, and resulting losses. If they find you have grounds for a claim or lawsuit, they'll get started on your case as soon as possible.