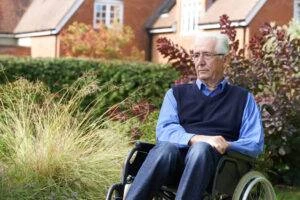 We trust nursing homes and long-term care facilities to take care of our loved ones, but many fail in that duty. Whether through abuse or neglect, the well-being of many residents suffer at the hands of nursing homes. If you suspect abuse or neglect in your loved one's care, fight back.
Our Edwardsville personal injury lawyers can help you get compensation on behalf of your loved one. We can also notify regulators to inspect what is happening at the home and remove workers who are abusive. Your call could save the lives of others, so please call us immediately if you suspect a problem.
Signs You May Need a Nursing Home Abuse Lawyer
It's hard to detect signs of nursing home neglect or abuse, especially if they're psychological or emotional. If you're not sure, you can contact us to learn your legal options. Here are some common signs of abuse and neglect:
Unusual weight loss or gain, malnutrition, or dehydration

A hospital visit that shows unusual injuries

Unexplained injuries like broken bones, bedsores, or bruising

Sudden changes in mood or behavior

Poor treatment for wounds, illnesses, or infections

Medication errors

Unclean rooms or poor hygiene care
Financial abuse is also something to watch for. A caretaker may try to get control of your loved one's finances to drain the accounts. If you see unusual activity on their accounts or you suddenly face unexpected financial problems because of nursing home bills, contact us for a consultation.
Why Do Nursing Homes Fail Their Residents?
We expect nursing homes to protect their residents and help them live peaceful lives. It's difficult for a family to trust their loved one to the care of a nursing home. So why do so many nursing homes fail to protect their residents from abuse?
Money is one factor. Most nursing homes are run for profit, so the more residents they have the more money they get. But they may not have the staff or the equipment to care for their residents properly, or according to law. This is the basis for nursing home neglect, which can cause the death of residents.
An abusive staff member might know how to play the system to let them abuse without getting stopped. Regular family visits are important to detect nursing home abuse and neglect before they get out of control. You can look for signs of abuse, ask questions, and start fighting for better care for your loved one.
Common Nursing Home Injuries
Certain kinds of injuries may appear when nursing home workers neglect their residents. They are signs that the nursing home may not be doing what they should do to take care of your loved one.
Falls are the most common injury caused by nursing home neglect, and they're more dangerous than you may know. An older person may not have the reaction time to halt their fall or brace properly. A fall can cause broken bones, spinal injuries, and concussions, any of which can lower your loved one's quality of life.
Bedsores are another sign of neglect. If we lay too long in one position, a sore can open up and create a spot for infections to develop. Staff workers must shift residents who are bedbound every few hours to keep this from happening. A bedsore is a sure sign that something is wrong.
Is One Injury Enough to Make a Neglect Case?
Neglect cases are stronger if there is a pattern of injuries over time, but a single event may be enough to trigger an investigation and discover other signs of neglect. So you shouldn't ignore any signs or injuries that you see.
That said, the injury alone may not be enough to make a strong case, especially if the staff is doing things correctly. For example, a patient may be provided with a wheelchair or walker and observed by staff members, but they may refuse to use it and end up falling.
An Edwardsville nursing home abuse lawyer can investigate what happened and see if an injury was just an unfortunate mistake or a sign of something worse. While some injuries happen by accident, we can make sure it's just that and not a sign of abuse or neglect.
What to Expect When Working with our Team
You don't have to accuse the nursing home of neglect or abuse alone. We can help you sue them so you can get compensation and improve the life of your loved one. Some things we'll do for your claim include:
Establish the facts of the case, including any history of past abuses, testimony from the victim or their family, and an evaluation of the victim's mental and physical state.

Gather evidence like medical records, witness testimony, or video footage of neglect and abuse to support the facts of the case.

Help you understand the differences in federal, state, and local nursing home laws and how they'll affect your case and compensation.

File the claim with the authorities and process all the paperwork correctly and on time.

Negotiate a settlement with the nursing home and their insurers, if we prove that neglect or abuse happened.

Take them to court if they refuse to come to a reasonable settlement.
Morelli Law has helped many nursing home victims get compensation for their injuries. Families can use the money to move their loved one to a better location, heal the physical injuries, and help them and their loved one move on from what happened.
Contact Our Nursing Home Abuse Lawyers in Edwardsville
If you believe your loved one is suffering from abuse or neglect in a nursing home, take steps now to stop it. Contact our nursing home abuse lawyers for a free consultation. We can tell you your legal options and how we can help you protect your loved one from further abuse.
To get started, call or email us anytime. Your consultation is completely free and without obligation. Should you use our services, you will owe Morelli Law nothing unless you win compensation with our assistance.