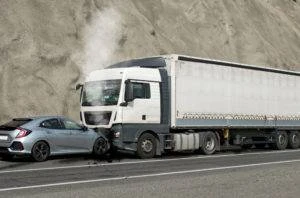 Truck accidents can lead to devastating injuries and potential financial ruin. This is because victims not only suffer catastrophic injuries, but some lose their lives in the process. If the victim is the breadwinner of the family, then the financial situation at home might be even more dire due to their inability to work.
Not just that, if the victim dies from the injuries, their dependents may lose everything, including their home. Apart from dealing with the truly terrifying state of mind and the severe injuries, victims and/or their relatives may have their lives altered forever. When this happens, you need all the help you can get in order to recover as much money in compensation as possible.
And the best help you can get is in the form of professional legal help. Our Carbondale truck accident lawyers can provide you with legal advice, guidance, and representation so that you can get a fair settlement that will cover your expenses.
Establishing Fault in a Carbondale Tractor-Trailer Accident
Before you can file a personal injury claim for a truck crash in Carbondale, IL, you'll have to prove that the truck driver and/or other third parties played a role in your accident. Most importantly, you'll have to establish that these entities or individuals' actions or inactions led to your injuries and/or the loss of a loved one.
To do that, you'll first have to ascertain what caused the traffic collision. Examples of truck collision causes include:
Distracted driving – Drivers who text, eat, or engage in other distracting activities while driving can endanger other people's lives.
Excessive speeding – Truckers who travel at high speeds are less likely to have adequate stoppage time if there's a sudden need for them to stop.
Reckless driving – Dangerous driving actions like sudden brake checks, lane changes, refusal to yield, tailgating, and road rage can lead to truck collisions.
Driving under the influence of alcohol, drugs, or illicit substances.
Bad roads – Potholes can cause tire blowouts and subsequent loss of vehicle control.
Inclement weather – Strong winds can cause trucks to tip over.
Failed vehicle components – Failed brakes can cause a driver to lose control and ram into other vehicles.
Finding Liable Parties
After identifying the cause of the crash, you'll then have to identify all the parties that may have contributed directly or indirectly to it. In most Illinois trailer accident cases, the following entities may be held liable:
The truck driver
The truck company
The truck owner
The mechanic or maintenance personnel
The cargo loaders
Vehicle and parts manufacturer
State or federal government agencies
Other road users
While many big rig crash cases are often straightforward in the sense that the driver is usually liable, there are some cases where other parties inadvertently contributed to the wreck through their negligence or carelessness. Identifying these parties and bringing legal action against them can increase your total settlement amount.
As you can see, there's a lot to unpack in the average tractor-trailer accident in Carbondale, IL. This is why it's best to allow an experienced Carbondale truck accident attorney to handle all these for you while you and/or your loved one focus on recovery and moving forward with your life.
Roadway Safety Requirements for Commercial Truck Drivers in Carbondale, IL
Even though most truck drivers are trained to drive safely and with great regard for other road users, they still get into accidents. These truck wrecks are typically caused by drivers' negligent or reckless actions.
Recklessness and negligence are two elements that are in direct contravention of the Federal Motor Carrier Safety Administration's (FMCSA) regulations. These regulations are designed to help keep every road user safe and secure while they are on the road.
So, they cover all safety measures, including:
Hours of service – This is the maximum number of hours that truckers are allowed to drive within one shift -usually 11 hours. After this, the driver must rest for 10 consecutive hours before getting behind the wheel again.
Truck markings – All commercial trucks are required to have their USDOT numbers boldly displayed, as well as, the business name of the company or entity that owns them.
Load limits – All trucks are allowed to carry a maximum of 80,000 pounds or 20,000 pounds per axle. Anything more puts other road users at risk. For example, the stopping distance for an overloaded truck is a lot longer than one with less cargo. This means that if the truck driver has to make an emergency stop, the grip on the brakes will likely be considerably less effective, leading to accidents.
These are just some of the regulations that truckers are required to follow. Commercial truck drivers who violate these requirements among others, and are found to have acted in a negligent or reckless manner while driving, can be held responsible if people are injured because of their actions.
Recoverable Damages in a Carbondale Truck Accident Claim
Injured victims of truck accidents in Illinois are entitled to collecting one or more of the following damages:
Wage losses
Reduced income earning capacity
Medical expenses
Property damage or repair costs
Household maintenance costs
Disfigurement and scarring
Diminished capacity to enjoy life
Temporary and/or permanent disability
Pain and suffering
Mental anguish
Emotional distress
Loss of companionship
Loss of consortium
Contact a Carbondale Truck Accident Lawyer
If you want to get the maximum compensation possible from your truck collision case, it is better to have an experienced and skilled Carbondale truck accident lawyer fight for you and provide legal help.
And now is the time to hire one as Illinois has a two-year deadline within which you can bring a lawsuit against all liable parties. While it may seem like you have time, please note that large truck accidents typically take between six months and two years -some can take longer- to reach a conclusion. So, you really don't have as much time as you think you do
At Morelli Law Firm, our seasoned truck accident lawyers have been serving the injured residents of Carbondale, IL, and helping them get the compensation that they deserve. We have dealt with many truck crash cases in the past, and have won over $1 billion in compensation for them.
We know that this is a very hectic and trying time for you. Let us help you go after the people responsible for your injuries while you focus on recovery. Contact our truck accident lawyers serving Carbondale, IL, today for a free case evaluation.