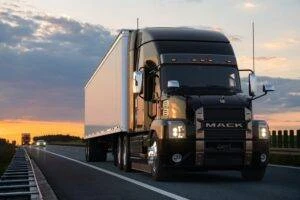 A devastating semi-truck accident means trauma, medical bills, debilitating injuries, fear, stress, and much more. A Carbondale truck accident lawyer understands all of these things, which is why they're the first place to turn to after one of these terrible events.
At our firm, we take pride in helping victims of semi-truck accidents in Carbondale recover the compensation they deserve. In this article, we will explore the common causes of these accidents and provide guidance on the necessary steps to take after an incident – including when to talk to a Carbondale truck accident lawyer.
Semi-Truck Accidents in Carbondale: an Overview
Unlike standard car accidents, semi-truck accidents are often fatal or at least result in catastrophic injuries due to the sheer size and weight of the vehicle involved. Understanding the common causes of these injuries and their severity is crucial for anyone who has been involved in such an accident.
Common Causes of Injuries
High Impact:

Due to their large mass, semi-trucks create a significantly higher impact when involved in a collision. This often results in severe injuries or even fatalities.

Cargo Spills:

Semi-trucks often carry hazardous or heavy materials. A collision can lead to cargo spills, which may result in burns, toxic exposure, or additional impact injuries.

Underride Accidents:

These occur when a smaller vehicle gets trapped under a semi-truck during an accident. Such incidents are often fatal or lead to severe head and neck injuries.

Jackknifing:

This occurs when the trailer of the truck swings out to form a 90-degree angle with the cab. It's a common cause of multi-vehicle pile-ups.
How These Injuries Differ from Typical Car Accidents
Increased Severity:

Unlike most

injuries suffered in a typical car accident

, injuries sustained in a semi-truck accident are often more severe due to the greater force of impact.

Higher Medical Costs:

The medical treatment for injuries from a semi-truck accident is often more complicated and prolonged, leading to higher medical expenses.

Longer Recovery Time:

Due to the severity of injuries, the recovery time is usually much longer, affecting the victim's quality of life and earning potential.
Types of Severe Injuries Commonly Suffered
Traumatic Brain Injuries:

Often result from the high impact of the collision and can lead to permanent cognitive issues.

Spinal Cord Injuries:

Can result in paralysis or long-term mobility issues.

Severe Burns:

Especially common in accidents involving hazardous materials.

Multiple Bone Fractures:

Due to the force of the collision, fractures are often multiple and severe, requiring surgical intervention.

Internal Bleeding:

High-impact crashes can result in internal injuries that are not immediately apparent but can be life-threatening.
Your Carbondale semi-truck accident lawyer can provide the necessary legal experience to ensure you get the medical attention and financial support you need for your recovery.
Importance of Hiring a Carbondale Semi-Truck Accident Lawyer
You should consider hiring an attorney who understands these types of accidents to protect your rights and ensure you receive the compensation you deserve. When it comes to semi-truck accidents in Carbondale, having a knowledgeable and experienced lawyer by your side can make all the difference.
Here are five reasons why hiring a Carbondale semi-truck accident lawyer is crucial:
Experience:

An attorney has knowledge of the laws and regulations surrounding semi-truck accidents, ensuring that your case is handled with precision.

Investigation:

They will conduct a thorough investigation to gather evidence, interview witnesses, and reconstruct the accident scene, strengthening your claim.

Negotiation skills:

A skilled lawyer will negotiate with insurance companies on your behalf to ensure you receive fair compensation for your injuries and damages.

Courtroom representation:

If your case goes to trial, a lawyer will provide strong courtroom representation, advocating for your rights and maximizing your chances of a favorable outcome.

Peace of mind:

Hiring a lawyer allows you to focus on your recovery while knowing that your legal matters are being handled by a professional who has your best interests at heart.
Recovering Compensation in Carbondale Semi-Truck Accident Cases
Navigating the compensation claims process in the aftermath of a semi-truck accident in Carbondale can be an intricate and daunting task. Our team of knowledgeable Carbondale semi-truck accident lawyers is here to guide you through every step, alleviating the burdens that often come with managing medical costs, lost wages, and emotional trauma.
Specific Types of Compensation
Here are a few examples of common types of compensation, along with a hypothetical example for each to help you understand how it would play out in real life.
Medical Expenses:

This includes immediate medical bills and future medical costs for ongoing treatment. For instance, if you suffered a spinal cord injury, you could be looking at years of physical therapy and medical follow-ups.


Example:

Jane was in a semi-truck accident that led to multiple surgeries and a prolonged hospital stay. Her medical bills exceeded $200,000, and ongoing physical therapy is estimated to cost an additional $50,000.

Lost Wages and Loss of Earning Capacity:

If the accident has made it impossible for you to work temporarily or permanently, you may be entitled to compensation for lost wages and future earnings.


Example:

John, a construction worker, was unable to work for six months due to leg fractures from the accident. His lost wages amounted to $30,000, and his reduced mobility will limit his future earnings.

Pain and Suffering:

Emotional and physical distress experienced due to the accident can also be considered when calculating compensation.


Example:

Emily experienced severe emotional trauma post-accident, affecting her quality of life. Her claim for pain and suffering was valued at $75,000.

Property Damage:

Compensation for repairing or replacing your vehicle and other damaged possessions is often recoverable.


Example:

Mark's car was totaled in the accident. He received $20,000 to replace his vehicle.

Punitive Damages:

In cases where the truck driver's or trucking company's negligence was extreme, punitive damages may be awarded as a form of punishment.


Example:

The trucking company knowingly allowed a fatigued driver to operate the vehicle, resulting in a fatal crash. The court awarded $500,000 in punitive damages.
Frequently Asked Questions
How Long does It Typically Take to Settle a Semi-Truck Accident Case in Carbondale?
Typically, it takes some time to settle a semi-truck accident case in Carbondale. It could take months or even years. Every case is different. Factors such as the complexity of the case, the extent of damages, and negotiations can influence the duration.
Can a Carbondale Semi-Truck Accident Lawyer Help Me If I Was Partially At Fault for the Accident?
Yes, a Carbondale semi-truck accident lawyer can help if you were partially at fault for the accident. They can navigate the legal process, negotiate on our behalf, and work towards minimizing our liability.
What Types of Damages Can Be Recovered in a Semi-Truck Accident Case in Carbondale?
In a semi-truck accident case in Carbondale, we can recover various types of damages. This may include medical expenses, lost wages, pain and suffering, property damage, and potentially punitive damages if there was gross negligence or intentional misconduct involved.
Contact a Carbondale Semi-Truck Accident Lawyer Today
If you've been involved in a semi-truck accident in Carbondale, it's crucial to hire a Carbondale semi-truck accident lawyer. They understand the complexities of these cases and can help you navigate the legal process to ensure you receive the compensation you deserve.
Remember to take immediate action after the accident and gather all necessary evidence. With the right legal representation, you can recover the compensation you need to move forward and heal from this traumatic experience. Contact us today.