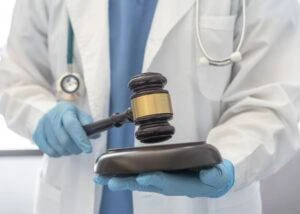 Medical malpractice is a profound betrayal of trust. When healthcare professionals falter, the repercussions can deeply scar not only the victim but their families too. In these trying times, the guidance of a Carbondale personal injury lawyer becomes invaluable.
At Morelli Law, we recognize the weight of the pain you're shouldering. We're here to help you navigate the aftermath, ensuring you receive the compensation you deserve and aiding in your journey to recovery.
This article serves as a beacon, shedding light on the intricacies of medical malpractice in Carbondale, IL, and when it's time to reach out to a Carbondale medical malpractice lawyer.
Medical Malpractice in Carbondale, IL: The Basics
Medical malpractice represents a significant lapse in the standard of care expected from medical professionals, often with dire consequences for patients, which is why medical malpractice and negligence are not the same. The National Center for Biotechnology Information (NCBI) sheds light on the most frequent medical malpractice claims:
Overlooked Diagnosis:

Sometimes, doctors may completely miss a diagnosis, leaving the patient untreated and at risk.

Delayed Diagnosis:

Time is often of the essence in medical treatment. Diagnoses made too late can lead to aggravated conditions and reduced treatment options.

Incorrect Diagnoses:

Misdiagnosing a patient can result in unnecessary or even harmful treatments, while the actual ailment continues to progress.

Concealing Patient Information:

Withholding crucial information from a patient can prevent them from making informed decisions about their health.

Surgical Errors and Mishaps:

This category includes grave mistakes like leaving instruments inside a patient or operating on the wrong body part.

Use of Faulty Medical Equipment:

Relying on malfunctioning equipment can lead to incorrect diagnoses or direct harm to the patient.

Misinterpreted Test Results:

Errors in interpreting tests can mislead treatment plans, leading to ineffective or harmful interventions.

Medication Errors:

This encompasses prescribing the wrong medication, incorrect dosages, or failing to account for drug interactions, all of which can have severe repercussions.
If you've suffered due to any of these instances, it's essential to know that you're not alone. A local lawyer can assist you in navigating the aftermath. They'll delve into the specifics of your case, determining if negligence played a part in the medical error you experienced or if other forms of malpractice were at fault.
The Ripple Effects of Medical Malpractice
The aftermath of medical malpractice isn't just felt in the body; it reverberates through every facet of a victim's life. Some of the impacts include:
Financial Strain:

Medical bills can pile up, especially if corrective surgeries or long-term care is needed.

Lost Wages:

Time away from work can strain household finances, especially if the victim was the primary earner.

Emotional and Psychological Trauma:

The betrayal of trust can lead to anxiety, depression, and post-traumatic stress.
The Role of a Carbondale Medical Malpractice Lawyer
When you bring your case to us, we roll up our sleeves and get to work. Here's our approach:
Initial Consultation:

We sit down with you, listen to your story, and assess the merits of your case.

Evidence Gathering:

We collect all pertinent medical records, interview witnesses, and if necessary, collaborate with medical professionals to get a clear picture of the malpractice.

Building a Case:

Armed with evidence, we craft a compelling case that highlights the negligence and its impact on your life.

Representation:

Whether it's negotiating with insurance companies or presenting your case in court, our attorneys are by your side, fighting for your rights.
Compensation: What Victims Can Seek
After a medical malpractice incident, you might wonder what compensation can help mend the damages. Compensation isn't just about money; it's about justice and rebuilding your life.
Economic Compensation
Tangible losses are often the most immediate. They include:
Medical bills, both those already incurred and anticipated future expenses.

Lost wages, especially if recovery keeps you away from work.

Rehabilitation costs, which can be ongoing.
Non-Economic Compensation
These are the intangible losses, harder to quantify but equally significant. They encompass:
Pain and suffering, both physical and emotional.

Emotional distress, which can linger long after physical wounds heal.

Loss of life's pleasures, activities you once enjoyed but can't partake in anymore.
Punitive Damages
In cases where the negligence was extreme, punitive damages might be awarded. They're not about compensating you but about penalizing the guilty party.
Illinois Statute of Limitations: The Clock is Ticking
Legal processes come with deadlines. In Illinois, the clock starts ticking fast for medical malpractice cases. Generally, you have two years from the date of the injury to file a lawsuit.
But life isn't always straightforward. If you discover the injury later, you might have up to four years to file. Yet, waiting isn't wise. The sooner you act, the fresher the evidence and the stronger your case.
Why Hire a Carbondale Medical Malpractice Lawyer
Facing the aftermath of medical malpractice is like navigating a storm without a compass. So, why hire a Carbondale Medical Malpractice Lawyer? Here's the difference we make:
We know the terrain.

Medical malpractice claims are complex, but we're well-versed in the intricacies.

We're your shield and sword.

We protect your rights and fight for the compensation you deserve.

We shoulder the burden.

From paperwork to court appearances, we handle it all, letting you focus on healing.
Contact a Carbondale Medical Malpractice Attorney Today
Medical malpractice doesn't just injure the body; it wounds the soul. The journey to recovery is long and arduous, but you don't have to walk it alone. The importance of acting swiftly can't be stressed enough.
Every moment counts, not just for legal reasons but for your peace of mind. If you or a loved one has been wronged, contact us. At Morelli Law, we stand ready to light the path to justice and healing.