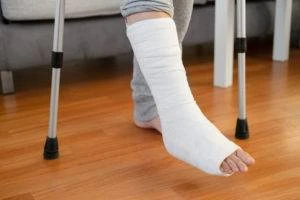 As one of the largest shipping companies on the planet, UPS is responsible for putting countless large trucks on the road every day. With so many vehicles on the road, it comes as no surprise that UPS trucks are involved in a substantial number of accidents each year. Due to the size and weight of these trucks, the damages caused by a crash are often significant.
After a UPS truck accident, recovering compensation from the liable party can be essential to putting your life back together. At the Morelli Law Firm, we understand the challenges you face after an accident. Our team of UPS truck accident attorneys in Carbondale, IL, has the experience needed to help get you fair compensation after a collision.
Damages You Can Pursue Following a UPS Truck Accident
After a car accident with a UPS truck in Carbondale, IL, there are a variety of damages you will likely be eligible to pursue. All compensatory damages are categorized as either economic or non-economic damages.
The prospect of going up against a large corporation like UPS can be intimidating. However, you can't let this dissuade you from pursuing compensation for your damages. These companies are responsible for their actions just like everyone else, and you have the right to hold them accountable.
Economic Damages
All the losses you suffer after an accident that impact your financial standing fall into the category of economic damages. Economic damages include both money you are compelled to spend and income you are unable to earn because of your accident. In addition to the losses you currently face, economic damages can compensate you for future losses as well.
Common economic damages you will likely be eligible to claim after a UPS truck accident include:
Medical expenses
Future medical bills
Lost income
Diminished earning ability
Non-Economic Damages
All the losses you suffer after an accident that do not directly impact your finances are sorted into the much broader category of non-economic damages. These diverse losses often share the distinction of being irreplaceable and irreversible. Because of the profound nature of these losses, significant money is typically awarded for non-economic damages.
Common non-economic damages you will likely be eligible to claim after a UPS truck accident include:
Decreased quality of life
Permanent disability
Pain and suffering
Mental anguish
Emotional distress
Loss of consortium
When pursuing compensation following a UPS truck accident, an experienced attorney can help you figure out which damages you are eligible to claim. Beyond the compensatory damages listed above, punitive damages may also apply to your case. Punitive damages are only awarded in extreme cases involving criminal negligence or actions intended to cause harm.
Pay Attention to the Statute of Limitations When Filing a Lawsuit
When pursuing a lawsuit following a UPS truck accident, it is essential that you check the statute of limitations for filing a personal injury lawsuit in your state. In Illinois, accident victims have two years to file a lawsuit against the liable party. If you fail to file your claim on time, you will likely lose your right to pursue compensation.
However, it's essential to understand that there are exceptions to the statute of limitations that could apply to your case. The specific circumstances of your accident will determine whether an exception applies. An exception could mean you have far longer than the standard two years to file your lawsuit.
Alternatively, an exception could further limit the amount of time you have to file. Rather than two years, you could be forced to file within a matter of months. The best way to protect your right to recover compensation is by hiring an experienced UPS truck accident lawyer in Carbondale, IL, shortly after your accident.
Establishing Liability Following a UPS Truck Accident
Proving who is responsible for an accident can be challenging. If UPS is at fault, they will almost certainly attempt to shift blame onto another party. The good news is that you do not have to go about proving liability on your own. An experienced UPS truck accident attorney will know exactly what to look for to prove liability as they investigate your accident.
The Insurance Company Is Not on Your Side
Insurance companies go to great lengths to portray themselves as your friendly, helpful neighbors. The narrative they create in their advertisements is meant to disguise the true nature of these companies. The truth is that insurance providers are far more concerned with protecting their money than the people who rely on them after an accident.
Unfortunately, a large number of people believe the advertisements they see and think that the insurance company has their best interests at heart. This belief makes them incredibly susceptible to the bag of tricks that insurance adjusters use in an attempt to deny or devalue a claim.
The best way to protect yourself against the predatory practices used by these companies is to hire an experienced UPS truck accident attorney. Hiring a lawyer will impede the insurance company's ability to contact you directly. By forcing the insurer to deal with your attorney, you will neutralize the tactics they would otherwise attempt to use against you.
Contact an Attorney With a Proven Track Record Against Large Corporations
When pursuing compensation from a large corporation, it is critical that you ensure you have legal representation with a history of winning these types of cases. At the Morelli Law Firm, we have a long track record of taking on big companies and securing favorable outcomes for our clients.
Contact us today by phone or through our online contact form to schedule a free case evaluation with a member of our legal team.