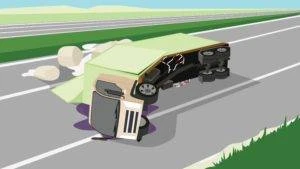 Semi-trucks are large, heavy vehicles that can do considerable damage in a motor vehicle accident. Unfortunately, cyclists, bikers, pedestrians, and occupants of smaller vehicles tend to suffer devastating, life-changing injuries in these types of collisions.
You didn't ask to get hit by a big rig. And the financial burdens associated with recovering from a crash can be as debilitating as the injuries associated with trucking accidents.
Because of the financial implications of a serious truck collision, choosing the right Carbondale big rig accident attorney to protect your interests is vital. The team at Morelli Law Firm can help.
What to Do After a Big Rig Accident
Immediately following a truck accident in or around Carbondale, there are steps you should take to ensure your health and recovery are protected. Here's what our truck lawyers advise you to do after an accident:
Get Treated for Your Injuries
After any collision, your first priority should be to seek medical care. If your injuries are severe, call 911 or have someone make the call for you. Your safety and well-being is the most important factor in the minutes following an accident.
Obtain Any Information You Can
If you are physically able, take photos of the damages to your vehicle as well as the other vehicle. Taking pictures can also show the locations of the vehicles and the road conditions where the crash occurred.
When the police arrive on the scene to take your statement, explain what you believe happened but refrain from apologizing. It's natural to regret a situation and feel bad if the other party is injured. However, an apology can sound like an admission of guilt.
Because the process can be different under different jurisdictions, ask how to obtain an official report regarding the accident. If a report was filed with the Illinois state police, you might want to request a crash report online through a service called e-pay.
Get Help From a Commercial Truck Accident Lawyer
If you are able to follow the above steps after your truck accident, your insurance claim will be more secure. If your injuries are severe or if there are other issues that make your truck crash claim more difficult, it is vitally important to have a lawyer review your case.
Obtaining legal representation after a truck accident might make the difference in whether or not you recover adequate compensation for your injuries. If you were hurt in a truck collision that was caused by someone else's negligence, contact one of our truck accident attorneys.
Our law firm has a track record of success in protecting the interests of truck accident victims. Our Southern Illinois legal team can help you get the recovery you are owed.
I Was Hurt in an Accident With a Big Truck – What's My Case Worth?
When a motor vehicle accident involves a large commercial truck like a tractor-trailer or other big rig, the consequences can be devastating. The more damage there is to your vehicle, the more a related personal injury case tends to be worth.
Your injuries may require that you go through extensive rehabilitation, which will cost you time and money and probably require you to miss work. Under Illinois law, you can recover your medical expenses and lost wages.
Our big rig accident lawyers in Carbondale can help you pursue the following damages:
Hospital bills, doctor bills, medical fees, and rehab costs

Wages lost from missing work due to your injuries

Pain and suffering

, both emotional and physical

Court fees, legal fees, and any other costs related to the trial or case
If you are permanently disabled to the point that you can no longer work, you can claim damages for your loss of earning potential.
You Have a Right to Pursue Compensation
You are entitled to recover every financial loss you've suffered as a result of the accident, which includes all the items listed above. You didn't ask to be injured, you didn't ask to miss work, and you didn't ask to have your life changed forever.
Sometimes, you have to fight to get the compensation you are owed, and that's why we're in business. Our truck accident lawyers know how to go to bat against trucking companies and their insurers to see that you get every penny you deserve.
Protect Your Rights After a Truck Accident
After being harmed by a big rig accident, you may be wondering what your rights are and how you can protect them. You can protect your right to seek compensation after a truck collision by:
Getting medical treatment for your injuries

Keeping an itemized list of your damages

Understanding the value of your accident-related losses
You should also strongly consider hiring a personal injury lawyer. An accident attorney who is experienced with truck accidents can review your case and come up with a legal strategy for getting you a settlement or court award.
When you allow a Carbondale big rig accident lawyer to represent you, you can sit back and relax, knowing we'll work hard on your behalf. We have the experience and resources to get our clients the compensation they are entitled to and hold the negligent parties responsible.
If you were involved in a serious accident through no fault of your own, our big rig accident attorneys would handle the various aspects of your case while you focus on taking care of yourself or an injured family member.
Schedule a Free Consultation With a Carbondale Accident Attorney
Now that you know all about protecting your interests after a truck accident, please consider reaching out to the Morelli Law Firm. We have been winning personal injury cases for decades and would be happy to explain your financial recovery options.
Our Carbondale big rig accident lawyers can help you file a claim and get compensation for your injuries. We work on contingency, meaning you don't pay unless we win. Your first case evaluation is always 100% free, so there's no risk in getting our help. Contact us today.