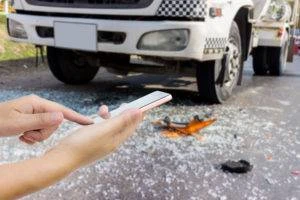 The Morelli Law Firm can step in to help if you were involved in a truck accident in Chesterfield, Missouri. Our team takes on trucking companies and their insurance representatives for clients in your situation.
You can start working with a Chesterfield truck accident lawyer today. We assess your claim and review losses like medical expenses and vehicle repairs. Call us or complete our online contact form to get started.
Who Can File Truck Accident Claims in Chesterfield?
The National Safety Council (NSC) reported over injury accidents caused by large trucks in 2020. These accidents occurred around the country, leaving other drivers with injuries such as:
Head or brain injuries

Back, neck, or spine damage

Injuries to internal organs

Burns or cuts

Broken bones, sprains, or strains
However, not everyone who sustains an injury in a truck accident can seek legal compensation. Generally, you only have a chance to secure funds to cover your losses if someone else caused your accident.
You may also have a chance to file a wrongful death claim if you lost a loved one in a Chesterfield truck accident. Our team offers you compassionate support after the loss of a family member.
What Damages Do You Receive After Chesterfield Truck Accidents?
The compensation associated with your Chesterfield truck accident claim can vary based on the facts surrounding the collision. However, in many cases, a lawyer can help you secure funds to cover:
Healthcare Expenses
You may require extensive medical care after a collision with a truck. If you sustained injuries, the professionals recommend you get emergency care or drive to a hospital for treatment quickly.
Lawyers assess all the care you receive after a collision before helping you build a claim. You should not accept a settlement offer immediately after your crash, as you do not know how many medical tests, procedures, and surgeries you'll need to recover.
You may also receive funds to cover the time you spent off work during your recovery. Find out more with a Chesterfield truck accident lawyer.
Vehicle Repairs
Commercial vehicles are generally much larger than passenger cars or trucks. When they end up in a collision, they cause significant damage simply due to their weight. They can easily total your vehicle.
Fortunately, a truck accident claim could cover these losses, helping you get on the road again.
Non-Economic Damages
Chesterfield truck accident lawyers can also help you secure non-economic compensation, addressing the pain and suffering caused by your collision.
Why Work with Chesterfield Truck Accident Attorneys?
You can attempt to handle a Chesterfield truck accident claim on your own. However, many professionals recommend that you hire a Chesterfield truck accident lawyer to provide support to your legal claim.
Trucking companies often have the resources to hire high-powered insurance agents. In fact, multiple insurance companies may become involved, especially if the truck driver carries individual insurance.
All of these parties work with the goal of denying your compensation. However, a lawyer can stand up for you, drawing on experience, resources, and connections to build a solid claim while helping you seek damages to cover your losses.
What Services Does Your Chesterfield Truck Accident Attorney Offer?
Chesterfield truck accident attorneys take charge after a collision. Once our team takes on a client, we provide answers to their legal questions, focusing on open communication. Depending on a client's specific needs, we also:
Handle all discussions with insurance agents and trucking company representatives

Investigate the causes of your truck accident

Track your losses to determine the value of your case

Take steps to resolve your case in our out of court
We use our resources and community connections when investigating truck accidents in Chesterfield. For example, we may interview witnesses, obtain a copy of your police report, and work with truck accident experts.
Consider our record of success when looking for a truck accident law firm to handle your case. We have recently helped clients secure:
$11.2 million after a speeding truck accident

$7.4 million following an accident with a delivery man and a truck

$2.65 million for a truck accident that occurred during the pandemic
Find out more about our services with a free consultation.
Who Is Liable for Chesterfield Truck Accidents?
Our team assesses all possible causes for your Chesterfield truck wreck. We may file a claim against:
The truck driver

The trucking company

The truck manufacturer

Other drivers
In many cases, we show that a trucker behaved negligently by breaking traffic laws. For example, many truck accidents occur when truckers speed, fail to check their mirrors before backing up, or ignore traffic signals.
Trucking companies often hold some liability for accidents that occur while truckers are on the job. However, they may also cause accidents by hiring improperly trained drivers or neglecting vital truck maintenance.
Discuss what happened to cause your accident with Chesterfield truck accident attorneys.
How Long Do You Have to File a Truck Accident Claim in Chesterfield?
Missouri has a five-year statute of limitations for many personal injury claims under Missouri Code section 516.120. However, in some cases, you have less time to move forward with a legal claim following your collision.
Getting legal help quickly helps you avoid missing any essential deadlines. Contacting a law firm right away also allows the legal team to immediately get to work on your case.
Speak to Us After a Chestfield Truck Collision
You can explore your legal options following a collision with a commercial vehicle by contacting a Chesterfield truck accident lawyer. Our team at the Morelli Law Firm focuses on handling your unique situation.
Learn more when you call us or complete our online contact form.