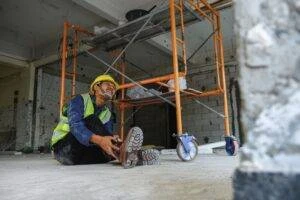 Construction is one of the most dangerous professions, and it's easy to get into an accident that can put you out of work. Sometimes these accidents are caused by the negligence of employers or other contractors. You could be entitled to compensation for your injuries, lost wages, and more. A construction accident attorney in Carbondale can help get you the money you deserve.
Find out more about your options by speaking with one of the Carbondale personal injury attorneys at the Morelli Law Firm. We can explain your legal options for compensation and if your case qualifies for a lawsuit or workers' compensation. If you've been hurt and it wasn't your fault, don't suffer the consequences alone. Schedule your free consultation today.
How a Carbondale Construction Accident Lawyer Will Help You
Victims often find themselves short of money after a construction accident. The cost of treating their injuries can quickly drain their savings, and they are often unable to work while they recover. We will help you get the compensation you need by assisting you with an insurance claim or lawsuit.
Our team will help you with your case, whether you choose to pursue workers' compensation or if your case qualifies for a lawsuit. Here are some things we'll do to help you with your case:
Bring together all the documentation necessary to pursue your case

Complying with all legal deadlines so your case moves forward swiftly

Represent you in all negotiations with insurers, the defendant, and the court

Handle all communications with other parties while you recover from your injuries

Give you legal advice on how to improve the chances of winning your case

Fight to get you the most compensation possible under the law and the circumstances
A construction accident lawyer is your ally in your quest for compensation. We can tell you whether workers' compensation or filing a lawsuit is in your best interest.
Workers' Compensation in Illinois
Workers' compensation will get you paid faster without the expense, time, and proof of fault necessary to sue. You can claim it as long as you can prove you were injured in the course of your duties.
However, the money you can get from a workers' compensation claim is limited and not always guaranteed. Working with one of our attorneys can reduce the chances of rejection and help you with appeals.
To claim workers' compensation in Illinois, you must notify your employer of your injury within 45 days of receiving it. After that, you have two to three years to file your claim, depending on certain factors. You should remember that you cannot sue your employer in most cases because of workers' compensation rules. However, you may be able to file a third-party lawsuit.
Who Can Be Sued in a Construction Accident?
Construction sites aren't usually run by a single employer. Several contractors, subcontractors, engineers, and other parties could have played a role in your construction accident. Besides your direct employer, any of these parties could be sued for your accident after claiming workers' compensation.
Depending on your circumstances, you can pursue workers' compensation against your employer and a separate lawsuit against other parties. Our construction accident attorneys in Carbondale can tell you if you qualify.
If you do, you can get additional money for your claim and get paid for things that workers' compensation doesn't cover. For example, you cannot claim non-economic damages like pain and suffering through workers' comp, but you can through a lawsuit.
Statute of Limitations for Filing a Construction Accident Lawsuit
When attempting to recover compensation through a lawsuit, it is critical that you pay attention to the filing deadline. In Illinois, the personal injury statute of limitations gives accident victims two years to file a lawsuit against the liable party. Missing this deadline will likely result in the loss of your right to recover compensation.
However, you need to understand that exceptions may apply to the case that permit you to file after the typical two-year cutoff date has passed. Because of this, it is critical that you contact an experienced construction accident attorney in Carbondale, even if you believe your window for filing has already passed.
At the same time, an exception in your case could reduce the amount of time you have to take legal action. Hiring an experienced lawyer as soon as possible after your accident is the best way to protect your right to recover compensation from an unexpected deadline.
How Much Is My Case Worth?
Every injury case is unique, so it's impossible to tell you how much your case is worth until we see the evidence and how your accident has affected your life. This is another reason to work with a Carbondale construction accident lawyer. Without guidance, you could accept a settlement that's far below the value of your claim.
We can look at previous cases similar to yours to estimate how much you could receive.
Economic Damages
Economic damages like lost wages and medical bills have defined values, so they are easier to calculate, though there are some damages you could get paid for that you don't know about.
Non-Economic Damages
Non-economic damages are harder to estimate. Their amount depends on multiple factors, including how well your attorney can negotiate with the insurance companies. Our firm has a history of aggressive representation and will push to get you the most money possible.
If you have received a settlement offer, do not accept it until you speak with an experienced construction accident lawyer in Carbondale. We can protect you from lowball offers and pressure tactics that insurance companies commonly use.
Will I Need to Go to Trial?
If negotiations break down completely, your case will likely go to trial. Fortunately, most personal injury cases avoid trial. Going to court is risky for everyone because it puts decisions in the hands of a judge and jury.
We have helped our clients get millions for their construction accidents, and many of our top-dollar clients had to go to trial to get what they deserved. Some examples include:
$62 million for a construction worker who suffered a severe traumatic brain injury after falling off a roof

$1.6 million for an electrician who suffered injuries after scaffolding moved underneath him, causing him to fall

$1.4 million for a maintenance man who suffered injuries after falling off a ladder
We will always try to close things at the negotiation table when possible, but we're not afraid of fighting huge construction companies in court.
Start Your Case With One Phone Call
Illinois has a strict time limit for filing lawsuits after an accident, so do not wait to contact our Carbondale construction accident lawyers. You can get your case started today by calling our offices or emailing us for a free case evaluation.
All initial consultations are free, and we only get paid if you win compensation in your case. Learn your legal options and how we can help you by reaching out to Morelli Law. Even if your injury is minor, you could get more than you expect with our help. Call or email us anytime to schedule an appointment.