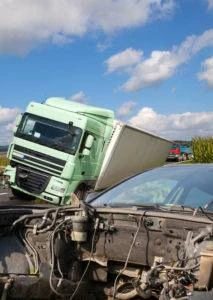 Delivery truck accidents can result in life-altering injuries requiring expensive medical treatment. The sad reality is that a devastating crash like this could disable you for months or even permanently. Fortunately, there are actions you can take immediately after a crash to protect your right to compensation for your injuries.
One of the most important steps you can take to build a winning case is to hire an aggressive personal injury lawyer who will fight for justice on your behalf. You need an experienced, skilled attorney handling your personal injury claim, and our Carbondale delivery truck accident lawyers are ready to help.
Delivery Truck Accident Damages
Following a collision with a delivery vehicle, you may be entitled to a variety of specific and general damages, including:
Medical Bills

: Any medical treatment, including surgeries, rehab, and prescription drugs, could be reimbursed when you win your case.

Lost Wages

: Lost wages may also be recoverable if you miss work due to the accident. These lost wages could include future earnings, depending on the extent of your injuries.

Pain and Suffering

: Pain is an unfortunate consequence of accident injuries, and any ongoing pain, PTSD, depression, or anxiety could also be considered as part of your claim.

Other Expenses

: If you've had to pay any out-of-pocket expenses such as transportation to and from the hospital, childcare, or a rental car, we could include that in your claim as well. Just remember to save all of your receipts and other paperwork.
The negligent party's information, a police report, and proof of injury are all paramount in settling a truck accident case. You can find out more about using this evidence in our article on what you should do after a truck accident.
Going Up Against a Large Company After a Delivery Truck Accident
Automotive accidents are complicated between determining fault and navigating the insurance claims system. However, the process becomes even more complex when one of the vehicles is a commercial truck or van—especially if it's a delivery vehicle for a huge company.
If another party's negligence caused your accident, you might be entitled to compensation for medical expenses, pain and suffering, and lost wages. An experienced truck accident attorney can help you hold the liable parties responsible and get you the money you deserve.
We have decades of experience taking on big companies in truck accident cases and a proven track record of winning. Ideally, you should consult with us before filing a claim or speaking with an insurance adjuster. The insurance company could use anything you say against you to reduce the amount of your settlement or court-ordered restitution.
Determining Liability in a Delivery Truck Crash
Another reason to seek legal representation from our delivery van accident attorneys is that determining fault is challenging when a delivery vehicle is involved. For example, if the truck driver happens to be an independent contractor, the company may try to deny responsibility for the accident.
Individuals and entities that could be responsible for a truck collision include:
The Truck Driver
If the truck or van driver exhibited some form of negligence, such as speeding or distracted driving, the accident might be the driver's fault.
The Delivery Company
The delivery company itself may also be to blame. For example, if the delivery company has failed to adequately vet and train the driver, the company may be responsible for the collision.
The Illinois Department of Transportation requires commercial vehicle drivers to meet certain minimum standards, so if a company puts an unqualified driver behind the wheel, that company could be liable.
A Third Party
In some accidents, a third party is at least partly to blame. For example, if the collision occurred because the truck was improperly loaded, the party who failed to do this work correctly may be a defendant in the case.
If the wreck involved a foreseeable mechanical failure, the last person who inspected or serviced the truck without doing the necessary maintenance could be liable. It's even possible that the cargo was loaded incorrectly or that the manufacturer of the goods themselves contributed to the accident in some way.
Whether the fault lies with an individual driver, the delivery company, or a third party, the liable individual or organization needs to pay for their negligence. Because multiple parties can be at fault, it is inadvisable to try to navigate a case like this without the aid of an experienced attorney.
Why Work with a Carbondale Truck Accident Attorney?
The best thing you can do for yourself in the wake of an accident is to surround yourself with a team of professionals. This includes doctors and other healthcare professionals that will give you the medical treatment you need and a legal team that will fight to make sure that justice is served.
Being involved in an accident of any kind is stressful, but as your delivery truck and delivery van accident lawyers, we are committed to supporting you through every step of the claims process. If the responsible party's insurance company fails to offer an acceptable settlement in your truck accident case, we can take your case to court.
You won't owe us any legal fees unless we successfully win your case, and we always fight to ensure our clients get 100% of the compensation they need.
Don't Wait to Hire a Delivery Truck Accident Lawyer
You've been through enough already, and allowing the Morelli Law Firm to work on your behalf will let you focus on getting your life back. We handle truck accident injuries and wrongful death cases on a contingency basis. That means you don't owe us a penny unless you receive compensation.
The sooner you call us, the sooner our Carbondale delivery truck accident lawyers can get started on your case. If you were involved in an injury accident in Southern Illinois or elsewhere, our legal team wants to hear from you. Call now to schedule your free consultation.