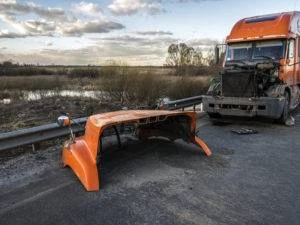 Truck accidents often have severe consequences for drivers of passenger vehicles. Dealing with insurance claims while managing serious property damage, catastrophic injuries, or even the death of a loved one is too physically and emotionally challenging to handle alone.
A truck accident lawyer in Cape Girardeau can step in to help with your legal needs after a collision. Your lawyer provides guidance about handling a claim and reviews all the losses caused by your wreck.
You can secure professional help from the Morelli Law Firm. We offer you legal guidance shaped by years of experience and training.
What Damages Can You Receive After a Cape Girardeau Truck Accident?
Truck accidents in Cape Girardeau, Missouri, can leave you facing significant financial losses. Depending upon your situation, you may have a chance to secure funds to cover your:
Current medical expenses

Future healthcare costs

Vehicle repairs or replacement

Time off at work

Lost earning potential

Pain, suffering, and mental anguish
Not every driver receives the same forms of compensation after an accident. In many cases, your damages depend on the severity of the collision and whether or not you hold any fault for the wreck.
When Can You Receive Compensation for Truck Accident?
The Federal Motor Carrier Safety Administration (FMCSA) reported over 500,000 truck accidents in 2019. However, only around 114,000 of these accidents led to injuries. Additionally, not everyone hurt in these collisions had a chance to seek compensation for their losses.
Generally, you only have a legal chance to file a claim if someone else caused the accident. Therefore, a Cape Girardeau truck accident attorney generally focuses on establishing negligence following a collision.
Negligence involves four factors that must occur for another driver to be legally liable for your losses. These factors include:
A duty of care

Failure to uphold the duty of care

Clear responsibility for an accident

Injuries or losses caused by the accident
All drivers have a duty of care to one another, represented by their responsibility to follow the rules of the road. Drivers break this duty when they ignore or violate the law for any reason, with their actions often directly causing a collision.
Who Causes Truck Accidents in Cape Girardeau?
It's essential for truck accident attorneys to identify the liable party after a collision in Cape Girardeau. These accidents may occur due to the actions of:
Truck drivers

The truck company

The truck manufacturer

Mechanics

Cargo loaders

Other drivers
Truck drivers often directly cause accidents by making dangerous decisions on the road. The trucking company may, however, be liable for these collisions if they happened while the driver was working.
Trucking companies also cause accidents by overloading vehicles, hiring inexperienced drivers, or ignoring vital truck maintenance.
On the other hand, truck manufacturers cause accidents when they produce vehicles with dangerous defects. These defects can end up causing accidents even when truck drivers operate their vehicles safely and cautiously.
What Services Do Cape Girardeau Truck Accident Lawyers Perform?
Your truck accident lawyer in Cape Girardeau can address all your legal concerns after a collision. Generally, law firms:
Answer any legal questions you have after an accident

Take over communication with insurance agents and the truck company

Investigate the causes of your accident

Review any losses caused by the collision

Go over your options to resolve your case
You may decide to settle your truck accident claim with the insurance company or file a lawsuit through the court system. We support our clients in both these avenues. Our team has a reputation for successfully resolving truck accident claims, bringing clients like you:
$11.2 million for a woman who experienced brain damage after a truck accident

$7.4 million for a delivery man struck by a truck

$2.65 million for an individual who sustained severe injuries following a truck accident
We stand ready to address your needs after you contact us about your claim.
How Much Compensation Can a Lawyer Bring You?
The compensation you receive after a truck accident in Cape Girardeau can vary based on your situation. Additionally, your compensation may depend on your degree of fault for the collision.
Missouri reduces the compensation you receive if you were partially responsible for the bus accident. For this reason, your lawyer can focus on showing that someone else caused the collision.
When Should You File a Truck Accident Claim in Missouri?
Missouri has a statute of limitations for personal injury claims, covered under Missouri Code § 516.120. According to this legal statute, most drivers have around five years to file an insurance claim following a truck accident. After this time limit expires, you may have a more difficult time seeking damages for your losses.
Additionally, the state reduces the time available in some cases. Generally, you have a shorter statute of limitations if the accident involves a government vehicle or employee. Fortunately, truck accident lawyers monitor all deadlines for your case.
How Much Do Truck Accident Lawyers Charge in Cape Girardeau?
Most truck accident attorneys serving Cape Girardeau work on a contingency basis. They only charge you legal fees after they resolve your case through a settlement or courtroom decision, and then, they receive a percentage of your award.
Some law firms charge higher percentages than others for their services. You may want to find a firm with experience handling cases like yours and a reputation for success instead of selecting the firm with the lowest rates.
You can discuss a firm's pricing guide when you contact your lawyer for a free consultation.
Speak to Cape Girardeau Truck Accident Attorneys Now
When contacting the Morelli Law Firm, you can secure legal help from a Cape Girardeau truck accident lawyer. Let us address your legal concerns, assess your losses, and support you. Call us or complete our online contact form to get started with a free case evaluation.