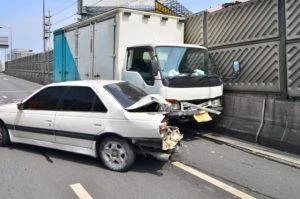 You started your day as you usually would. You dropped the kids off at school. No one could have predicted that this would happen. Now you're hurt and paying expensive medical bills.
Have you been in a truck accident? Are you scared, alone, and unsure of what to do next? The Morelli Law Firm is here to help.
You don't have to brave a truck accident claim alone. Lawyers for construction truck accidents in Cape Girardeau are dedicated to serving justice. We will fight for you.
Construction Truck Accident Claims & Results
Injuries from a large truck accident can be deadly. Heavy-duty trucks weigh a lot more than passenger cars and cause massive damage. Life may never be the same.
Truck drivers must be extremely careful because of their weight and size. They have to protect other drivers on the road from harm. Unfortunately, truck accidents still happen.
Lawyers for construction truck accidents represent many different claims. We consider lots of things, including:
Texting while driving
Reckless or distracted driving
Speeding
Driver fatigue
Driving under the influence
Aggressive driving
Equipment issues
Overloaded cargo
Mechanical failure
Results
Unlike car accident claims, truck accident payouts are massive. The amount of money may vary in each case. However, it is usually large to cover medical bills and property damage.
Cape Girardeau truck accident lawyers have won over $1 billion. A few of our highlighted truck accident cases include:
$2.65 million awarded after a client was hit by a moving truck.
$7.4 million awarded after a delivery man was hit by a truck on his bicycle.
$11.2 million awarded after a 76-year-old woman was hit by a speeding truck making an illegal turn.
Every truck accident case is unique. The results will not always look the same. If you believe you have a claim, speak to a Cape Girardeau personal injury lawyer.
Wrongful Death After a Truck Accident
Because of the tragic injuries a large truck can inflict, it isn't surprising that many people pass away after a truck accident. But that doesn't make it right. Your loved one shouldn't have died.
If you have lost a relative in a truck accident, we are committed to getting them justice. In Missouri, family members can file a wrongful death claim:
Spouses
Parents
Children
Siblings
Wrongful Death Compensation
A large payout will not save your mother, father, sister, or child. But it can begin to bring closure to your family. If you have a successful claim, the deceased's surviving spouse will be awarded compensation.
A wrongful death payout aims to cover suffering and other damages, including:
Funeral expenses
Medical bills
Loss of consortium
Property damage
Loss of companionship
Loss of instruction from parent to child
What Should You Do After a Construction Truck Accident?
After a truck accident, you're probably feeling confused, in shock, and in severe pain. You might not be thinking straight. Cape Girardeau construction truck accident lawyers recommend following these steps after a truck accident.
Call 911
The first thing you should do after a truck accident is call 911. The police will ask you to fill out an accident report. They will also document the scene of the crash.
Go to the Hospital
As soon as you can, go to the emergency room to get checked out by a doctor. Even if you feel okay, you could have life-threatening injuries, like brain injury or internal bleeding.
Take Pictures
Cover all your bases and record evidence of the crash. Do so by taking pictures of important factors like:
The weather
Your injuries
Damaged vehicles
Keep a Diary
You'll still be in a lot of pain in the days following the crash. Pain and suffering aren't always easy to prove. Keep a diary to document evidence of your injuries by tracking:
Pain levels
Depression
Lower quality of life
Ability to participate in daily activities
Don't Provide a Recorded Statement
The truck driver will try to prove the accident wasn't their fault. You might be asked for a recorded statement. Lawyers for construction truck accidents in Cape Girardeau recommend referring the insurance agent to your lawyer.
Track Medical & Repair Statements
If you're eligible for a payout, you must show a record of your expenses. Keep track of your medical and repair bills for documentation after a truck accident.
Follow Doctor's Advice
Depending on your injuries, you could be in for a long recovery. Follow your doctor's orders to heal as quickly as possible.
Get Your Car Appraised
Property damage is a big part of your compensation from a truck accident. Have your car appraised to see what it would cost to fix the damages.
Hire a Lawyer
Hire a construction truck lawyer in Cape Girardeau as soon as possible after a truck accident. We can help you file a claim for compensation.
Who Is at Fault in a Construction Truck Crash?
When you think about who could have caused a truck accident, you probably consider the truck driver. Are truck drivers always responsible for truck accidents? Not always!
There are a few more parties to keep in mind, including:
Trucking companies
Shipping companies
Third-party vendors
Trailer owners
Cargo loaders
Auto technicians
Truck & part manufacturers
Tire manufacturers
How Much Money Could You Get After a Truck Accident?
There is no set amount of money that you could receive. Your compensation will depend on who was at fault and the damages caused. Lawyers for construction truck accidents in Cape Girardeau will consider these factors:
Medical bills
Property damage
Pain and suffering
Anxiety, depression, PTSD, & trauma
Past, current, and future medical procedures
Lower quality of life
Inability to work
Permanent disability
Talk to a Lawyer for Construction Truck Accidents
If you're experiencing unwanted life changes after a truck accident, Morelli Law Firm can help. We are here to help you get a payout for your injuries or the death of a family member. You don't have to be afraid; we've got you covered.
Don't wait to get help. Find out if you're eligible for compensation as soon as possible. The sooner you file a lawsuit, the sooner we can hold the guilty party accountable.
You don't have to do it alone. Reach out to a lawyer for construction truck accidents in Cape Girardeau to learn more today.