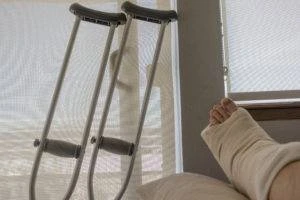 UPS is one of the largest shipping companies on earth. As such, they put a massive number of trucks on the roads on a daily basis. Inevitably, this leads to a significant number of UPS truck accidents every year. Because of the extreme size and weight of these trucks, the damages they cause are often devastating.
If you suffered damages in a UPS truck accident, you will likely be faced with significant expenses. Covering these costs can be incredibly challenging without recovering compensation from the liable party. At the Morelli Law Firm, our team of UPS truck accident lawyers in Cape Girardeau, MO, has the experience needed to help get you the money you need after a crash.
Recoverable Damages Following a UPS Truck Accident
After a car accident with a UPS truck in Cape Girardeau, MO, you will likely be eligible to pursue a wide range of damages. All compensatory damages are classified as either economic or non-economic damages.
People are often intimidated when faced with pursuing a lawsuit against a large corporation like UPS. However, it is essential that you don't let this prevent you from pursuing the compensation you need and deserve after an accident. You need to remember that these companies can be held accountable for their actions just like everyone else.
Economic Damages
All of the losses you suffer after an accident that are financial in nature are categorized as economic damages. Economic damages include both income you are unable to earn and money you are forced to spend after a collision. Beyond the losses you currently face, economic damages also cover projected future losses.
Economic damages commonly awarded after a UPS truck accident include:
Medical costs

Future medical bills

Lost wages

Diminished earning ability

Property damage
Non-Economic Damages
All the other losses you endure after an accident are grouped into the much broader category of non-economic damages. A commonality among most of these diverse losses is that they tend to be irreplaceable and irreversible. Due to the profound nature of these losses, the money recovered for non-economic damages is typically significant.
Non-economic damages commonly awarded after a UPS truck accident include:
Pain and suffering

Emotional distress

Loss of consortium

Decreased quality of life

Permanent disability
When you are attempting to recover compensation after a UPS truck accident, an experienced lawyer can help you sort through which damages apply to your case. In addition to compensatory damages, you may also be able to collect punitive damages in some situations. These damages are only awarded in cases involving criminal negligence or intentional harm.
Who Is Liable for a UPS Truck Accident?
Proving liability after an accident is frequently challenging. If UPS is at fault, they will likely attempt to obscure their responsibility and shift blame onto another party. Fortunately, you do not have to attempt to prove liability alone. An experienced UPS truck accident lawyer in Cape Girardeau, MO, will know exactly what to look for when attempting to establish fault for a crash.
The Insurance Company Is Not Your Friend
There is a reason that insurance companies try so hard to portray themselves as friendly, helpful neighbors in their advertisements. This narrative is designed to obscure the true nature of these businesses. The fact is that insurance providers care far more about profits than they do about people. Failure to recognize this truth could cost you a lot of money.
Accident victims who take the insurance company at their word frequently find themselves in a position where they are no longer able to recover the compensation they need. Insurance adjusters will use a large bag of tricks to deny or devalue your claim.
The best protection against these predatory practices is hiring an experienced UPS truck accident lawyer. Hiring an attorney will cut off the insurance company's ability to contact you directly. By forcing the insurance company to go through your lawyer, you will be putting up a barrier that will protect you from the tricks they would otherwise attempt to use against you.
Be Mindful of the Statute of Limitations When Filing a Lawsuit After a UPS Truck Accident
If you are planning to file a lawsuit after a UPS truck accident, you need to make sure you are aware of how much time you have to file. In Missouri, the personal injury statute of limitations gives accident victims five years to file a lawsuit against the liable party. If you fail to file within this time frame, you will likely forfeit your right to pursue compensation for your losses.
However, you need to realize that exceptions to the statute of limitations exist which could apply to your case. Depending on the particular circumstances of your accident, an exception could permit you to file a lawsuit even if the standard two-year limit has long passed.
At the same time, an exception can work the other way around. The specifics of your accident could put you in a position where your window to file is greatly reduced. The best way to protect your right to recover compensation and ensure that all deadlines are met is by hiring an experienced UPS truck accident attorney soon after your accident.
Find a Lawyer With a History of Taking on Large Corporations
When attempting to recover damages from a large corporation, you need to ensure you have legal representation with a history of litigating these types of cases. At the Morelli Law Firm, our team of Cape Girardeau UPS truck accident lawyers has a proven track record of recovering favorable compensation in cases against large corporations.
Reach out to us today by giving us a call or completing our online contact form. You can schedule a free, no-obligation consultation with a member of our legal team.