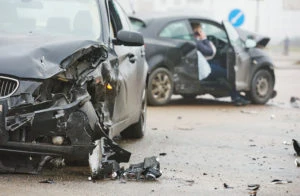 All road users in Cape Girardeau have a duty to ensure that the roads are safe for others. When people become careless and reckless while driving or walking on the city's motorways, their actions can often lead to terrible car accidents, which leave the victims in a lot of pain and even cost them their lives.
Yet, despite Missouri's emphasis on road safety, the Missouri Department of Transport reports that 16 people lost their lives while another 54 suffered catastrophic injuries in Cape Girardeau car accidents between 2016 and 2018.
This discomfort arising from injuries sustained in auto crashes can be overwhelming. Worse, it can lead to financial devastation. This is why you need professional legal help from an experienced Camp Girardeau car accident lawyer to help you pursue and recover all the losses brought on by the car wreck.
Proving Fault in a Cape Girardeau Car Accident Case
Before filing a compensation claim in Missouri, you must first prove that the defendant caused your accident and the resulting injuries. And to do this, you'll have to show that the following elements are present:
Duty – You'll have to show that the defendant had a legal obligation to act in a reasonably safe manner while they were on the road at the time you were. By default, when drivers get behind the wheel and drive, they agree to behave in a way that ensures the safety of other users.
Breach of duty – This applies when a road user fails to act in a reasonably safe manner, thus putting himself and other road users at risk or in danger. For instance, if drivers get behind the wheel while drunk, they're more likely to make dangerous, life-threatening mistakes while driving.
Causation – If the driver's carelessness or negligence leads to an accident and subsequent injuries, it means that their actions or lack of it caused the incident. You will need to show that there was a direct link between the other driver's or road user's actions and your car accident.
Damages – Because of the accident and resulting injuries or property damage, you suffered losses in dollar amounts. These losses can be lost time at work, medical treatments, car repairs, or replacement.
If your Cape Girardeau car accident lawyer can successfully prove fault in your case, the defendant will be held liable for your injuries and damages. Therefore, they must reimburse you to the full extent of your losses. This value can be determined by your lawyer, the court, or the insurance company.
What If You Are Partly Responsible for the Cape Girardeau Accident?
Missouri has a comparative negligence rule as seen in Missouri Revised Statute § 537.765. This means that you can still get compensation even if you were partly responsible for the accident. But how much you'll receive as a final payout will be determined by the degree to which you're responsible.
For example, let's say the other party was driving recklessly, but you weren't paying attention to the road when the crash occurred. If the court awards a settlement of $250,000 but determines that the driver was 90 percent responsible for the accident, and you were 10 percent to blame, you will only get $225,000, which is 10 percent less the full settlement amount.
Although comparative negligence seems pretty simple it can become quite complex, particularly when there are multiple parties involved like in the case of a multi-vehicle crash. And even when it's just between two parties, it can be hard to accurately assign liability percentages.
Insurance companies are aware of this rule, which is why they'll often try to assign more blame and liability to the plaintiff. They do this because they know that if they can get you to take on more blame, they wouldn't have to pay you more money.
This is why you should talk to the experienced Cape Girardeau car accident lawyer at Morelli Law Firm. Our lawyers will be able to figure out the degree to which you're liable and ensure that you get a fair settlement.
Damages You Can Recover in a Cape Girardeau Car Accident Case
In Missouri, you can recover two types of damages:
Economic Damages
This covers all the injuries and losses you can easily assign a dollar value to. These are:
Medical costs that cover all past, current, and future medical treatment.
Property damage covers vehicle repairs, replacement, or lost items.
Income lost due to your inability to go to work while recovering or getting treatment.
Reduced ability to earn if you're incapacitated and unable to full capacity after recovery.
Mental health costs cover psychiatric treatment expenses for any psychological or emotional issues arising from the accident.
Non-Economic Damages
This covers subjective "injuries" that you cannot quantify in dollar amounts. This is often referred to as non-monetary losses that are hard to calculate. These include:
Pain and suffering
Mental distress
Emotional anxiety
Scarring or disfigurement
Temporary or permanent disability
Loss of enjoyment of life
According to Missouri Revised Statute § 510.261, if there's proof of malicious intent, gross negligence, and carelessness, the court might also award punitive damages.
But to qualify for these damages, you must file your personal injury claim within three to five years, that's five years for personal injury and three years from the date of a loved one's death for a wrongful death suit.
Talk to a Cape Girardeau Car Accident Lawyer
The pain, trauma, and losses often brought on by accidents can be difficult to deal with. No one should have to go through that. If anything, you should be focused on getting better, instead of worrying about your medical bills or taking care of your family.
With the help of our experienced Cape Girardeau car accident lawyers at Morelli Law Firm, we can help ensure that you get what's due to you. This way, you can solely focus on recovering better and getting back on your feet.
Contact us today for a free case evaluation.