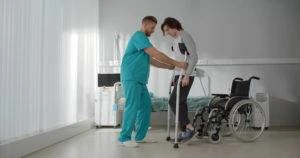 There is a lot of pressure on Amazon delivery drivers to get their 250+ packages out the door every day within their shift. Vans and tractor-trailer vehicles transporting Amazon products have been implicated in hundreds of traffic accidents, including a small number of fatalities.
Over a hundred direct lawsuits have been lodged against Amazon, but since most delivery drivers for Amazon are independent contractors, a complete snapshot of the real data is almost impossible to compile. In spite of the minimal data available, we know these incidents are not uncommon.
Morelli Law firm is aware of the damage that these delivery and commercial vehicles cause. Our Amazon delivery truck accident lawyers in Cape Girardeau may be able to help you pursue a claim to maximize the compensatory damages you need to recover from your losses.
What to Do After an Amazon Truck Accident in Cape Girardeau
As soon as an accident involving a commercial truck happens, lawyers get to work. The key is to limit liability, tell the driver not to admit errors, and stay out of the news. The truck driver's legal needs are taken care of, but what about yours?
Talk to a Cape Girardeau Amazon truck crash lawyer after getting medical help. They can start getting information right away to make sure that important paperwork is done.
Things can go missing from the scene, witnesses can change their phone numbers, and documents can be changed or hidden. Getting help from a lawyer right away can help you keep the proof you need to put the blame on the guilty party and keep it off of you.
Here's what to do after a truck accident:
Take a moment and take a deep breath. Crashing is scary, and if you panic, you could hurt yourself or others even more.

Check on your passengers and call for help. Move to a safe place and get out of the roadway if you can.

Get help from a doctor. Your adrenaline is pumping, even if you don't feel hurt, and it can conceal injuries. Get checked out right away to protect your health.

Look for witnesses. If you can, get the names and phone numbers of any witnesses and show the police where they are. Having the officer's paperwork will bolster your claim.

Document with pictures: Take photos and video. Ask around to see if anyone has a dash cam and get their contact info. If you aren't able to take pictures, call a friend or your lawyer and ask for their help.

Try to stay calm: Don't panic, and talk as little as possible while you're there. Do not apologize or admit fault.

Call A Cape Girardeau Truck Accident Lawyer – If you haven't already, call an attorney right away. They can tell you what to do in this confusing situation.
Can You Sue Amazon for Compensation After an Accident With One of Their Trucks in Cape Girardeau?
If the driver is employed by Amazon, you may be able to sue them. However, a significant portion of Amazon's delivery truck drivers is subcontracted from other organizations. Although it may be possible to launch a lawsuit, most truck accident cases are handled by insurance.
In the event of an accident, drivers or their respective employers may be held financially responsible for any resulting damages. If an accident happens while an independent delivery driver is working, their personal auto insurance is not likely to cover the resulting costs.
The Amazon truck accident lawyers at Morelli Law in Cape Girardeau have years of expertise working with insurance carriers and calculating coverage for accident victims. To that end, we will work with any and all insurance providers to secure full reimbursement for your losses.
Causes Amazon Delivery Truck Accidents
Pressure to meet delivery quotas is a well-known contributor to Amazon truck accidents. Numerous Amazon Prime members pay for the service because of its fast shipping times. Those in charge at Amazon push fast shipping and put pressure on drivers to satisfy consumers.
According to the New York Times, Amazon's delivery drivers are expected to be nearly perfect in terms of punctuality. Poor performance in this area can lead to reprimands or termination.. Due to the immense stress this causes, drivers may engage in risky driving behaviors.
Some drivers may cause accidents by:
Speeding

Distracted or fatigued driving

Tailgating

Running red lights

Running through stop signs

Not checking blind spots before changing lanes
Poor management of the fleet can also cause collisions. Many safety regulations are put in place to govern the safe operation of commercial vehicles. Amazon or its partner carriers can be held liable for damages in a crash if they fail to meet these stringent standards.
There are bound to be mishaps on the roads with all the delivery vehicles, vans, and big rigs out there, but many of these collisions might have been avoided. A Cape Girardeau Amazon delivery truck accident lawyer will help you identify the causes and pursue the liable parties.
What Damages Can Be Recovered in a Truck Accident Lawsuit Against Amazon in Cape Girardeau?
If you were injured in an accident with an Amazon delivery truck or semi truck in Cape Girardeau, you have the right to seek compensation for your suffering. Your lawyer will seek to maximize your compensation and ensure that all of your losses are taken into account.
You may claim damages for the following:
Medical: Your emergency transportation, treatment, medical care, hospital bills, therapy, medical equipment, mobility aids, medicines, and the cost of all future medical expenses relating to your injuries are included in the medical expenses.

Your lost income: The amount of damages may include compensation for past, present, and future lost wages or earning capacity.

Property Damage: The expense of replacing or repairing your car and any personal belongings that were lost in the accident.

Non-economic damages: Your

pain and suffering

, as well as the interruption to your life as a whole. The amount of time it takes to heal and the pain associated with the injury and therapy are elements that must be considered.
To guarantee that all of your expenditures are reimbursed, your Cape Girardeau Amazon truck accident lawyer will determine the overall damages of your claim. With the assistance of our medical and economic experts, the cost of future treatment and probable medical costs can be determined.
How A Cape Girardeau AmazonTruck Accident Attorney Can Help Your Case
Our attorneys can alleviate the stress of injured victims, offering them the necessary time and space to recover. Other services offered by our business are geared toward achieving the best possible outcome for your case.
Among our services are:
A thorough examination of the specifics and facts surrounding your accident.

An detailed assessment of your economic and non-economic losses

Collecting all relevant data, documentation, and proof

Identification and location of all parties potentially liable

Completion and submission of legal papers and insurance information in a timely manner

Handle all contact and negotiations with the insurance company and opposing lawyers

Legal representation in court
In order to protect your ability to bring a claim, it is crucial to avoid errors such as missed deadlines and incorrectly filed documents. A lawyer can assist you avoid making mistakes that can cost your claim and put your recovery at risk.
What Should You Do If an Adjuster Contacts You?
When dealing with certain Amazon contract drivers, you may get a call from the adjuster. There is no need for you to offer your permission for a recorded statement. Anything you say in a recorded statement may and will be used to reduce the amount of compensation they pay out.
You can communicate with them while minimizing small chat and specifics. Explain that you're unable to chat right now, but ask for their number. Then, forward the details to your legal counsel for consideration.
Insurance firms are not looking out for your best interests. Your adjuster is being pressured to settle for as little as possible to preserve the company's bottom line. Let your Amazon accident Lawyer in Cape Girardeau speak with them and negotiate on your behalf.
Amazon's Lackluster Regard for Safety
In 2018, Amazon expanded a plan to give further training to its drivers in response to multiple fatal incidents involving its employees. The purpose was for drivers to complete a five-day rigorous road training program evaluated by an experienced independent organization.
The driving course was never offered. Amazon rejected the driving course because it would disrupt delivery operations. According to Amazon's internal documents, the senior logistics manager feared the training would cause a "bottleneck" and delay getting new drivers on the road.
As its operating network increases, Amazon continuously disregards the obligation for safety. Amazon's practice of hiring dangerous trucking companies to haul their freight was exposed in the Wall Street Journal. Although each situation is unique, many accidents could have been avoided.
Questions of Liability in Amazon Truck Accidents
When they release commercial vehicles onto the road, companies have a responsibility to ensure the safety of the public. But Amazon's trucks are deteriorating, delivery drivers are stressed out, and people are being injured.
Amazon should have to pay for the harm they cause. Instead of accepting responsibility for the accident, they place the blame on the contractors. You may lose your right to compensation under Amazon's insurance if you are compelled to submit a claim with the contractor's insurance.
In certain cases, a Cape Girardeau Amazon truck accident attorney may be able to make a case against Amazon. Doing so can increase the likelihood that you'll receive enough compensation for any harm you've suffered.
Important Evidence Following An Amazon Truck Accident
The success of your case hinges on your ability to gather and evaluate evidence. Even while it's smart to document the scene of the accident with your own photos, an Amazon truck collision attorney in Cape Girardeau can use the evidence to build a stronger case on your behalf.
You may gain easier access to evidence including medical records, police reports, and witness statements with the aid of a personal injury attorney from our company.
Location and identification of witnesses for testimony

Toxicology report of the Amazon driver

Violation history of Amazon trucks

Physical proof in the form of photographs and films

Data from the "black box," if relevant

Driver records

Logs of truck and vehicle inspections and repairs

Analysis from accident site investigators or medical specialists

Maintenance schedules and driver logs
Our legal team has extensive experience showing negligence in truck crash claims and has learned a great deal about large shipping firms and their operations. When you are the victim of negligence, your Amazon delivery truck accident lawyer and their team have the tools they need to defend you.
Results-Driven Representation
You need formidable legal representation when going up against the legal department of a major business. We have a history of success, and our legal team has amassed extensive understanding about Amazon and its legal procedures.
In 2020, we won a case against Live Nation that resulted in a $20 million award for our client. The award broke all previous records for damages related to pain and suffering. Our team's evidence against FedEx resulted in a settlement of a lawsuit after the first two days of a trial.
We also negotiated a private settlement for Tracy Morgan, whom we represented in his case involving an accident at a Walmart. Our legal team has taken on organizations like Pfizer and Amtrak, and we have successfully gotten our clients justice and awards that made national headlines.
Contact a Cape Girardeau Amazon Truck Accident Law Firm Today To Learn More
Amazon's two-day and overnight shipping service has revolutionized our lives. However, there is a real drawback: Amazon trucks are constantly on our roads and highways, they are causing harm to real people, and they deny responsibility.
If you were hurt in an accident and want Amazon to pay for your losses, you should talk to an Amazon Truck Accident Injury Attorney in Cape Girardeau. You can take legal action against Amazon, and you don't have to face them alone. The attorneys of Morelli Law can help.
To discover more about how we can defend your interests at no cost to you, give us a call. If we accept your case, we will not charge you any fees until we are successful in obtaining a positive decision or settlement on your behalf. We invite you to contact us to arrange a no-cost case evaluation.