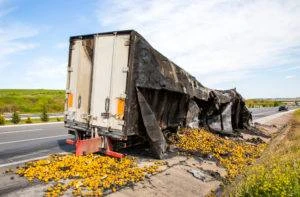 Were you or a loved one injured in a cargo truck accident? Call Morelli Law Firm at (212) 751-9800. A White Plains cargo truck accident lawyer from our office can help protect your rights, negotiate for a fair settlement, and provide other legal services to help you complete your claim or lawsuit.
Truck Drivers Must Follow Federal Regulations and Drive Their Trucks Safely
Driving a truck is a bigger responsibility than driving a car. Accidents involving trucks may have more serious and more expensive consequences. Truck drivers who operate cargo trucks are potentially carrying tons of material on top of the vehicle's own weight. Because of trucks' size and weight, truck drivers must follow road rules and federal truck regulations.
The Federal Motor Carrier Safety Administration (FMCSA) outlines the regulations truck drivers must follow. These regulations include limits on driving hours and minimum required breaks. If a driver fails to obey these rules, whether because of their own carelessness or because of pressure from an employer, they put themselves and everyone else on the road at risk.
If you were injured in a truck accident and want help getting compensation, call Morelli Law Firm. Our phone number is (212) 751-9800. One of our team members can assess your case free of charge and discuss how a White Plains cargo truck accident lawyer from our firm can help you with your case.
Have You Been Injured In An Accident? Contact Morelli Law
877-751-9800
You May Be Able to Sue the Liable Party for Your Damages
Motor vehicle accidents can affect your wallet, your health, and your life. According to the Centers for Disease Control and Prevention (CDC), in 2012, Americans spent over one million days in the hospital because of accident-related injuries, and about $18 billion in crash-related medical costs.
Fortunately, help is available. You may be able to sue the liable party—whether that turns out to be the driver, the trucking company, or someone else—for compensatory damages. This is money awarded to accident victims to compensate them for their injuries and help them pay any bills incurred because of the crash.
Compensatory damages are divided into two groups: noneconomic damages and economic damages. Noneconomic damages are for accident victims who suffered a physical injury or psychological distress. They may include:
Disfigurement: Your injuries will never heal properly, leaving you with noticeable scarring that affects your motor skills and/or your self-image.
Disability: You lost a limb, organ, or another important body part, or you lost the use of one of these parts.
Reduced quality of life: Your injuries have permanently altered your way of life. This can mean anything from having to sacrifice a beloved hobby to being unable to perform basic tasks, like cooking and cleaning.
Noneconomic damages can be difficult to measure money-wise. It may be hard to decide what each type of damage is "worth" in financial terms. Economic damages, which compensate you for financial losses incurred because of the crash, are often more straightforward. If you were billed for an accident-related expense, or if you could not go to work for a while, you may qualify for economic damages, such as:
Medical expenses: This category can be interpreted broadly to include doctor's appointments and hospital visits, prescription medication, therapy, home care, and other treatment-related expenses.
Repair expenses: If your car needed repairs after the accident, or if you had to replace your car, you may be compensated for those costs.
Loss of wages: Your injuries kept you home for days, weeks, or months, making it difficult to support yourself and your family.
Reduced earning capacity: Your injuries have affected your ability to work and earn as much as you used to be able to do prior to your accident.
White Plains Cargo Truck Accident Lawyer Near Me
877-751-9800
A Lawyer Can Fight for You
If you need compensation but do not feel up to managing a lawsuit by yourself, consider hiring an attorney from Morelli Law Firm. Your lawyer can handle the challenging tasks involved in filing a lawsuit, including:
Investigating and Building Your Case
Accidents can be complicated. They sometimes involve more than one cause or liable party. Our investigation may include visiting the scene of the accident and collecting substantive evidence, such as the following:
Photos of the scene
Surveillance footage
Eyewitness statements
Medical records
Police reports
Truck maintenance records
Complaints against the trucking company
This evidence might paint a clearer picture of what happened, who might be liable for the accident, and why you might deserve compensation for your damages.
Negotiating a Settlement
Your case does not have to go straight to court. In fact, accepting a settlement offer might get you the money you need faster and with less stress and expense. Your attorney may meet with the liable party's insurance company representatives to fight for every penny you demand to receive.
Of course, there are some cases that do go to court. When and why does this happen? It is often because the insurance company refuses to offer a fair settlement. If that happens to you, your lawyer is ready and willing to represent you in court.
Giving You Peace of Mind
While your lawyer is hard at work, you can focus on getting better. We can handle all legal matters and keep you apprised of all developments. You do not even have to pay us right away. Our lawyers work on a contingency fee basis, meaning that you only pay our attorney's fees once you get your money. If we cannot win your case, you owe us nothing.
If you are struggling to pay bills or cope with an injury after a truck accident, let a White Plains cargo truck accident lawyer handle your case. They can fight on your behalf while you concentrate on what is most important: recovering from your injuries and rebuilding your life. Give Morelli Law Firm a call at (212) 751-9800 if you are ready to have us get started on your case.