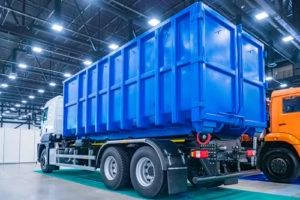 A White Plains construction truck accident lawyer from Morelli Law Firm may be able to help you after a collision that was someone else's fault. We manage insurance claims, settlement negotiations, personal injury lawsuits, and wrongful death lawsuits on behalf of our clients.
Morelli Law Firm takes truck accident cases on a contingent-fee basis. That means you do not have to pay any up-front legal fees, and we do not receive attorney fees unless and until you win your case.
Morelli Law Firm provides a free initial consultation to White Plains truck accident victims. To speak with a member of our team about your case today, call (212) 751-9800.
Liability for Construction Truck Accidents
A construction truck accident can occur on the road or at a roadside construction site, where the truck may be parked or moving. Regardless of where the accident took place, if the cause was another party's negligence, you may be able to recover compensation for your damages.
Negligence in a construction truck accident may include:
An illegal lane change, failure to yield, or another violation of traffic law committed by the truck driver
Driver intoxication
A drowsy truck driver falling asleep at the wheel
Cargo spilling from a truck and entering the roadway
A mechanical failure
An unmarked or unsafe roadside construction site
Depending on the action that caused you accident, the liable party may be:
A construction company
An independent contractor
A municipality
A defective product manufacturer
A negligent mechanic
Morelli Law Firm can investigate your accident to identify the liable party when we represent you.
Construction Accident Injuries
Construction trucks weigh much more than the standard passenger car. When the construction truck carries a load of materials or construction site debris, they weigh even more. Construction truck accidents can cause severe injuries. Tragically, they can also result in fatalities.
Injuries in a construction truck accident may include:
Whiplash
Broken bones
Airbag impact injuries
Face or teeth injuries
Traumatic brain injuries (TBIs)
Burns or lacerations
Internal bleeding
Organ damage
And more
If you have not already received medical treatment for your injuries, you should do so immediately. An injury can become infected or more severe without prompt treatment. You might have injuries that have not yet shown symptoms.
A visit to a doctor after your accident can also support your case. Your medical records can link your injuries to the construction truck collision. If you wait too long to get medical attention, the defendant could argue that you got hurt somewhere else and not in the truck accident.
Your medical records may also serve as evidence to show the extent and severity of your injuries. Make sure to comply with any follow-up care or treatment your doctor orders.
Working with Morelli Law Firm on Your Case
A White Plains construction truck accident lawyer from Morelli Law Firm can guide you through the claims process and file a lawsuit on your behalf when we represent you. While you focus on healing from your injuries, we may be able to:
Communicate with all parties on your behalf
Manage the paperwork and legal deadlines in your case
Provide you with legal advice and design a strategy in your case
Gather evidence of liability and your damages
Defend your rights in settlement negotiations and on trial
Keep you updated on the progress of your case
For a no-cost case review with a member of our team, call Morelli Law Firm today at (212) 751-9800.
Recoverable Damages in a Construction Truck Accident Case
Depending on the details of your accident and your injuries, the following types of damages may be available in your personal injury case:
Medical bills: your current and future medical costs may be recoverable. This damage category can include things like ambulance rides, emergency room treatment, hospital stays, doctors' appointments, surgery, blood transfusions, lab tests, x-rays, physical therapy, and medication.
Lost income: if you missed paychecks because of your injuries, you may be able to recover lost wages. Salary, benefits, self-employment, and other forms of regular income may fit into this damage category as well.
Decreased earning potential: you might not be able to perform the same work tasks you did before your accident. If you have to cut your working hours, take a lower-paying position, or change jobs because of your accident-related injuries, you may be able to recover compensation for decreased earning potential.
Non-economic damages: some damages do not come with a paper trail that makes it easy to measure them in dollars. These non-economic damages have value, nonetheless. Some examples of things in this category may include pain and suffering, disfigurement, loss of the enjoyment of life, and mental anguish.
You might have additional losses that we could include in your injury claim. If you are filing a wrongful death lawsuit after a loved one passed away in a construction truck accident, your damages may include funeral and burial costs, loss of support, and more.
Get a Free Consultation on Your Case
Morelli Law Firm offers free consultations to truck accident victims in White Plains. To speak with a member of our team about your case, call (212) 751-9800 today.
A White Plains construction truck accident lawyer from our firm may be able to represent you on a contingency-fee-basis with no up-front payments required.
If you are thinking about taking legal action for your injuries, do not wait too long. There is a general three-year statute of limitations on personal injury lawsuits in New York, per NY Civil Practice Law & Rules (CVP) § 214. For wrongful death lawsuits, NY Estates, Powers & Trusts (EPT) § 5-4.1 imposes a general two-year statute of limitations.
To learn about the specific deadlines that pertain to your case, call Morelli Law Firm today.