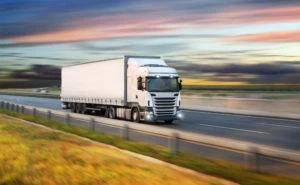 Because of their sheer size and weight, accidents with cargo trucks are often extremely serious, causing life-threatening or even fatal injuries for victims. Cargo trucks that are improperly loaded can make them even more prone to accidents.
If you or a loved one suffered injuries in Jersey City because of a cargo truck accident, you have the right to hold the negligent parties responsible, and you are not alone. A Jersey City cargo truck lawyer can help you identify the liable parties and handle negotiations with the defendant's lawyer or insurance provider.
The team at Morelli Law Firm has worked on many cases like these, and we are proud of our results. We will send by your side from beginning to end, helping you pursue compensation to the fullest extent of your injuries. To learn more about how we can help, contact Morelli Law Firm today at (212) 751-9800.
Causes of Cargo Truck Accidents
There are many circumstances that can lead to an accident with a cargo truck in Jersey City. A few of the common causes include:
Distracted Driving
According to the Centers for Disease Control and Prevention (CDC), distracted driving includes any type of behavior that takes your focus off the road. Though many people immediately think of texting and driving, distracted driving also includes eating while driving, talking to passengers, looking at a navigation system, or changing the radio.
Speeding
Cargo truck drivers sometimes feel compelled to speed to make up for time lost in traffic or time spent loading the vehicle. However, because of the weight of the truck and the risk of unevenly loaded cargo, speeding is extremely dangerous. As the National Highway Traffic Safety Administration (NHTSA) reports, it makes it hard for the driver to avoid an accident if traffic suddenly changes speed. It also increases the severity of injuries.
Drowsy Driving
Cargo drivers sometimes drive during the early morning or light at night, putting them at risk for drowsy driving. According to the CDC, this type of driving behavior makes it hard to focus on the road and slows your reaction time.
Defective Equipment or Poor Maintenance
In order to run properly and reduce the likelihood of collisions, the cargo trucks must be properly maintained, and the parts must be in good working order. If a truck is not maintained on a proper schedule or a part is defective, the results can be catastrophic. According to the Insurance Institute for Highway Safety (IIHS), researchers found that in cases where crashes involved at least one large truck, almost 55% of the trucks had at least one mechanical violation. Brakes and lights were the systems that most frequently proved defective.
What makes these cases particularly complex is that there are sometimes many parties responsible for the accident. A Jersey City cargo truck lawyer can help you determine who is liable and take the necessary steps to hold them responsible for their negligence. For a free case review, contact Morelli Law Firm today at (212) 751-9800.
Types of Injuries Caused by Truck Accidents
There are many injuries that can occur as a result of a truck accident, including:
Traumatic brain injuries: Traumatic brain injuries (TBIs) can occur if you experience a blow to the head during the collision. This type of injury can disrupt your normal brain function, impairing your cognitive functioning, and even altering your personality.
Fractures: Fractures are common because of the enormous amount of force created during a collision. Fractures can vary in seriousness, although they typically heal fine with medical treatment and rest. Other complications can occur if the bone pierces the skin or if it breaks in multiple places.
Spinal injuries: Because the spine is responsible for relaying messages from the brain to other parts of the body, any damage to the spine can impair mobility. Many people who suffer a spinal injury require an assistive device like a walker or wheelchair after the accident.
Internal bleeding: If there was an extreme force in the collision with the cargo truck, the victim may have damaged their internal organs or brain, causing internal bleeding. This type of injury can lead to external bleeding, seizures, or even become fatal if left untreated.
Types of Recoverable Damages
If you are a victim in an accident with a cargo truck, your injuries may be severe and financial losses extensive. While every case is different and the damages you may be able to recover as a result of the accident depend on the details of your case, possible recoverable damages include:
Medical costs
Pain and suffering
Property damage
Disfigurement or dismemberment
Lost wages
Loss of earning potential
Out-of-pocket expenses
How the Morelli Law Firm Can Help
As you saw above, accidents with cargo trucks can occur because of a variety of circumstances. It may be the result of a negligent driver, irresponsible trucking company, or even the parts manufacturer. In fact, there may be multiple parties who could be held liable for your damages.
A Jersey City Cargo truck lawyer can help handle your case from start to finish. We can investigate your accident to collect valuable evidence. If necessary, we can even work with accident scene reconstruction experts to determine exactly what caused the collision.
We can gather your medical bills and receipts and speak to your doctors to fully understand your financial losses as well as the impact the accident will have on your future. This allows us to calculate the full value of your case, so we know what a fair settlement looks like. Finally, we can communicate with the defendant's lawyer or insurance company on your behalf so you can focus on healing from your injuries.
For a free review of your cargo truck accident claim or to find out what options you have for recovering compensation, contact Morelli Law Firm today at (212) 751-9800.