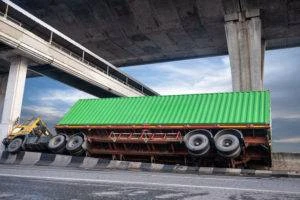 For a road user, nothing is scarier than being involved in an accident with a commercial truck or motor vehicle. Yet, according to a National Highway Traffic Safety Administration (NHTSA) report, there were over 146,000 crashes involving large trucks in that year. And a number of these traffic collisions happen here in White Plains, New York.
Some of these involve FedEx, Amazon, DHL, UPS, and Walmart delivery trucks that were driven by inattentive, distracted, or tired drivers. While not all accidents involving delivery trucks are caused by drivers, some of them are. Because of the sheer size of these delivery trucks, the accidents –particularly when there's a smaller vehicle involved– can lead to devastating injuries that can keep victims bedridden for a long time.
This means long periods away from work and missed pay, huge medical bills, and a lack of capacity to take care of your family. No one should deal with all these without help. Morelli Law Firm's delivery truck accident lawyers in White Plains can help you get the compensation you need to pay your bills, care for your loved ones, and sustain you until you get back on your feet.
Why Hire a Delivery Truck Accident Attorney in White Plains, NY?
When you've been in a traffic incident involving an Amazon or Walmart delivery truck and are hospitalized, it's almost impossible to fight for your compensation while you're in recovery. Yet, to the hospital, it doesn't matter that you're the victim. The bills keep piling up and your loved ones suddenly have to deal with financial uncertainty.
The best way to ensure that you or your loved ones never have to worry about paying your medical bills and taking care of them is by letting an experienced White Plains delivery truck accident lawyer go after the liable parties.
With our seasoned delivery truck injury law firm serving Westchester Country residents, you can recover all the benefits and damages that are within your rights. At Morelli Law Firm, our experienced truck collision attorneys know how to fight for the rights of injured victims and help them collect the settlement they deserve.
Our Track Record Speaks for Itself
We are trained, skilled, and understand the complexities of these cases. Also, our past experiences where we successfully took on large corporations like Walmart and got them to pay compensation to our injured client makes us super-qualified for cases like this.
We have been able to win many truck accident cases because of our solid process:
First, we collect evidence and independently investigate the case
Then we identify all the liable parties that were responsible for your injuries and the accident
Ascertain the extent of your injuries and the losses caused by the accident
File an injury claim and seek compensation from the liable party's insurers
Fight to ensure that your claim is paid in full
Negotiate with the insurance company until we reach a fair settlement
If we're unable to reach an agreement, we'll take the case to court
Although we try to settle all cases out of court, the reality is that doesn't always happen. And when it doesn't happen, we'll go to court and hash it out with the other party's legal team. The good thing is that, as trial lawyers. we have courtroom experience, which means that we can hold our own and win cases if they go to court.
What Kind of Compensation Can I Expect to Recover from a Westchester County Delivery Truck Accident Case?
Victims who were injured by delivery trucks owned by Amazon, Walmart, FedEx, UPS, DHL, and more, can recover one or more of the following damages:
Past, current, and future medical expenses
Lost wages
Loss of future income
Property repair or damage
Pain and suffering
Mental anguish and/or emotional distress
Loss of enjoyment of life
Scarring or disfigurement
These are broadly categorized as economic and non-economic damages. Depending on your situation, you may be able to claim one or more of these benefits. But before you can file a claim with the at-fault party's insurance provider, you need to approach your insurance provider first regardless of fault.
This applies because New York is a no-fault state. So, instead of waiting on the other party, your insurance company can start paying these damages. And once you max out your limits, you can then file a claim with the other party's insurance company.
What if I Was Partly Responsible for the Accident?
New York is also a pure comparative negligence state. This means that even though you're liable, you can still recover some of your damages. However, your final settlement will be subject to your degree of culpability.
So, if you were awarded $100,000 in a settlement, but were found liable by 60 percent, you will only receive a $40,000 settlement as your third-party claim. While this sounds good, it's kind of a "double-edged sword" in the sense that insurance companies will try as much as they can to pass on as much blame as possible.
This is where solid legal advice and guidance can make all the difference in your case. A good and experienced delivery truck accident lawyer in White Plains, NY, will offer effective counsel and support that will thwart the insurance company's gimmicks and render them ineffective.
Let a White Plains Delivery Truck Accident Attorney Help You
At Morelli Law Firm, we value our clients and are committed to doing everything we can to help them get the compensation they deserve. If you have been injured in an accident involving delivery trucks in White Plains, we can work hard to make the company pay.
We are experienced, skilled, and have the results to show for it. We are the delivery truck accident law firm that you want in your corner fighting for and representing you.
Contact us today to schedule a free case evaluation.