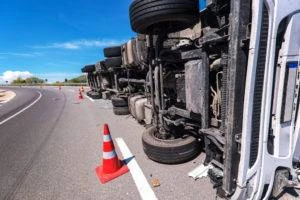 If you suffered injuries in a truck accident caused by the driver of a cargo truck in Newark, NJ, you may have a case against the owner or operator of the truck or another liable party. The team from Morelli Law Firm may be able to help you identify the party legally responsible for your accident injuries and take action to recover damages for you.
Having a Newark cargo truck lawyer from Morelli Law Firm on your side could reduce your stress and make navigating this process easier. Reach out to Morelli Law Firm about your accident case today by calling (212) 751-9800. We offer free case reviews.
Liability in Cargo Truck Accident Cases in Newark, NJ
A cargo truck, sometimes called a delivery truck or box truck, is a large truck with the capacity to move large and heavy items. Owners and operators of these trucks include:
Moving companies
Rental companies
Furniture stores
Appliance stores
Other stores that sell large or heavy goods
You may have even driven one of these trucks on your own during a move, for example. While some drivers are professionals who pilot these large vehicles regularly, others are rental vehicles driven by individuals who may have little experience driving a truck this size.
Liability for an accident caused by a driver of a cargo truck can become complicated because of two reasons:
Rental agreements and insurance coverage for individual drivers
The legal doctrine of respondeat superior that applies when the driver is working, as confirmed in Carter v. Reynolds.
If we believe there is evidence to show you can file a claim or suit based on your accident injuries and the facts of your case, we will help you identify the liable party and learn about their insurance coverage. In many cases, you may be taking action against the truck's owner or the company who oversees its operation, because they are vicariously liable for a worker's negligence under respondeat superior.
Let Morelli Law Firm help you understand your options for recovery following your Newark box truck accident. Call (212) 751-9800 today.
Let a Member of Our Cargo Truck Accident Team Review Your Case for Free
When you let a member of our team review your Northern New Jersey box truck accident case, we can also take a look at your auto insurance coverage. This coverage may play a role in determining your options. New Jersey auto insurance law allows you to make several choices that limit the amount you pay in insurance premiums but may limit your options for recovering pain and suffering and other damages after an accident.
We can review your policy and see if you are eligible to file a claim or civil suit. We can also look at your injuries because some permanent and severe injuries allow you to bypass any limitations put in place by your insurance company regardless of your choice to limit liability when you purchased your policy.
If you can pursue legal action against the party responsible for your accident injuries, a Newark cargo truck lawyer from Morelli Law Firm can take on your case based on contingency. This means our fees are contingent on recovering a payout for you. We only get paid when and if you do.
Recoverable Damages for Those Who Qualify to Take Legal Action
If you have the right to recover tangible and intangible losses through the civil court system based on the facts of your case, we can help you with this process. We may be able to prove, file, and negotiate an insurance claim and settlement with the liable party or file a personal injury lawsuit in an Essex County civil court.
The damages you could recover through either of these actions include:
Current and future medical treatment and care
Current lost wages and reduced earning ability in the future
Repair or replacement of your vehicle, as well as other property damages
Rental car costs
Other documented expenses incurred because of the accident
Pain and suffering
Mental anguish
Wrongful death damages for surviving loved ones
Statute of Limitations Apply in NJ Truck Accident Legal Cases
There are deadlines for how long you have to hold the truck's owner or another liable party responsible for your accident injuries and other harm. Under New Jersey Statutes (NJ Stat) §2a:14-2 of New Jersey law, most accident victims have two years to file a lawsuit before they lose their right to take the case to court.
The sooner we get to work on your case, the better. Getting an early start may make it easier to determine the liable party, gather evidence, and prove your damages. We recommend calling Morelli Law Firm as soon as you can following a box truck accident. We will evaluate your case for free and explain your options for action.
Talk to a Newark Cargo Truck Lawyer About Your Case
A Newark cargo truck lawyer from Morelli Law Firm may be able to seek the compensation you deserve based on the facts of your case and your damages. We understand the severity of injuries in this type of accident and the stress this can put on the whole family. Let Morelli Law Firm handle your legal case while you focus on recovering physically and psychologically.
We serve northern New Jersey, New York City, parts of New York State, Long Island, and Philadelphia. We will evaluate the merits of your case and explain your rights for free.
Call us today at (212) 751-9800. A member of the Morelli Law Firm team can speak to you about your case, your insurance coverage, and your injuries at no cost to you.