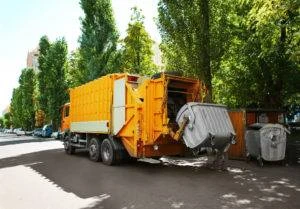 Garbage trucks are large vehicles that are a common sight on the roads throughout Newark, NJ. Garbage disposal personnel play a very important role in the city. However, they may also cause serious problems if they are involved in a motor vehicle collision.
If a garbage truck struck you, you may be eligible to get compensation for your losses. Find out how by contacting a Newark garbage truck lawyer right now. You may start working on a claim with the team at Morelli Law Firm. Speak with a member of our team by calling (212) 751-9800.
Information about Garbage Truck Accidents in New Jersey
Drivers on the road may be used to seeing garbage trucks, but that does not make these large vehicles less dangerous. Garbage trucks may be involved in accidents for a number of reasons. In many cases, these vehicles stop and start to pick up trash. As they move back into traffic, they could strike another vehicle if the driver is not paying attention.
These vehicles may also move slower than regular traffic, increasing the odds that a collision could happen. When a collision occurs with a garbage truck, smaller vehicles may be crushed. Garbage trucks are very large and very heavy, which may make them a hazard to other vehicles on the road.
Note that according to the New Jersey Department of Transportation, there were around 30,000 total crashes in Essex County in the year 2018. Some of these accidents involved garbage trucks. You may get help from a car accident lawyer in Newark if any vehicle in Essex County struck you.
Causes of Garbage Truck Accidents in Newark
As mentioned, garbage trucks are very large vehicles. It may be challenging for drivers to safely operate these vehicles. Drivers not prepared to operate a garbage truck could end up causing an accident. For example, some garbage truck accidents occur because a driver is:
Distracted by a mobile device
Driving after drinking alcohol or taking drugs
Driving while fatigued
Rushing and not checking for other traffic
Accidents could also occur if a truck is overloaded with waste products here in Newark. However, accidents are not always the fault of truck drivers. In some cases, the garbage disposal company may be responsible for an accident, which could occur if the company:
Hires inexperienced drivers
Does not provide drivers with proper training
Fails to perform proper truck maintenance
In these situations, the garbage truck company may bear responsibility for your accident. Additionally, the company that manufactured the garbage truck or parts of the truck could be liable for your injuries if the accident occurred because of a vehicle defect. Find out more about the causes of garbage truck accidents by contacting a Newark garbage truck lawyer. Just call (212) 751-9800 to get started.
Review Challenges Associated with a Garbage Truck Accident Claim
You should be aware that New Jersey requires all drivers to carry no-fault car insurance. In many cases, you draw on this insurance first and foremost after a motor vehicle accident, including a collision with a garbage truck. However, you may be able to seek compensation from the driver who caused your accident in some cases.
However, it may be very difficult to successfully secure compensation when you go up against a garbage truck company and their insurance companies. Additionally, some garbage truck companies receive funding by the state, which may make it more difficult to get compensation after a traffic accident.
A Newark garbage truck lawyer may be able to help you handle the legal challenges associated with seeking compensation in this situation.
Types of Injuries Caused by Garbage Truck Accidents
A collision with a garbage truck may leave you dealing with serious injuries due to the large size of these vehicles. You could end up facing a number of injuries, including:
Head and brain injuries
Neck, back, and spine injuries
Broken bones and fractures
Internal injuries and organ damage
Make certain that you get medical treatment quickly if you suffered injuries in a collision with a garbage truck in Newark. A medical professional may be able to provide you with prompt treatment, allowing you to recover from the effects of your accident.
Additionally, getting medical care quickly may help demonstrate that the collision caused your injuries. Showing that the accident was the cause of your injuries may allow you to seek compensation for all of your medical expenses after a garbage truck in Newark hit you.
Seek Compensation After a Garbage Truck Accident
As mentioned, you may be able to get compensation for your medical expenses if a garbage truck in Newark struck you. You may also be eligible to receive compensation for the wages you lost at work during your recovery.
A Newark garbage truck lawyer could also help you get damages to cover the costs to repair your vehicle. Even your pain and suffering may be covered after a garbage truck accident. Your lawyer may review all of your losses to help you determine how much compensation you could receive.
A lawyer may be able to obtain compensation for you by negotiating with insurance agents on your behalf. In many cases, these claims are resolved with a settlement before they ever reach the court system. However, if you need help handling a lawsuit, you may reach out to Morelli Law Firm to discuss your legal options. Start working on your case now by contacting a garbage truck lawyer in Newark.
Speak to a Newark Garbage Truck Lawyer Today
Take charge of your future if a garbage truck in Newark hit you. Begin working on getting compensation for your losses by contacting Morelli Law Firm. You may reach out to us to begin working with a Newark garbage truck lawyer regarding your case. Find out more about how we could help with a consultation with our team.
Reaching us for help is simple. Just complete our online contact form or call (212) 751-9800.