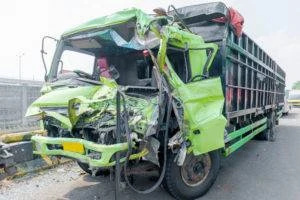 Truck accidents can affect people and their families in a multitude of ways. Truck accident victims might have to face living with physical impairment, emotional trauma, financial stress, or even the loss of a loved one. If you sustained these personal injuries in a truck accident, you might be entitled to receive compensation.
To learn more about how to pursue compensation for your accident-related damages, call Morelli Law Firm at (212) 751-9800. A Long Island garbage truck accident lawyer can fight on your behalf for the money you need to recover from your accident.
Truck Accidents Might Happen as a Result of Driver or Maintenance Negligence
According to the New York State Department of Motor Vehicles (DMV), nearly 78 percent of all large truck accidents in 2014 involved another vehicle. These accidents can involve passenger cars, other trucks, motorcycles, and civilians on the road.
As with any other type of accident, the causes of truck accidents vary. Sometimes, the truck driver is at fault. They might have ignored a speed limit or another important rule, or they might have been too tired to make good driving decisions.
Some accidents are not attributable to either driver. Instead, they were caused by an issue with the truck itself, like faulty brakes or a tire blowout. In these cases, the liable party might be an auto part manufacturer or a maintenance crew.
A manufacturer may be held responsible if the part they produced was inherently flawed. The National Highway Traffic Safety Administration (NHTSA) sets safety standards and issues product recalls when necessary to keep people safe from driving with defective vehicle parts. However, until a recall is announced for a specific part, accidents might occur until a pattern is detected.
A maintenance crew may also be held responsible if they, in the normal course of their duties, should have noticed a problem with the truck but did not.
What does this mean for you? In short, if you want to file a lawsuit, you must first figure out which of these parties is legally liable for your accident. An attorney can help you determine who might be held liable for your damages and then start helping you build your case to pursue compensation.
Have You Been Injured In An Accident? Contact Morelli Law
877-751-9800
Garbage Truck Accident Victims May Experience Different Kinds of Damages
For each way your truck accident impacted you, there might be corresponding compensatory damages. For example, you might have been hit with:
Repair expenses
Medical expenses
Funeral expenses
Loss of employment
Loss of wages and/or earning capacity
Loss of financial support
These are all examples of economic damages. If claimed, you might receive compensation to help cover your financial shortfalls and additional expenses caused by the accident.
Other types of damages include:
Scarring
Disability
Pain and suffering
Reduced quality of life
Loss of consortium
Loss of companionship
These are all examples of noneconomic damages. They might entitle you to compensation due to their impact on your health and personal life.
If you want to sue for damages after your crash, a Long Island garbage truck accident lawyer is ready and willing to assist. Call Morelli Law Firm at (212) 751-9800. Let us evaluate your case at no charge and help you identify which damages you may claim.
Long Island Garbage Truck Accident Lawyer Near Me
877-751-9800
A Brief Overview of How Lawsuits Work
You are not legally obligated to hire an attorney to manage your lawsuit. However, lawsuits can be time-consuming and stressful, especially for someone still recovering from a truck accident. Below is a brief summary of the steps you (and your lawyer) may end up taking in your pursuit of damages.
Step One: Hire a Lawyer
Again, a lawyer is not legally necessary. That said, as you will see in the following steps, trying to handle a lawsuit without professional legal advice puts the burden of completing many difficult tasks directly on your shoulders. If nothing else, you should consult a lawyer for a case evaluation and learn your legal options.
Step Two: Investigate
While your testimony can form a part of your lawsuit, it is a good idea to collect a well-rounded body of evidence to back up your statements. This evidence can be taken from multiple sources, such as medical records, complaints against the trucking company, witness statements, and police reports.
Step Three: Calculate Damages
Create a list of all the ways your accident has affected your life. Some examples of damages are included in the previous section. You also need to "convert" each damage into a monetary amount that you feel reflects the severity and impact of that damage. Your attorney's knowledge of the law can make this easier.
Step Four: File Your Lawsuit
To officially begin your lawsuit, you must notify the liable party that you are suing them. Throughout your case, you may have to file other kinds of paperwork as well. For example, if the case goes to trial, it is your responsibility to schedule trial dates and submit evidence to the court in a timely fashion.
Step Five: Negotiate
Rather than go straight to court, you might get the chance to negotiate with the liable party's insurance company for a pretrial settlement. The insurance company's lawyers will do everything they can to pick apart your case. It is important that you bring as much evidence as possible and stand firm in the face of their legal offensive. If you do not feel up to this, let your lawyer negotiate for you.
Step Six: Go to Court
If you cannot get the insurance company to settle, you may have the option of going to court. In addition to submitting evidence, this often involves questioning witnesses and arguing your case before a judge and jury.
If your accident has changed your life in ways you never expected or planned for, you do not have to fight for compensation on your own. Compensatory damages cannot heal your wounds or remove painful memories, but they might be able to ease your financial concerns as you strive for a new normal. Let us help you with your legal pursuits. Contact Morelli Law Firm at (212) 751-9800 today to learn more about what a Long Island garbage truck accident lawyer can do for you.