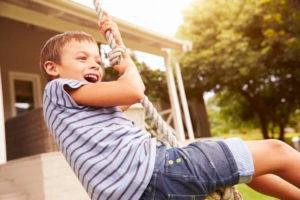 As a parent, the safety of your children is paramount. It's your responsibility to protect your kids from harm, even if your children don't recognize the dangerous situation that they're in. There are times, though, when even the most diligent of parents can't prevent an accident.
In these cases, the parents of injured children can turn to our team at Morelli Law Firm. Our child injury attorneys in Philadelphia, PA, can explain you and your child's legal rights and help you fight for the financial support your family needs. 
A Child's Right to Compensation After an Injury
Children, like adults, may be entitled to compensation after an accident. Whether it's a fall, car collision, premises liability case, or assault, you can work with us to discuss what your options for financial support may be.
Child injury cases allow you to pursue both economic and non-economic expenses on your child's behalf. A child's economic losses can include treatment to address their injuries, mobility aids, and pain medication.
While your child may not be able to elaborate on the extent of their non-economic losses, you can work with a therapist to establish what those look like. Most non-economic losses include pain and suffering, trauma, and long-lasting distress. You can reference previous child injury cases to determine the financial value of these damages.
Discussing Settlement Offers Following a Child Injury
If a faulty product caused your child's injury, a corporation may be liable for your losses. In turn, that corporation may reach out to your family with a settlement offer. Corporations tend to make these offers to keep their legal team out of court.
If you receive a settlement offer after an accident involving a child, call our team. A personal injury lawyer can assess your offer, help you calculate your own compensation, and negotiate on your behalf. If negotiations fall through, you can count on Morelli Law Firm to represent you and your child in court.
Holding Parties Liable After Child Injuries
If you want to request compensation based on your child's losses, you need to file a civil suit. As a parent, you can represent your child's best interests before a county clerk. Alternatively, you can work with a personal executor to express your child's best interests.
In your complaint, you'll need to elaborate not only on your losses but on the duty of care owed to your child. In child injury cases, you can even reference attractive property statutes designed to offer children additional protection in premise liability cases.
Who, though, owes your child a duty of care? You can discuss liable parties with a Philadelphia child injury attorney. Together you can gather evidence to back your liability claim.
Filing Individual Claims
In some cases, a single party may be liable for your child's injuries. For example, negligent or reckless drivers can cause collisions that result in broken arms or trauma.
In these cases, you can include the name of the at-fault driver in your initial complaint. You can then request that either that individual or their insurer provide your child with the financial support they need to recover. The same logic applies to cases involving violent pedestrians, reckless nannies, and other parties.
Filing Claims Against Schools, School Buses, or Institutions
In some cases, you can't claim that a single person is liable for your child's losses. Instead, a school, bussing company, or separate institution may be at fault.
For example, consider the safety of your child on a field trip. Most schools require you to sign a release form exempting them from legal action should your child be injured. However, institutions that fail to put up safety signs or otherwise endanger your child may be responsible for your child's related injuries.
This same policy applies to bowling alleys, skating rinks, and other locations your child might frequent. For more information about your child's rights in both public and private spaces, you can schedule a consultation with our team.
Child Injury Claim Deadlines in Pennsylvania
The parents of injured children have more time to file a personal injury claim than most injured adults. While Pennsylvania Consolidated Statutes Title 42 §5524 gives adults two years to file their claim, parents of injured children may file claims through that child's eighteenth birthday.
It doesn't matter how old the child was at the time they were injured. Instead, the Pennsylvania justice system gives parents every opportunity to fight for the compensation their child may deserve.
That said, it's difficult to know what a case may look like if a child turns eighteen in the middle of a court's deliberation. Similarly, young adults who want to pursue injury cases on their own may be uncertain of how to proceed. All parties with questions regarding child injury or personal injury claims can meet with our attorneys to learn more about their options.
Guiding Children Through the Complaint Process
If your child gets injured in a public place, they may be too distracted by their pain to think about what's going on around them. Some parents worry that the stress of these situations may make related legal action even more traumatizing for the child in question.
If you're concerned about exposing your child to someone who did them harm, either intentionally or not, we understand. Our child injury lawyers in Philadelphia can help explain the legal process as simply as possible. All the while, we'll protect your child from undue exposure to aggressive or harmful individuals.
It's up to you and your child how involved they are with a child injury case. Our firm prides your child's safety and well-being above all else. With that in mind, you can discuss your child's involvement in a particular case during an initial consultation, either with or without that child present.
Meet With Our Philadelphia Child Injury Lawyers ASAP
Child injuries are harrowing. Not only do you have to comfort your hurting child, but you have to contend with the company or individual that did them harm. Fortunately, you don't have to balance these responsibilities alone.
Instead, you can turn to Morelli Law Firm. Our Philadelphia child injury lawyers can help you bring your child's losses before a county clerk. Together, we can begin the legal process that can see you and your child compensated for your losses. For more information about child injury cases, you can request a free case evaluation today.