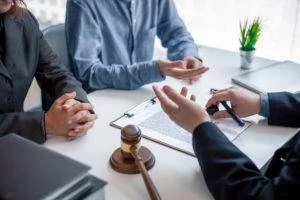 In some cases, legal disputes can be resolved without resorting to litigation. However, if your business dispute leads to a court battle, it may be helpful to have a commercial litigation lawyer guide you through the litigation process. An attorney can help ensure that you get treated fairly.
At Morelli Law Firm, our legal team will work hard with your business in Philadelphia to negotiate a fair solution to the legal dispute you face. Whether you are dealing with a contract dispute or defending a claim against you, we may be able to help. We offer free case evaluations so that you can understand what legal options are available to you.
How a Commercial Litigation Attorney Can Protect Your Rights
Regardless of the type of legal issue you face, a lawyer from our team can help ensure that you are prepared and informed throughout the entire process. If you own your own business or are responsible for operating a business, you might be too busy or overwhelmed with the day-to-day operations to manage your case.
Working with a commercial litigation lawyer from our team can help take some of the headache and guesswork out of pursuing legal action or defending your business in a lawsuit. Our team can assist you with your commercial litigation matter by:
Investigating the situation and determining all of your legal options
Gathering evidence on your behalf
Researching different areas of law and claims so that you are informed
Filing a lawsuit on your behalf if needed
Negotiating a settlement if you choose to pursue one
Communicating with the other parties and lawyers involved in the dispute
Reviewing insurance policies and determining whether coverage is available to you
Attending court hearings on your behalf or preparing you for appearances
Answering your questions about the process
Helping you make key decisions about how to proceed throughout the legal process
Preparing the case for trial
Exploring your rights to appeal after an adverse court ruling
At Morelli Law Firm, we offer a free consultation so that you can discuss your unique situation with a member of our team. Our representative can also explain your legal rights and whether we can assist you based on the details of the case.
Should you decide to work with a commercial litigation lawyer from our team, we can begin serving you in Philadelphia right after your consultation.
How Commercial Litigation Differs From Civil Litigation
When most people think about civil litigation, they think about an individual suing another individual, as in most car accident cases. However, civil litigation is much broader than this. Commercial litigation is actually a type of civil litigation. Commercial litigation involves two parties engaged in a business-related dispute that is not of a criminal nature.
Commercial litigation is a highly specialized field of civil litigation. The rights of individuals are different from the rights of businesses. If you are facing a business dispute, it is critical that you hire an attorney with experience in commercial litigation.
Our Law Firm Handles Various Types of Commercial Litigation Cases in Philadelphia
Commercial lawyers can represent you in a wide variety of legal matters. In some cases, there may be multiple legal issues at play. Our team can review the case and determine how we may be able to help you.
At Morelli Law Firm, our commercial litigation lawyers handle cases involving various business disputes, including:
Contract disputes
Employment disputes
Shareholder and corporate disputes
Partnership disputes
Startups
Business split-ups
Intellectual property (IP) infringement
Defamation
Real estate
Environmental challenges
Collections
Contract Disputes
Contracts are an integral part of operating a business, but sometimes reaching an agreement can be difficult. Even if you work hard to ensure that the terms of the contract are clear, there can still be confusion, or one party may be trying to take advantage of ambiguity in the agreement.
Our team can review the terms of your contract to see how we may be able to fight to hold the other party accountable for breaching the contractual terms.
Employment Disputes
The bigger the company is, the more employees it usually maintains. This can lead to disputes about wage and hour laws or non-compete clauses in contracts. Employees can also accuse employers of discrimination, which can be incredibly damaging to a business's reputation.
Our law firm can help protect your business and its interests. If an employee attempts to sue you for a personal injury they allegedly suffered on the premises, our attorneys can also work to help protect your business and potentially avoid litigation.
Shareholder and Corporate Disputes
Sometimes shareholders, a board of directors, or executive leadership find themselves facing a legal issue that affects the company. As a business expands, it is common for people to have different ideas about how things should run and who should be in charge. This can lead to lawsuits and other legal issues that impact the internal operations of the company.
One of our lawyers can represent you during negotiation meetings or court hearings to settle these disputes.
Partnership Disputes
Sometimes, business partners do not make their relationship clear at the outset of a new business venture. This vagueness can lead to several disputes down the line that could tear the business apart if not handled appropriately.
Our team can analyze your case to identify how partnership roles should be defined and negotiate new contractual terms if necessary.
Startups
New businesses that operate at the cutting edge of their field run into countless legal issues or regulatory compliance matters. Staying ahead of these issues can ensure that your business continues to grow.
Having a commercial litigation lawyer from our team protect your startup business may also help you avoid other legal issues that new business owners still learning their industries often face.
Business Split-Ups
As your business evolves, you may decide that breaking it into individual entities or changing the structure is necessary. Not everyone may agree with the steps you want to take, however. Others may challenge your decision to break up a business or question the way you are going about it.
Our team aims to advocate for your interests and help protect you during a business split-up.
Intellectual Property (IP) Infringement
Protecting intellectual property (IP) from threats is a critically important matter. IP law can get complicated quickly and often requires consulting expert witnesses.
We can review relevant copyright and patent laws and fight to protect your intellectual property so that it is not copied or exploited without your permission.
Defamation
Libel and slander about your company can impair its ability to get new customers and retain the ones it already has. Today, it is very easy for customers or even former employees to go online and say bad things about your business.
We can help you hold a party accountable if they make false statements about your business.
Real Estate
Many businesses must purchase, rent, or lease out a property as part of their daily operations. This can lead to a variety of issues, including disputes with landlords or problems with the premises you rent.
We can review real estate laws in Philadelphia to determine your rights to host your business at its location, then help you build a case to address the issues you face.
Environmental Challenges
There are different rules that govern the way your business impacts the environment. If someone claims that you are violating environmental regulations, or if a government agency is charging you with violations, you could face serious fines.
Whether you are in a dispute with a local, state, or federal agency, our law firm may be able to help you challenge any claims made against your business.
Collections
Businesses often have issues collecting payments for past-due accounts. Getting paid may require legal action.
There may be other legal issues with which your business is dealing. The more complex your business is, the more intricate its legal concerns can become. Still, our law firm is here to help you with your business in Philadelphia.
Commercial Litigation Involving State and Federal Government
It is not uncommon for businesses to come into conflict with a government agency. When dealing with a legal dispute involving the state or federal government, it is essential to hire an experienced commercial litigation attorney to help protect your rights and secure a favorable outcome.
Businesses can run afoul of the government for a variety of reasons. If you become entangled in any sort of legal dispute involving a government agency, you need to make sure your business is protected. A legal dispute with the government can have profoundly adverse effects on your day-to-day operations. Common legal disputes involving government agencies include:
Security fraud
Racketeering
Corporate tax evasion
State statutory claims
Bad faith claims
You Have a Certain Amount of Time to File Your Case in Philadelphia
Keep in mind that your case is subject to a statute of limitations, which requires you to assert it before the state deadline. For a contract dispute, you generally have four years to file a lawsuit, according to 42 Pa. CSA Judiciary and Judicial Procedure § 5525(8).
If you fail to meet this filing deadline, the Pennsylvania courts may dismiss the case, which could put your business in jeopardy. Our team can inform you about the filing deadline and move accordingly so that the lawsuit gets filed on time.
Those attempting to pursue legal action against your company are bound by the same time constraints. If a former employee does not file a lawsuit on time, they will be barred from pursuing legal action against your company.
Get a Free Consultation When You Call Morelli Law Firm
If you are facing a business litigation issue, having all the information about your options is incredibly important. At Morelli Law Firm, we provide a free consultation to help you learn more about the situation and how we can assist with the case.
To discuss how a commercial litigation lawyer from our team can help you and your business in Philadelphia, give us a call or fill out our online contact form today. We can inform you about all of your legal options and help you navigate your way through any legal dispute.