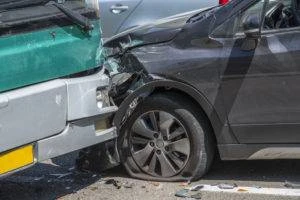 Getting into an accident can be devastating. Whether the consequences are life-altering or moderate, it leaves a scar on your memory and life. The physical and emotional trauma is especially difficult when you are dealing with a large vehicle accident, such as a bus accident.
Buses weigh much more than a regular passenger car, meaning a collision with one of them is going to do substantial damage. When a bus accident occurs, and you find out it was all because someone was failing to obey the traffic laws or were driving distracted, it can be even more upsetting.
You should not have to take the brunt of damages in these cases. Even if you do not know how the other driver caused the accident, it can help to seek the aid of a bus accident lawyer at Morelli Law Firm to review your financial recovery options moving forward.
At Morelli Law Firm, our attorneys offer legal services to victims of personal injury. Working with a lawyer from Morelli Law Firm might help you with your bus accident case.
Your bus accident lawyer will begin investigating your case as soon as you get started and negotiate a settlement that you can be happy with. If a satisfactory agreement cannot be reached, then they will represent you in a trial.
Call a member of our team today to see how a Paterson bus accident lawyer can help you in a free, no-obligation case consultation. Call Morelli Law Firm today at (212) 751-9800 for more information.
Bus Accident Facts and Figures
The Federal Motor Carrier Safety Administration (FMCSA) reports 116,000 large truck and bus injury crashes in 2017. Of these, 232 were deadly crashes involving buses.
In addition to fatal accidents involving buses, there are thousands of non-fatal crashes. These leave many people with injuries, disfigurements, and mental anguish. Anyone in a bus accident caused by someone else's negligence deserves monetary compensation for their injuries.
Various Types of Buses
Our country employs many buses for transportation. A bus driver's role in the community is vital. It is a job of service. So, when an accident occurs, it can be quite disheartening.
People use the bus for commuting around the city, children take buses to school, and some people even employ a bus to traverse on vacation. Any bus is susceptible to getting into an accident, but here is the breakdown for fatal accidents, according to FMCSA:
School buses accounted for 40%
Transit buses accounted for 35%
Intercity buses accounted for 13%
Monetary Damages from a Bus Accident
When you get injured in a bus accident, you will likely have several damages. The law allows you to file a claim for these damages. Injuries may range from moderate to severe, including physical and emotional pain.
Your bus accident lawyer will strive to help you collect all the relevant evidence in your case. Here are some of the places from which they will gather it:
Doctor's office
Hospitals
Police reports
Eyewitness interviews
Income data for lost wages
Upon gathering the evidence, your bus accident lawyer will get your case ready to collect all the damages you are entitled to. The damages may include any of the following:
Lost wages from being out of work
Medical expenses
Pain and suffering
Loss of consortium if applicable
If you or a loved one were in a bus accident, do not delay getting in touch with the law firm of a Paterson bus accident lawyer. We will help you figure out your options for getting compensation. Contact Morelli Law Firm for a free, no-obligation consultation. Just call (212) 751-9800 today.
Your Attorney's Role
Working with a bus accident lawyer can help alleviate the load of managing all the paperwork and communications. A bus accident lawyer will deal with third parties and negotiations. An investigative team will answer the following questions so that they can move forward with your case:
Who breached the duty of care in the accident?
How much were the physical damages?
How much can be collected for emotional pain and suffering?
What is the maximum amount of damages you can collect?
What evidence needs to be collected in the case?
New York Law in a Bus Accident
You have the right to collect compensation in a personal injury case in New York. The New York Civil Practice Law & Rules (CVP) §214 indicates that there is a statute of limitations in these types of cases, which is true for every state.
The section specifically states that victims of personal injury accidents have three years to file a civil lawsuit. However, civil suits can take time to build. Get started right away by hiring a bus accident lawyer so you can get it accomplished in a timely manner.
Hire a Paterson Bus Accident Lawyer
When you hire a bus accident lawyer, they will go over the case with you and explain what compensation you could be entitled to for your losses. At Morelli Law Firm, we will analyze the evidence and advise you on the next steps.
You will not have to worry about paying anything upfront when dealing with a bus accident lawyer at Morelli Law Firm. Our lawyers provide free, no-obligation case consultation, so you know where you stand without cost. We will keep you updated on the progress being made in your case, and you will not have to pay unless we collect.
Hire a bus accident lawyer at Morelli Law Firm, and our team will use the law to fight for your rights in this accident. Call a member of our team today at (212) 751-9800 to begin your case consultation.