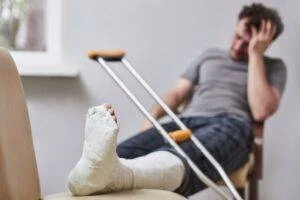 Suffering injuries in a preventable bus or commercial vehicle accident brings overwhelming challenges. At Morelli Law, our St. Louis personal injury lawyers understand what you are facing. We've helped many St. Louis victims effectively navigate complex claims over the years.
We know the physical and emotional turmoil accidents cause, in addition to skyrocketing costs and insurance confusion. This is why we act swiftly on your behalf, leveraging our litigation experience, resources, and tenacity.
When negligent parties realize our readiness to fight, they take our demands seriously. We maximize outcomes through strategic negotiation and will not hesitate to take legal action if necessary. Our St. Louis bus accident lawyers will fight for the maximum compensation possible on your behalf.
Proving Negligence in a Bus Accident
Even though the cause of a crash may seem obvious on the surface, it is still necessary to be able to prove negligence to have the best possible chance of collecting full and fair compensation.
The bus company or transit organization is likely to argue liability and fight to avoid having to pay out large settlements. Without help from an experienced personal injury lawyer, proving negligence can be a big challenge.
There are a few key reasons why establishing negligence is so important in a personal injury claim:
Liability and Compensation
Proving the other party was negligent is essential to proving they are legally liable for the injuries and damages caused. If negligence cannot be shown, the claim may be dismissed, and the injured party would receive no compensation.
Settlement Leverage
Having a strong negligence case makes the insurance company or defendant more likely to offer a fair settlement. It increases the risk they would lose if the case went to trial.
Credibility in Negotiations
Personal injury attorneys need to show opposing counsel and claims adjusters evidence of specific lapses in reasonable care that resulted in the accident/injuries. This lends credibility when demanding compensation.
Winning at Trial
If the case does not settle and goes to court, proving negligence is required for a plaintiff's verdict. Without demonstrating substandard conduct, there is no legal entitlement to compensatory damages.
A St. Louis bus accident attorney will have the resources to access certain types of evidence that may be crucial to your claim.
Establishing Liability in a Bus Accident Claim
Evidence is key to proving negligence and establishing liability in a bus accident claim. Your bus accident lawyer in St. Louis will gather evidence and perform a complete investigation to help validate your claim. Here are some examples of how we might establish liability in a bus accident case:
Witness Statements

: We gather witness accounts of what they saw the bus and other vehicles doing leading up to the accident. These can help prove things like which party violated traffic laws or was driving carelessly.

Surveillance Footage:

Many areas have security cameras that may have captured the accident. Footage can show objective evidence of reckless actions by the bus driver.

Accident Reconstruction:

An expert analyzes physical evidence and applies engineering principles to determine the mechanics and causes of the accident. This could show if the bus was speeding, braking improperly, etc.

Vehicle Inspection:

Inspecting the bus for mechanical defects or issues can uncover problems that may have contributed to a crash if not properly maintained.

Driver Logs

: Reviewing the bus driver's hours and schedule tests for fatigue, which is a common factor in commercial vehicle accidents.

Violations of Safety Protocols

: Such as exceeding hourly limits, unsafe lane changes, or failure to perform safety inspections. These could show negligence.
Establishing the specific actions and failures that led to the accident is key to liability. Your attorney's investigations aim to gather compelling evidence for the strongest legal position.
Recoverable Damages in a St. Louis Bus Accident Claim
You may be entitled to reimbursement for medical bills, missed work, permanent disabilities, disfigurement, and reduced quality of life. Your St. Louis bus accident lawyer can guide you through available categories under law.
Some common examples include:
Medical Expenses:

Past and future bills for healthcare, medication, rehabilitation

Lost Income:

Time missed from work, lost future wages

Pain & Suffering:

Compensation for physical pain, emotional hardship

Other damages:

Impact on enjoyment of life, relationships from injuries
Our legal team ensures that no stone is left unturned for a fully-encompassing settlement.
Contact a Bus Accident Law Firm in St. Louis Today
After a bus accident, you should concentrate on getting better while Morelli Law takes care of the legal aspects. Our team understands fully the difficulties you face, both now and during the compensation process. That's why we work tirelessly until your case is closed with the best possible terms.
You won't have to muddle through confusing bureaucratic processes or insurance hoops on your own. We level the playing field between you and negligent organizations by proving who is at fault and collecting adequate compensation for your losses. Should settlement discussions falter, be assured we will litigate aggressively to get you the justice you deserve.
Our team of bus accident attorneys in St. Louis is ready to fight hard for your rights. Contact us today to learn more in a free consultation and put our experience to work for you in pursuing full and fair compensation. You have our commitment to obtaining every available resource to ease your recovery journey.