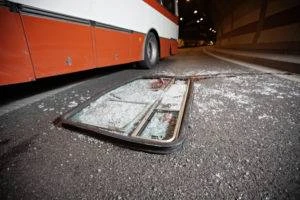 Many people rely on buses for their daily commutes to work, school, and other errands. While most trips go smoothly, some end in devastating accidents in which victims suffer serious injuries. Passengers can suffer life-threatening injuries, some of which are fatal.
A bus collision can cause passengers to collide with each other or the bus' seats, safety bars, or interior walls. If you were injured in a bus accident, you may be entitled to compensation for the losses and expenses you've suffered with the help of a Long Island bus accident lawyer.
How a Long Island Bus Accident Lawyer Can Help You
After your bus accident, it's important that you document your injuries. A personal injury attorney can help you with the rest of the legal process. During your claim, a legal team can:
Collect evidence such as surveillance footage from traffic cameras
Contact witnesses and other bus passengers to collect their testimony
Speak on your behalf to insurance companies
Negotiate for a fair compensatory award
Hire a medical expert or accident reconstructionist to investigate
Represent you if your case goes to trial
Your focus should be on recovering from your injuries and trying to get back on your feet. By hiring legal representation, you're relieving yourself of added pressure.
Bus Accident Lawyers Can Fight Against Insurance Companies
Buses companies often have large insurance covers. This makes them invest in a legal defense team to protect their interests. For this reason, they will do all they can to deny you your claim or to offer a low payout.
A Long Island bus accident lawyer with experience handling insurance companies can prepare you for settlement negotiations and inform you of tactics you can expect. You deserve a legal team that will fight for your right to recover the maximum compensation you may be entitled to.
Common Causes of Bus Accidents
According to the Federal Motor Carrier Safety Administration (FMCSA), out of 975,000 registered buses in the U.S., 225 fatal bus accidents occurred in 2016. Despite the seemingly low numbers, these accidents are far too many, considering that they are preventable.
Bus drivers are held at a higher duty of care than other drivers because not only do they need to operate their vehicle safely for the sake of other drivers and pedestrians, but they have a duty to safely get the bus passengers to their destinations.
Bus accidents and rollovers are caused by negligence by the bus driver and/or bus company. Some of the common causes include:
Driver Fatigue
Driver fatigue is a form of impairment to judgment that affects the driver's ability to drive safely by reducing their reaction time to road situations, causing cloudy thoughts, and decreasing the driver's alertness. Federal law regulates the number of hours a commercial bus driver may spend behind the wheel without taking a break and how long each break should last.
Driving Under the Influence
According to the National Highway Traffic Safety Administration (NHTSA), driving under the influence is the leading cause of fatal traffic accidents. The decision to drive drunk is one of gross negligence. Due to impaired judgment, low reaction, and poor decision making, an intoxicated driver often causes serious and fatal accidents.
Speeding
Bus drivers are often under pressure to meet certain deadlines. When they run into delays such as weather or traffic, they are more likely to speed to compensate for lost time. Considering the weight, size, and center of gravity of buses, they require more work to stop compared to other vehicles. When a bus driver is speeding in stop-and-go traffic, rear-end collisions can occur.
Distracted Driving
When a driver shifts their attention from the road to another activity, they increase their risk of being involved in an accident. The use of cell phones is the most common form of distraction among bus drivers, but passenger disruptions can also take the driver's eyes from the road.
Liability in Long Island Bus Accidents
Bus accidents can be complex, and require extensive work to determine the at-fault party. A Long Island bus accident attorney can help identify all liable parties who could have contributed to the accident. Some of them may include:
Other road users: Motor vehicle drivers, cyclists, or pedestrians can cause accidents.
Poor road conditions: Poorly designed or maintained roads can be hazardous and the governmental agency or entity in charge of maintaining the road can be liable.
Manufacturing defect: If a defective part causes a bus accident, the manufacturer may be negligent under a product liability claim.
Passengers on the bus if the cause of the accident was the driver being distracted.
The bus company: The bus driver's employer may be held liable if they failed to provide proper training to their drivers, or failed to do background checks.
Depending on the party responsible, a bus accident attorney can advise you of how to file your lawsuit or personal injury claim. If two or more parties contributed to the accident, it's possible to file your claim against multiple parties.
New York Comparative Negligence Law
If you are partially at fault for the crash, you may be entitled to still recover damages. Your award would be reduced by the percentage in which you are found liable. For instance, if you were hurt in a bus accident and the jury finds you guilty for 20% of the accident, under New York's Doctrine of Comparative Negligence, you're entitled to receive 80% of the damages.
This controversial standard may place an undue burden on you, especially if you were only slightly responsible for damages. A Long Island bus accident lawyer will work hard to ensure that the degree of fault assigned to you is fair and reasonable.
Damages You Can Recover From a Bus Accident
As with other types of accidents, the financial and emotional losses you face as a direct result of the crash can be recovered. These economic and non-economic damages can include:
Medical bills
Hospitalization bills
Lost income
Property damage
Pain and suffering
Mental distress
Loss of consortium
Loss of enjoyment
If your family member tragically passed away as a result of a bus accident, you may be eligible to file a claim, and possibly a wrongful death lawsuit, to collect compensation for damages such as funeral and burial costs and the deceased's lost wages.
Statute of Limitations in Long Island, New York
Depending on the lawsuit, different time limitations may apply. In New York, a bus accident personal injury case must be filed within three years from the date of the crash. Cases against government entities, however, are more complex because they have strict deadlines.
The statute of limitations for cases against government entities is 6 months. If you fail to file a claim by this time, you may lose the right to file a lawsuit regarding the accident. A Long Island personal injury lawyer can handle your municipal or school bus accident case promptly.
Contact Morelli Law Firm Today
At Morelli Law Firm, our bus accident lawyers on Long Island are committed to navigating the complex personal injury claim and ensuring that you are compensated fairly. Call for a free case evaluation and we can get started protecting your rights.