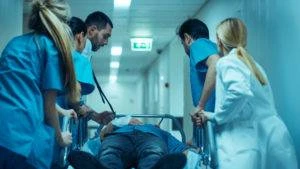 FedEx is one of the biggest package delivery companies on the planet. As a result, they are one of the largest employers of large truck drivers. Therefore, it is no surprise that FedEx truck drivers are involved in a high number of accidents each year.
Because of the size of these large vehicles, the damages suffered by involved parties can often be significant if you get hit by a FedEx truck. But attempting to recover compensation from a corporation as large as FedEx can feel intimidating.
However, even big companies can be held responsible for their actions. At the Morelli Law Firm, our team of North Bergen FedEx truck accident attorneys has a long history of winning favorable compensation for our clients in these cases.
Accident Victims Have a Right to Recover Damages
All accident victims should be able to recover fair compensation after a crash. If you have been injured in an accident caused by a FedEx truck, we are here to help you get the money you need to put your life back together after a crash. There are a variety of damages you will likely be able to claim after an accident.
All compensatory damages can be divided between economic and non-economic damages.
Economic Damages
Economic damages cover any losses you suffered that have directly impacted your financial situation. These losses include both money you had to spend and money you failed to earn as a result of your accident. Furthermore, economic damages cover losses you have already incurred, as well as projected future losses. Common economic damages include:
Medical bills
Future medical expenses
Lost wages
Lost earning capacity
Property damage
Non-Economic Damages
Any other losses resulting from your accident are considered non-economic damages. Non-economic damages can be wide-ranging. However, the one common trait they all tend to have is that they tend to be substantial. Because most non-economic losses are irreplaceable, the amount of money awarded for these losses is often significant.
Common non-economic damages include:
Emotional distress
Mental anguish
Loss of consortium
Decreased quality of life
Permanent disability
A North Bergen FedEx truck accident attorney can help assess your damages and determine the full value of your claim. In some cases, your attorney may even find grounds for pursuing punitive damages. These damages are meant as a punishment for the liable party rather than as a means of replacing losses suffered by the victim and are only awarded in extreme cases.
Obstacles to Pursuing a Lawsuit Against FedEx
If you suffered a serious injury in an accident involving a FedEx driver, you will likely be able to file a lawsuit to recover compensation. However, there are potential obstacles you may face.
New Jersey Is a No-Fault State
In New Jersey, those involved in an accident must first pursue compensation from their own insurer before they can file a personal injury lawsuit. All drivers are required to carry personal injury protection (PIP) insurance. PIP insurance covers the cost of your medical expenses up to your insurance limits and may also provide reimbursement for other expenses, like lost wages.
Despite this insurance coverage, you will still likely be able to pursue a lawsuit if you suffered a serious injury and your costs exceed the limits of your PIP coverage. One significant factor is if you choose full tort or limited tort PIP insurance coverage.
Limited tort will restrict your right to sue the liable party for non-economic damages like pain and suffering unless you suffer a permanent injury or disfigurement. Meanwhile, full tort coverage, while more expensive, places no limits on your right to sue.
FedEx Employs Many Independent Contractors
Another obstacle to holding FedEx responsible for your damages is their extensive use of independent contractors and fleet owners. Unlike full-time employees, independent contractors typically do not receive legal protections in the event of an accident.
The status of the driver is critical to determining your options for pursuing compensation. If the driver is a full-time direct employee and is on duty at the time of the accident, you will be able to file a lawsuit against FedEx. However, if this is not the case, you may find that your only option for recovering compensation is to file a lawsuit directly against the driver.
Proving Liability
In some cases, proving liability can be quite challenging. Fortunately, an experienced FedEx truck accident attorney will be able to help you gather the necessary evidence to show that FedEx was responsible for your actions.
FedEx Drivers May Need Legal Representation As Well
Not only does the practice of using independent contractors make it difficult for others involved in an accident with a FedEx truck to recover compensation, but it also makes things challenging for their independent contractors. If an independent contractor is driving for FedEx, they will be far more likely to be targeted in a lawsuit.
Additionally, if the independent contractor gets hurt, it may be difficult for them to get the money they need. While a FedEx employee would be covered under the company's insurance, these drivers may only have their own insurance coverage to rely on.
In June of 2022, a FedEx truck driver was seriously injured in a crash with an SUV in Brooklyn. If the driver was an independent contractor, she might have a legal claim against FedEx for her injuries, depending on the cause of the crash. However, recovering compensation will not be easy.
The Morelli Law Firm has tons of experience litigating cases against FedEx. We also have an extensive track record of handling major tractor-trailer cases. There is no better lawyer in the country to handle this case (and any future cases like it).
Make Sure to File Your Lawsuit on Time
When pursuing a lawsuit against FedEx for a truck accident, it is essential to pay attention to the statute of limitations. In New Jersey, accident victims generally have two years from the date of the accident to file a lawsuit. If you fail to file within this time frame, you could find that your right to pursue compensation is revoked.
However, it is critical to realize that there are many potential exceptions when it comes to the statute of limitations. If an exception applies to your case, you may be able to file a lawsuit even if two years have already passed. Alternatively, you could find that the amount of time you have to file is greatly reduced.
A FedEx truck accident attorney in North Bergen can help determine whether any special circumstances apply to your case and ensure your lawsuit gets filed on time.
Choose a Law Firm With a Proven Track Record
When pursuing legal action against a big corporation like FedEx, it is critical to be represented by a legal team with a proven track record of taking on the big guys and securing favorable settlements for their clients. At the Morelli Law Firm, we have a long history of getting big paydays for our clients against FedEx and.
Our list of significant results is extensive, and we will work hard to ensure you join our ranks of satisfied clients. Contact us today by phone or through our online contact form to get a free case evaluation from one of our North Bergen truck accident lawyers.