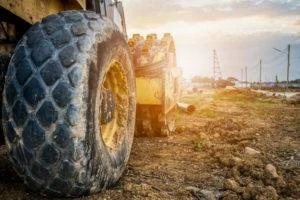 Being involved in a construction truck accident is physically, emotionally, and financially devastating. Morelli Law Firm understands that you are going through a difficult time and can help put your mind at ease by fighting for compensation on your behalf. To find out if a Long Island construction truck accident lawyer can help you, contact our office today at (212) 751-9800.
Driving a Truck Is a Big Responsibility
Large trucks, including construction trucks, are more difficult to operate than regular motor vehicles. Their length may produce blind spots and make turning safely a bigger challenge than for smaller vehicles. Their weight, especially when fully loaded, can also make maneuvering a truck more difficult.
In addition, truck driving is a strenuous job. It involves long hours behind the wheel, during which the driver must remain attentive and alert at all times. It is critically important for truck drivers to get adequate rest, follow all driving laws, and avoid drinking or taking mind-altering drugs (even legal ones) before getting behind the wheel.
Sadly, truck drivers are only human, and they sometimes make mistakes. According to the Federal Motor Carrier Safety Administration (FMCSA), the police reports recorded over 450,000 accidents involving large trucks in 2017. Because of their size, trucks can do a lot of damage to anything in their path, especially smaller vehicles and the people inside them.
Have You Been Injured In An Accident? Contact Morelli Law
877-751-9800
Financial Help Is Available
Determining damages is more complicated than simply saying you were injured and asking the liable party's insurance company to pay you. Before you even file your lawsuit, you need to come up with an itemized list of the ways your accident affected you, complete with the amount of money that you believe each item entitles you to. Below is a partial list of the kinds of compensation you can sue for.
Damage You May Be Entitled To
If the construction truck accident cost you money or prevented you from earning a living, you may be eligible for economic damages, which include things like:
Repair costs: Your car was damaged or destroyed in the accident.
Medical costs: Your injuries needed treatment, or you will require medical help (e.g., a home nurse or surgery) over the long term.
Loss of wages: You could not do your job until your injuries were healed.
Loss of financial support: You lost a loved one in the accident, and suddenly losing their income has placed a great financial burden on you.
Economic damages are not the only type of compensation available. If the accident affected your physical or emotional health, you may be eligible for non-economic damages, including things like:
Pain and suffering: Your injuries caused you significant physical and/or emotional hardship.
Reduced quality of life: You can no longer perform and/or need assistance with certain activities (e.g., bathing or getting dressed).
Disfigurement: You have scars that noticeably affect your appearance, your range of motion, and so on.
Loss of companionship: Your loved one passed away and can no longer give you advice, affection, and so on.
Restrictions on Damages
New York Civil Practice Law & Rules (CVP) § 1411 limits the amount of compensation a person can collect if they are deemed to be partly responsible for the accident. Therefore, to maximize the amount of damages you can collect, it is important for you to support your lawsuit with evidence proving that the party you are suing is responsible for your crash.
Complying with this statute is just one area where a Long Island construction truck accident lawyer can be of service. They can also help you identify the types of damages you are entitled to, calculate how much you may be able to recover, and negotiate for every dollar you deserve. Call Morelli Law Firm at (212) 751-9800, and let us evaluate your case at no charge.
Long Island Construction Truck Accident Lawyer Near Me
877-751-9800
Where to Get Help
If the idea of struggling through the legal process alone sounds too burdensome, Morelli Law Firm can help. An attorney from our firm may be able to help you in your pursuit of compensation. They can help you by:
Listening to you: During your free consultation, you will tell us how your accident happened, how it has affected you, and what you hope to gain from your lawsuit. We will let you know if we can be of assistance and how you can try to achieve your goals.
Investigating your claim: Finding evidence that corroborates your version of events may help persuade the liable party's insurance company to give you what you ask for.
Managing communications: We can relay all messages between you and the liable party. If the liable party or anyone representing them tries to contact you, tell us immediately.
Negotiating a settlement: Most cases do not go directly to court. Instead, they begin at the negotiating table. Your lawyer will represent you there and fight for the money you need.
Setting a court date: Sometimes, the insurance company will not offer a fair settlement. You and your lawyer can then explore the possibility of taking your case to trial.
In addition to tackling these challenges, we will work closely with you. Your lawyer will contact you with every major development, and you should feel free to call them if something new happens, or even if you just have a question or comment. Our job is to make the legal process as accessible and stress-free as possible.
If you have been in an accident, let a Long Island construction truck accident lawyer defend your rights and pursue every dollar of compensation that your injuries entitle you to. Call Morelli Law Firm at (212) 751-9800 at any time to get started. You only have to pay us if and when you are awarded compensation.