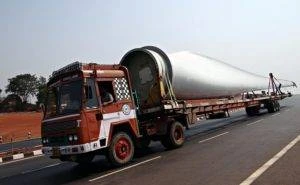 Cargo trucks are large vehicles that carry a lot of weight and momentum. When driving a cargo truck, the driver must be able to maintain the speed and velocity of that weight. Driving a cargo truck takes practice and skill. When a cargo truck driver travels too quickly or makes a sharp turn, they can cause an accident resulting in disaster.
If you were involved in a cargo truck accident, a Long Island cargo truck accident lawyer can help you fight for your compensation. You should not have to pay for another person's mistakes. Let us take that weight off your shoulders. Morelli Law Firm is here to fight for your rights. Our services are free unless we are able to get you compensation for your damages. Call us at (212) 751-9800 to schedule your free consultation. The sooner you call, the sooner we can get started on your claim.
Causes of Cargo Truck Accidents
Cargo truck accidents can lead to severe damage. The driver of the truck, along with the surrounding vehicles, is at risk. When a cargo truck causes an accident, it can cause severe injuries or even death. Each cargo truck accident is different and is caused by a variety of reasons. There can be a few factors that come into play, such as:
Speeding
According to the Insurance Institute for Highway Safety (IIHS), loaded trucks take 20 to 40 percent farther to stop than cars. The higher the speed a vehicle is moving, the longer it takes to come to a stop. Speeding in such a large vehicle is dangerous and reckless. It can also cause a vehicle to roll over if a corner or turn is taken too quickly, as the momentum of the weight can pull the vehicle over.
Vehicle Maintenance
If a cargo truck is not properly maintained, it can fail at the worst possible time. Having working brakes is important to the safety of the truck. If the brakes fail when a driver is turning or going through a busy part of town, they could roll over or rear-end another vehicle. Regular vehicle maintenance should be performed on such a large and dangerous vehicle.
Driver Error
Driving a cargo truck is not an easy task. The drivers of these trucks must be professionally trained and know how to safely operate the vehicle. Reckless or distracted driving can cause a serious accident. A driver should be completely focused on the road ahead of them, and they should take the proper precautions, especially on busy streets.
Improper Loading
Properly loading a cargo truck is essential to road safety. If a vehicle is not loaded properly, the truck could cause an accident. A cargo truck should not be carrying more weight than it can safely handle. It should also be evenly balanced throughout. If a truck is carrying too much weight or not perfectly balanced, the cargo truck might not be able to stop as quickly as the driver expects.
Compensation
As stated in New York Civil Practice Law & Rules (CVP) §214, you have up to three years from the day of your accident to file your lawsuit. However, you should file your lawsuit as soon as possible. Failure to file your lawsuit by the end of the three-year deadline can keep you from pursuing compensation for your injuries and losses.
In addition, the sooner you file your lawsuit, the sooner the evidence can be gathered to support it. Evidence is crucial to prove negligence in a car accident claim. Evidence could include:
Video surveillance
Photographs of the damage
Witnesses who may have seen the accident happen
Statements from the doctors and medical staff that treated the injuries
Statements from the mechanic who repaired your vehicle
Expert testimony
If you were in an accident with a cargo truck, a Long Island cargo truck accident lawyer can help you fight for the compensation you deserve. You should not be left with a financial burden due to someone else's mistakes. Car accidents can be extremely expensive. You should not have to fight for your compensation alone. Our team at Morelli Law Firm can help you determine what would be fair compensation and help you fight for it. Call us today at (212) 751-9800 to schedule your consultation. You could receive compensation for:
Medical expenses: This includes any treatment you had to go through due to your accident-related injuries, such as diagnostic tests, treatments, and follow-up appointments.
Property damage: If you were driving your own vehicle in the accident, you could be compensated for the needed repairs or a replacement vehicle if your vehicle was totaled.
Loss of income: If you had to miss work due to your accident or any medical treatment you needed, you could be compensated for the time you missed. If your injuries cause you to switch careers, you could be compensated for the difference in income.
Contact Us Today
Being in a car accident is stressful enough. When the bills start piling up, the situation can become even more overwhelming. When you are in a cargo truck accident, a Long Island cargo truck accident lawyer can help you fight for your rights after your car accident. You should be able to take time to recover. Let Morelli Law Firm take this fight off your hands.
Our team can work with you to go over your options and help you choose the path that works best for you. You should not have to go through this alone. Call us now at (212) 751-9800. The sooner you call, the sooner we can get started. You pay nothing unless you get paid first.