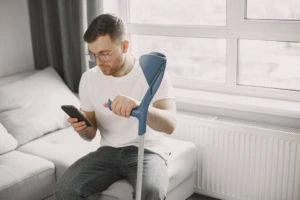 American consumers throughout the country rely on Walmart's massive fleet of commercial trucks to provide their favorite goods on a daily basis. Unfortunately, with the amount of large trucks and tractor trailers Walmart employs, there's bound to be a handful of accidents.
If you've been injured in a collision with a Walmart truck, you need a lawyer who has experience taking legal action against the multinational retail corporation. Morelli Law Firm's Walmart truck accident attorneys in Long Island have filed successful claims against the company before and are prepared to do the same to get you the compensation you're owed.
Our Walmart Truck Accident Lawyers Have Valuable Experience
Our truck accident attorneys have taken on Walmart's insurance provider and legal team before and emerged victorious. They've held Walmart liable for millions of dollars in damages for clients injured by the retail corporation's negligent drivers.
If you need to pursue a truck accident claim against the retail giant, you're probably anxious about going up against their high-profile legal team and liability insurance carrier. The team at Morelli Law is here to take the pressure off you and put it on Walmart's insurers.
Our attorneys will draw on their valuable experience litigating claims against Walmart to persuade them to offer a payment that covers all your losses. We won't leave the negotiating room until insurers have agreed to provide a settlement that covers your medical bills and affords you the resources you need to recover from your injuries comfortably.
Compensation You'll Receive from a Walmart Truck Accident Claim in Long Island
Your Walmart truck accident attorney will work with you to identify the damages you need to make a complete financial and physical recovery from your collision in Long Island. Depending on the severity of your injuries and the losses you've taken, you may receive several or more of the following damages:
Medical Costs
Colliding with a large truck can result in traumatic brain injury, spinal cord damage, and several other devastating conditions. If you've sustained a serious injury in a truck accident, you may need expensive medical treatment, surgeries, procedures, medications, and other services to get better.
These damages can cover any medical expenses you incur as a result of your accident. Your attorney will use your medical records and bills to secure the correct amount of compensation so that you don't have to drain your bank account.
Rehabilitative Therapy
Depending on the nature of your injury, you may need to attend physical therapy sessions to make a full recovery. These damages can help you afford any rehabilitative services you need to get back on your feet.
Lost Income
Taking time off from work to attend medical appointments and physical therapy sessions can cause you to miss out on a considerable amount of income. These damages can make up for the income you lose on your road to recovery.
Decreased Earning Ability
Disabilities and permanent injuries sustained in an auto accident can impact your ability to work and make a living for the rest of your life. If your earning ability has decreased due to your injury, a Long Island Walmart truck accident attorney from our team can add these damages to your claim.
Pain and Suffering
If you've been injured in a collision with a large commercial vehicle, you're almost guaranteed to experience at least a marginal amount of pain and suffering. If that's the case, these damages can help you cope with the physical pain you've been forced to bear.
Mental Distress
Colliding with a tractor-trailer or 18-wheeler truck can be an intense and traumatizing experience. If your accident has caused you to develop negative mental health effects, your attorney can add these damages to your claim.
A Walmart Truck Accident Attorney Will Investigate Your Collision
To get you the damages you're entitled to receive, a personal injury lawyer must investigate your truck accident. Here's what they'll do to learn more about the collision you were injured in:
Examine the police report
Review footage from nearby CCTV cameras
Analyze photos of the accident scene and your injuries
Speak to eyewitnesses
Work with accident reconstruction experts to understand how your accident happened
Once your attorney has collected the above-mentioned records and testimonies, they'll have the information they need to prove the truck driver is liable for your losses. They'll use all the evidence they've found to pressure Walmarts insurers to offer a settlement that accounts for all your bills and emotional hardships.
What to Do If You've Been Injured in a Walmart Truck Accident in Long Island
If you've been injured in an accident with a negligent Walmart truck driver, your health should be your main concern. If your injuries are severe, please seek medical attention as soon as possible. If your injuries aren't too serious or painful, you can do a few things to document the crash and improve your chances of receiving a settlement.
First, you should contact local law enforcement. Once the police have arrived, you should speak with the truck driver and take down their name, contact information, and insurance details.
Next, use your phone to take photos of the accident scene, vehicle damage, and any visible injuries you've sustained.
Once you've taken photos of the accident, see if you can talk to anyone who may have witnessed the crash. Take down their phone numbers and names, as your attorney can call on them to provide helpful testimony for your case.
Lastly, we advise that you contact a truck accident attorney in Long Island who has experience litigating claims against Walmart.
Statute of Limitations for Truck Accident Cases in Long Island
The importance of hiring an attorney immediately after your truck accident can't be overstated. That's because there's a statute of limitations for auto accident cases in Long Island. N.Y. Civ. Prac. R. § 214 states that you have three years from the date of your accident to file a suit against the at-fault driver.
Failure to abide by the filing deadline will jeopardize your case and likely prevent you from receiving compensation. If your filing deadline has passed, you might be wondering how you'll pay off your medical bills and replenish your other losses.
We recommend speaking with an attorney to see if your case and unique circumstances are an exception to New York's filing rules.
Hire an Experienced Walmart Truck Accident Lawyer in Long Island Today
If you've been injured in a collision with a Walmart truck, your health, livelihood, and financial status depends on the success of your truck accident claim. To get the most out of your claim, we highly advise working with an attorney with experience holding the retail giant liable for driver negligence.
Contact Morelli Law Firm to get expert assistance with your insurance claim or lawsuit. We provide free case evaluations with no obligation for you to hire us. And we work on a contingency fee basis, meaning we take no money upfront or until we win your case.
Our Walmart truck accident lawyers in Long Island will take a detail-oriented approach to your collision investigation and your case as a whole. They'll make sure that you get the damages you need to pay your bills and rebuild your life.