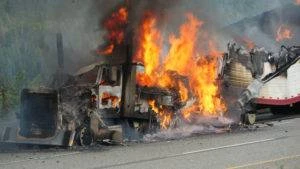 A motor vehicle accident can cause injury, property damage, and even death. An accident with a larger vehicle, like a fuel truck, can be even more damaging.
If you or a loved one has suffered injuries in an accident with a fuel truck, you may have legal options. It is time for you to call Morelli Law Firm at (212) 751-9800 for your free consultation with a member of our team. We can tell you more about what a Long Island fuel truck accident lawyer from our firm can do to help you.
If you qualify, we can work for you on a contingency-fee basis, where we do not charge you attorney fees unless you receive compensation.
The Dangers of Fuel Truck Accidents
Trucking accidents can be dangerous due to the size and weight of trucks. The federal government has issued a number of guidelines and rules concerning trucks, from their weight to how many hours a driver can be behind the wheel, but there are still many potential dangers, especially with vehicles like fuel trucks. These vehicles may be carrying hazardous materials, such as flammable liquids or gas, that come with additional risks.
According to the Insurance Institute for Highway Safety (IIHS), the vast majority of fatalities in accidents that involve trucks were occupants of passenger vehicles. Driving a truck and transporting cargo is a big responsibility, and when that driver is negligent, the results could be devastating.
Parties that Could Be Held Liable
In most motor vehicle accidents, the party that should be held liable is obvious. The goal of your case is to show that the other driver was at fault and caused the accident. An accident with a truck could be more complex, and there are actually multiple parties that could end up being held liable. A Long Island fuel truck accident lawyer may be able to name any of these people or entities as a liable party in your case:
The truck driver
The truck owner
The carrier
The maintenance company
The safety inspector
The owner of the cargo
There are many regulations governing large trucks and the cargo they carry. If any of the named parties act irresponsibly and do not follow the rules, they could be held liable for the damage caused by a fuel truck accident.
If you believe that someone else's negligence caused your accident, call Morelli Law Firm today at (212) 751-9800. A member of our team can discuss your accident and your legal options in a free case review.
Pursuing Compensation
If you or a loved one has been harmed in an accident with a fuel truck, you may be entitled to compensation. There are many types of damages that you may be able to pursue, including but not limited to:
Medical bills: An accident can cause debilitating injuries that take a long time to recover from. The bills from doctor visits, hospital stays, and everything else can add up quickly, straining your finances.
Lost wages: If it takes a while to recover from your injuries, you may miss work. Missed work means lost wages. Too many missed paychecks can cause problems for any family. If you experience this type of loss, you may be able to pursue economic damages that cover your lost wages.
Lost earning potential: An injury that leaves lasting effects could also affect your future earning ability.
Loss of enjoyment: It may not seem as important as everything else, but an injury that prevents you from taking part in a sport or activity you once enjoyed may also be considered when compensation is calculated.
Pain and suffering: Any other mental or physical pain and suffering stemming from your accident may entitle you to compensation.
Property damage: You may be able to recover compensation for the costs of repairing or replacing your vehicle. Other forms of property damage may also be covered.
Wrongful death damages: Collisions involving trucks can be deadly. If you lost a loved one in such an accident, you may be able to pursue wrongful death damages. Wrongful death damages may include funeral costs and pre-death medical care.
How a Fuel Truck Accident Lawyer Can Help
If you choose to hire a lawyer, they may be able to:
Quickly File Your Case
Unfortunately, you do not have an unlimited amount of time to file your case. New York Civil Practice Law & Rules (CVP) §214 generally gives you three years to file a personal injury lawsuit. New York Estates, Powers & Trusts (EPT) §5-4.1 generally gives you two years to file a wrongful death lawsuit. Your lawyer can help you file your case on time.
Gather Evidence
Your lawyer may be able to gather evidence that shows that other parties were liable for the accident, whether that is evidence of negligent driver behavior, previous complaints about a carrier, or records of poor maintenance.
Acting as Your Advocate, in Court if Need Be
Your Long Island fuel truck accident lawyer can act as an advocate for you by making your case and determining fair compensation. They can then negotiate for a settlement on your behalf or take your case to trial, if necessary.
Handle All Communications
A lawyer can handle all communications with the insurance companies and the other party's legal team for you and keep you updated on the progress of your case.
Call for Your Free Consultation
Now that you know more about what a Long Island fuel truck accident lawyer can do for you, contact Morelli Law Firm for your free, no-obligation case review. You can reach a member of our team by calling (212) 751-9800 today.