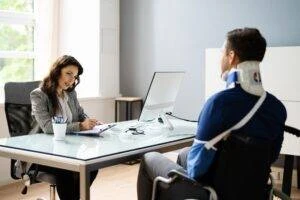 Bus accidents often result in severe injuries that can leave victims facing an uphill battle to recovery. Beyond the physical challenges an injury can create, the financial difficulties arising from a growing stack of medical bills and other injury-related expenses can be significant. Fortunately, an experienced bus accident attorney in Cape Girardeau can help.
At the Morelli Law Firm, our legal team has a long history of helping victims secure the necessary compensation from those responsible for their injuries. Our experienced team of personal injury lawyers in Cape Girardeau is ready to help you pursue the compensation you need and deserve. Reach out to schedule your free case consultation with one of our attorneys today.
Pay Attention to the Filing Deadline When Pursuing a Bus Accident Lawsuit
When pursuing compensation in a bus accident case, it is critical that you pay attention to the filing deadline. In Missouri, the personal injury statute of limitations gives bus accident victims five years to file a lawsuit against the liable party. Though this may feel like a long time, it can pass quickly, and missing the cutoff will likely bar you from recovering compensation.
However, even if you believe you have missed your chance to file, contacting an experienced Cape Girardeau bus accident attorney is in your best interest. You may discover that the circumstances of your situation create an exception that allows you to file beyond the usual five-year window.
Alternatively, you could discover that the particulars of your case place further limits on the amount of time you have to take legal action. This situation is common when filing a claim against a city or public school bus, as strict limitations apply when filing a lawsuit against a government body. Contact a lawyer to protect yourself against an unexpected deadline.
Recoverable Damages a Bus Accident Lawyer Serving Cape Girardeau Can Help You Claim
Anyone injured in a crash can pursue compensation after a bus accident. The damages available depend on the particular facts of your situation. However, because injuries in these accidents are often severe, the amount you can recover will likely be substantial.
Because of the extreme weight and size of most buses, the damage to occupants of other involved vehicles and pedestrians can be significant. Passengers aboard the bus can also suffer substantial injuries because they are not wearing seatbelts, and rollovers are common.
Determining all applicable damages for your case is crucial for receiving the full amount available for your losses. Beyond the many compensatory damages you will likely be eligible to collect, the elements of your situation may also make you eligible to seek punitive damages.
Economic Damages
Each loss generated by your accident that has a direct impact on your finances is considered to be a form of economic damage. These damages are not limited to covering any money you had to spend following your accident but can also be assessed for any wages you were prevented from earning because of your injury.
Some of the most frequently recovered economic damages following a bus accident include:
Lost wages

Lowered earning ability

Property damage

Medical costs

Future medical bills
Non-Economic Damages
All other losses following your accident are sorted into the comprehensive category of non-economic damages. While these damages do not directly hurt your finances, the effect they have on your life is usually profound. These damages are often extremely personal and irreplaceable.
Due to the extreme impact these damages can have, the amount of compensation assessed for these losses frequently makes up the bulk of the money recovered. Some of the most frequently recovered non-economic damages following a bus accident include:
Loss of consortium

Permanent disability

Decreased quality of life

Mental anguish

Pain and suffering
Punitive Damages
In contrast to economic and non-economic damages, punitive damages are not designed to replace the losses suffered by an injury victim. Instead, the purpose of these damages is to punish the responsible party for the role they played in causing the accident.
Punitive damages are only awarded in a small portion of bus accident cases. A judge will only award these damages in cases involving intentional harm or gross negligence.
Should I Settle or Go to Court?
The bulk of bus accident lawsuits never go to court. Instead, they end in out-of-court settlements. In most circumstances, a settlement is going to be the best option for everyone involved for a variety of reasons. One of the main benefits for both the plaintiff and the defendant is not having to trust an unpredictable jury with your future.
For accident victims, settling provides the additional benefit of being able to recover money far quicker than going to trial. Meanwhile, the defendant can avoid any unwanted media attention that may come with a trial.
Even though most of these cases end up settling, you still need to ensure you are prepared to take your case to court. There is always a chance that you will be unable to reach a settlement agreement, necessitating a trial. Furthermore, being ready to take your case to court will help during settlement negotiations.
Work With an Experienced Cape Girardeau Bus Accident Attorney Today
Securing the services of an experienced lawyer to help you recover damages after a bus accident will give you the best chance of securing the compensation you require. At the Morelli Law Firm, our team of experienced bus accident lawyers in Cape Girardeau will work diligently to get you the money you deserve.
Our firm has a long history of securing substantial wins for our clients through both settlement deals and court-ordered payments. Contact us by phone or through our website to schedule a free case review with a member of our team today.