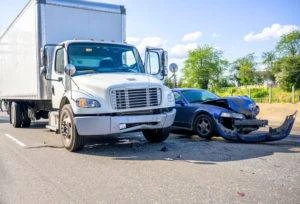 Were you struck by a large commercial vehicle in Albany, NY? In this situation, you may have the legal right to seek compensation to cover your losses. Our team at the Morelli Law Firm can assess your situation to provide legal guidance.
You can begin working with an Albany big rig accident lawyer today. Our team investigates accident claims, reviews possible losses, and stands up for clients like you. Find out more by calling us or completing our online contact form.
Can You Secure Damages for an Albany Big Rig Collision?
The Federal Motor Carrier Safety Administration (FMCSA) reported over 510,000 police-reported accidents involving large trucks in 2019. We see a similar number of accidents in most years.
If you were one of the thousands of people injured in a collision with a large truck, big rig accident lawyers in Albany, NY, could help you. Unfortunately, not all drivers receive funds to cover their losses. However, you may secure damages if a lawyer establishes negligence.
Showing negligence in a big rig accident requires a lawyer to show that:
Someone owed you a duty of care
The individual failed to keep up their duty
The individual's actions led directly to your accident
Allow big rig accident attorneys in Albany, NY, to assess your situation.
What Compensation Can You Receive After a Big Rig Accident?
An Albany big rig lawyer can help you focus on possible forms of compensation. In many cases, our team helps clients like you secure funds to cover your big rig accident damages, including:
Emergency medical care
Hospitalization costs
Medical tests and procedures
Time off at work
Diminished earning potential
Vehicle repairs
Pain and suffering
After a car accident with a big rig in Albany, NY, you may experience extensive injuries. Many drivers face:
Broken bones and fractures
Injuries to the head, brain, and spine
Injuries to internal organs
Burns and cuts
In some cases, you may not be able to fully recover from the injuries. Fortunately, a lawyer can step in to help you seek funds to cover your healthcare expenses.
What Services Can You Get from a Big Rig Accident Lawyer in Albany, NY?
An Albany big rig accident lawyer can step in to assist with all your needs following a collision. Members of our team provide different services to clients we take on. Depending on your needs, we may:
Assess Liability for Your Accident
A big rig accident attorney in Albany, NY, may investigate to determine who caused your accident. The investigation may involve:
Questioning witnesses who saw the collision
Getting a copy of your police report
Looking for video surveillance footage
Visiting the scene of the accident
Working with big rig collision experts
We can take steps to show that someone else was liable for the accident, protecting you from accusations from insurance agents. Depending upon the results of our investigation, we may file a claim against the:
Big rig driver
Truck company
Truck manufacturer
Another driver
We explore multiple avenues to resolve your situation.
Review the Value of Your Claim
We can also discuss the value of the compensation you could receive following a collision. Not all drivers receive the same amount of funds. Your compensation may vary based on:
The severity of your injuries
The kind of injuries you received
The damage to your property
Your degree of fault for the collision
Our team helps you assess possible compensation following a collision.
Discuss Methods to Resolve Your Case
Not all drivers in Albany resolve big rig accident claims in the same way. For example, some drivers settle out of court, agreeing to receive compensation from the insurance company.
However, insurance agents do not always offer fair settlement deals. Your Albany big rig accident attorney may suggest filing a lawsuit in these situations. We look at your needs before recommending a way forward.
How Long Do You Have to File a Claim After a Big Rig Accident?
New York Civil Practice Law & Rules Section 214 provides information about the state's statute of limitations for personal injury claims. Generally, drivers have around three years to seek an insurance settlement after a collision.
Once this period of time expires, you have limited options to seek damages to cover your losses. Therefore, your Albany big rig accident lawyer may suggest working on your claim quickly.
Moving fast also helps your lawyer review your situation and develop a plan of action.
What Do Albany Big Rig Accident Lawyers Charge?
Law firms that handle big rig accident claims in Albany set their own rates. The price you pay may vary based on the firm's experience and history of success. We recommend asking about rates during a free consultation with a lawyer.
Remember that many Albany big rig accident attorneys work on a contingency basis, meaning you only pay fees after they resolve your claim. Upon handling your claim, the firm receives a percentage of your compensation.
Why Choose Us to Handle Your Albany Big Rig Claim?
Our team has decades of experience handling claims in the New York legal system. We apply our experience directly to your claim, developing a personalized strategy to address your needs.
Our resources allow us to stand up to powerful trucking companies and insurance agencies on your behalf. We stand by our results, proud to have brought over a billion dollars in compensation to clients like you.
Talk to Us About a Big Rig Accident in Albany
You can seek legal help from an Albany big rig accident lawyer with our team at the Morelli Law Firm. We address all your needs and answer your legal questions. So let us get to work right away while you focus on recovering.
You can reach us by phone or complete our online contact form.