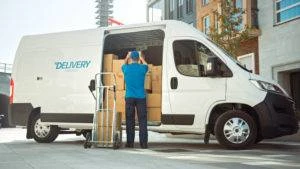 Amazon trucks come in all shapes and sizes. Whether you're contending with a semi-truck or a postal truck, however, a truck driver's negligence can leave you feeling intimidated or unsafe on the road. Should that negligence result in your personal injury or losses, you may feel as though you've been unjustly treated.
The good news for victims of Amazon truck accidents is that Amazon is not infallible in these losses. Nor are negligent truck drivers. You can work with an Albany, NY, Amazon truck accident lawyer to hold the appropriate parties accountable for your losses. We fight for your right to financial recovery via a civil trial or independent settlement negotiations.
Your Right to Amazon Truck Accident Compensation
Car accidents with Amazon trucks in Albany, NY, put everyone around them at significant risk for substantial Financial loss. Recovering from your accident can subsequently prove difficult as you contend with a new litany of bills combined with the chance that you may not be able to work as you once did.
That is the benefit of filing a civil complaint against an Amazon truck driver, company, or similar liable party. A complaint approved by a civil court or that successfully oversees negotiations allows you to demand financial support throughout your recovery. Specifically, your claim may give you the right to recover:
Medical expenses related to your accident

Property repair or replacement

Lost wages and lost opportunities for employment

Emotional distress

Stress

Pain and suffering

Wrongful death and funeral expenses
You can discuss the value of these truck accident damages and how to calculate an estimate of your case's value during an initial case evaluation.
Independent Contractors and Full-Time Employees Have Different Protections
Amazon's truck drivers are most often independent contractors. This means that these drivers fill out 1099s and do not constitute full-time employees under Amazon's umbrella. Instead, independent contractors who operate Amazon's trucks take on liability for any losses they cause on the road.
Should you get into an accident with an independent contractor, it is not Amazon that is responsible for your losses. It is an individual. You can just take that individual to civil court for financial support using the same means through which he would file a traditional personal injury claim.
The only time this change is in the rare instance when Amazon hires a full-time employee to work as a truck driver. In this unique case, you may have the right to take Amazon as a company to civil court. You can collaborate with an Amazon truck accident lawyer in Albany, NY, to determine how limited liability and other factors may contribute to these cases.
Third-Parties in Amazon Truck Accident Cases
There is a chance that another party may be held responsible for the losses you and dirt do to an interaction with an Amazon truck on the highway. Other motorists who force an Amazon truck driver to react to their negligence can be held liable for your losses. So too can the packers who place packages and other materials and an Amazon truck bed.
Even manufacturers and mechanics can be responsible for the failure of an Amazon truck on the road. Before you can bring these parties to court, however, you must prove that they bear some liability for your losses. You do this by presenting evidence found either at the scene of your accident or in relation to the truck that allegedly caused your accident.
Our team can move quickly to gather data from a truck's black box or the scene of an accident. From there, we can compose the story told by your data and ensure that it and its validity reaches a county clerk within your case's statute of limitations.
Comparative Negligence in Amazon Truck Accident Cases
There are some instances in which no one party can be held liable for the full extent of your losses. If this is the case, you may have to work within the doctrine of comparative negligence. New York's comparative negligence doctrine is generous in that it allows you to hold multiple parties accountable for your accident losses.
More specifically, you can use evidence to assign percentages of fault to different parties found at the scene of your accident. So long as you comprehensively indicate that these parties' negligence resulted in your losses, you can demand financial support from both of them as you recover.
Your Amazon Truck Accident Case Is on a Deadline
New York Civil Practice Law & Rules (CVP) §214 controls what case comes before the state civil courts. Ideally, this statute of limitations keeps the cases that go before New York civil judges up to date. In some cases, however, the deadline put on your right to file a lawsuit against an offending party can feel pressing.
In most circumstances, victims of Amazon truck accidents have three years to present their cases to a County Clerk and civil judge. Failure to submit a claim within this time. Gives a judge the right to waive your opportunity to pursue compensation through the New York Court System.
If you find yourself bumping up against the deadline put on your case, contact an Albany Amazon truck accident attorney today. Our team can work within the deadline placed on your case to give you every opportunity to fight for financial support.
Don't Let Amazon Prevent You from Fighting for Financial Support
Amazon may have many protections in place to protect it from civil lawsuits. Even so, their drivers still owe you a duty of care while you're on the road. Any Amazon truck driver that engages in roadway negligence can find themselves responsible for your financial recovery, should you wish to take said parties to civil court.
For help holding Amazon drivers or other applicable parties liable for your Amazon truck accident losses, turn to Morelli Law Firm. Our Amazon truck accident attorneys in Albany, NY, can work with you to establish your case. We can begin discussing what your right to compensation may be after you request a case evaluation.