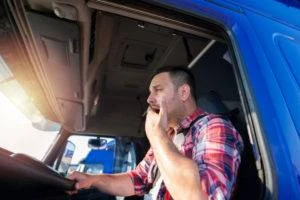 Being involved in an accident with an 18-wheeler can change your life in an instant. Big rig accidents can cause devastating injuries or death to the occupants of smaller vehicles. Survivors of these crashes often face significant challenges in getting compensation from large trucking companies and their insurance carriers.
Our Albany 18-wheeler accident lawyers fight relentlessly to get our clients the compensation they are entitled to. We aim to help truck accident survivors move forward with their lives following a life-altering truck wreck. If you were injured in a car accident with an 18-wheeler in Albany, NY, or elsewhere, one of our attorneys would be happy to evaluate your case.
Trucking Industry Laws that May Affect Your Case
Truckers and commercial trucking companies are subject to the Federal Motor Carrier Safety (FMCSA) Regulations in addition to regular traffic laws. Trucking companies are also required to maintain adequate insurance policy limits to cover damages caused by their drivers.
Trucking companies are responsible for maintaining their vehicles and keeping them in safe operating condition. Failure to inspect and repair faulty brakes, tires, and other truck parts can put other motorists on the road in grave danger. It can also make the trucking company liable for any incident resulting from an equipment failure.
Whether the accident was caused by a fatigued or careless trucker or an unsafe truck careening out of the driver's control, you deserve to be compensated. An 18-wheeler accident lawyer at our firm would be happy to review your case, and you won't have to pay anything upfront since we operate on a contingency fee basis.
Identifying Liable Parties in Your Albany 18-Wheeler Accident
More than one party could be to blame for your accident injuries. Often, truck accidents have multiple at-fault parties. Because of this, the claims process can be complicated. The people and entities responsible for a truck accident may include the following parties:
Truck driver
Trucking company
Truck owner
Cargo loaders or freight forwarding company
Certain government entities
Truck or trailer manufacturer
Repair service or mechanics who worked on the truck
When you partner with our firm, an Albany 18-wheeler accident attorney from our team can help identify the responsible party or parties in your accident and pursue them for damages on your behalf. We are eager to go after any person or entity whose negligence caused your accident.
Damages that May be Available in a Truck Accident Claim
When you are involved in an accident, the damages you suffer obviously include the injuries you have suffered, the vehicle you have lost, and the medical expenses associated with your treatment. However, there are other losses you may seek in an Albany truck accident case that you may not have considered.
Common damages in an Albany 18-wheeler accident include:
Medical expenses (past, present, and future)
Loss of wages
Pain and suffering (including emotional anguish)
Loss of enjoyment of life
Diminished future earning potential if you are left with a disability
Funeral and burial expenses if a loved one died
Loss of companionship
Truck Accident Results Achieved by Our Firm
Our trucking accident lawyers have decades of combined legal experience and a proven track record of results. We've secured precedent-setting verdicts and helped numerous individuals and families obtain the financial recovery they need after a catastrophic accident. Here are some of our previous results in truck accident cases:
$3 million for victims of an accident that happened on an out-of-state highway
$5.4 million for a delivery driver who suffered severe injuries in a collision
$11.2 million for a woman who sustained injuries in an accident with a speeding truck
Obviously, every case is different, and your settlement will depend on the severity of your injuries and the unique circumstances of your case. However, you can rest assured that you'll have a team of experienced lawyers on your side with a proven track record of success in negotiating and litigating complex truck accidents.
Time Limit for Filing an Accident Lawsuit in New York
Anyone who wants to file a lawsuit with the court system after getting into an accident here in New York is subject to a deadline. This time limit is known as the statute of limitations. If you try to file after this deadline has passed, your case will be dismissed, and you will lose your chance of ever getting money for your injuries.
The statute of limitations in New York is three years from the date of the incident, as set forth in N.Y. CVP § 214(4). This deadline applies to property damage, personal injury, and emotional anguish claims. Even though you technically have three years to bring a lawsuit, we recommend securing legal counsel immediately.
The statute of limitations is there for a reason. As time passes, it becomes more challenging for both sides to remember details and find evidence. While three years may seem like a long time, there is much to be done in these cases. Insurance companies have their own deadlines, and victims and attorneys must move quickly to secure evidence while the case is still fresh.
18-Wheeler Accident Attorney in Albany, NY
If you or a loved one has been involved in an accident with an 18-wheeler that was someone else's fault, you deserve compensation for everything you've been through. Our team at Morelli law is available to discuss the details of your accident during a free case evaluation.
During this initial consultation, we will listen to your story and advise you on how to approach your claim. We will then explain our plan for getting you compensation and advise you of your next steps. We are committed to helping truck accident survivors obtain the financial recovery they need. Contact our 18-wheeler accident lawyer in Albany, NY, today.