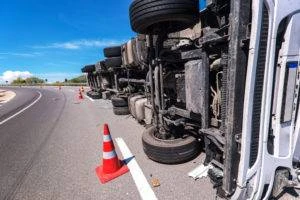 Being involved in a car accident with a big rig is a dreadful experience, as these accidents can lead to devastating injuries, wrecked cars, and fatalities. And even when the victim escapes unscathed or with slight injuries, the trauma can stay with them for a long time.
If you have been involved in a big rig accident in North Bergen, NJ, and are thinking of filing a compensation claim, it is important to let a North Bergen big rig accident lawyer from Morelli Law Firm handle your compensation claim and follow through on the process.
As one of New Jersey's leading truck accident law firms, Morelli Law Firm boasts of a highly trained and qualified legal team that's experienced at handling truck accident claims in Hudson County. Let us help you file your injury claim and get the maximum settlement possible.
How Can We Help You Recover Compensation After Your Big Rig Crash?
In truck accident cases, who you hire to fight your case and file your claim, is very important. Morelli Law Firm has a lot of experience taking on big trucking companies and getting favorable outcomes for clients from them. We're able to do this because of our legal process and experienced big rig attorneys in North Bergen, NJ. Here's what our process looks like:
First, we'll ascertain if you genuinely have a case – We'll do this during the case evaluation process. Here, you'll tell us everything you know about your case. Then, we'll talk to you about the potential outcomes of your case.
Start investigations and gather evidence – This is a very vital part of the case as it sets the playing field for your claim. Once we determine that you do have a valid case, it's time to start building the case by getting as much evidence as possible. We will contact the police and request the accident report and/or send a spoliation letter for the preservation of evidence to the other party. This will ensure that they don't destroy any evidence they have if we can't find enough evidence.
Identify who is responsible for the crash and your injuries – Although New Jersey is a no-fault state, this is an important step. If your insurance coverage is insufficient, you may have to file a third-party insurance claim with the other party's insurance provider.
Determine your settlement amount – This is where we weigh all your past, current, and future losses and many other elements before we arrive at a suitable settlement number.
File the claim with the relevant insurance providers – We'll first file a claim with your insurance company. Please note that they may only pay your claims based on your coverage limits. Once that's maxed out, we will proceed with filing the claims with the other liable party's insurance provider.
Negotiate settlements where necessary – Sometimes, insurance providers will counter our offer when this happens, and we are obligated to inform you of this offer. However, it's our duty to negotiate in your best interests. So, if we feel that the offer is too low, we will tell you and then you can make your decision. Ultimately, we will keep negotiating until they pay you what you deserve.
Go to trial – If the negotiation process falls apart and we can't come to an acceptable agreement, we may need to take the case to court where we'll work hard to convince the jury to award you the right settlement.
If you'd like to know more about how we've helped injured victims like you recover the compensation that they deserved, feel free to contact us.
What Can You Do If Your Loved One Was Involved in a Fatal North Bergen Big Rig crash?
Because of trucks' massive size, car accidents with big rigs in North Bergen, NJ, can lead to loss of lives. In fact, it's not just limited to smaller vehicles. Even when similar-sized trucks are involved in a crash, the outcomes can be fatal.
If you have lost a loved one in a truck accident in Hudson County, NJ, our big rig lawyers in North Bergen can help you file a wrongful death claim. This will allow you to seek justice for the demise of your loved one and possibly recover some compensation. This compensation is designed to cover the following:
Funeral and burial expenses
Medical expenses up to the point of the deceased's passing
Lost future income
Lost benefits provided by the deceased
Loss of inheritance and legacy
Pain and suffering by the deceased before they passed
Loss of companionship and consortium
Loss of society
Loss of guidance and support
How Long Do You Have to File a Claim After a Truck Wreck in New Jersey?
New Jersey's statute of limitations – how much time you have to bring a legal action – gives you just two years from the date of the incident to file a personal injury claim or a wrongful death lawsuit. If you miss this state-mandated deadline, it may be difficult for you to recover compensation and get the settlement you need.
So, even if you feel that you have time, it's important to note that truck wreck cases are typically lengthy and complex. Those two years can be over in a flash and your case would still be in contention.
Start the process as quickly as you can. With the help of our experienced big rig attorneys serving North Bergen, we can speed up the process and avoid all the bottlenecks you would have had to deal with if you did it yourself.
Contact an Experienced North Bergen Big Rig Accident Lawyer
Don't delay or assume you have time. Begin the claim filing process today with the help of our skilled and qualified truck crash lawyers in North Bergen. We have successfully represented multiple victims of these accidents and recovered good settlements for them.
Our truck accident attorneys have recovered over a billion dollars in compensation for victims. We know how to fight all liable parties and get them to pay you what they owe. Let's help you do the same. Contact us for a free case evaluation today.