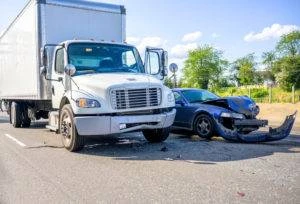 Walmart employs truck drivers with the intent of transporting goods across the country. These drivers have obligations to both the company and you when they're on the road. Drivers must protect the well-being of their products while taking reasonable steps to prevent roadway accidents.
Walmart truck accident lawyers in Albany, NY, recognize that not every truck driver is as cautious as they should be on the road. Should you endure an accident due to a Walmart truck driver's negligence, it's easy to feel like you've been cheated. Fortunately, Morelli Law Firm can help you bring your losses to the attention of a judge, where you can then fight for justice.
Walmart Is Responsible For The Behavior Of Full-Time, On-Duty Employees
When establishing liability in a New York truck accident case involving a corporation, evidence is only part of your formula. While footage of an accident can help establish negligence, for example, the relationship between a driver and their parent company determines who you take to court.
Walmart specifically offers legal protection to full-time, on-duty employees involved in accidents. If you want to file a lawsuit against the corporation, you need to present evidence indicating that the driver in question met Walmart's definition of "on-duty" and "full-time."
This process may seem pedantic. However, companies like Walmart may use any means to try and avoid paying you the compensation you deserve after an accident. If you can present evidence firmly establishing a driver as compliant with the company's expectation of its employees, you may have an easier time requesting your damages.
The Independent Contractor Conundrum
These days, companies like Walmart are increasingly forgoing full-time employees in favor of hiring independent contractors. While the work that independent contractors do cannot be overstated, these employees hold risky positions within their companies.
Walmart, for example, can refuse to legally protect its independent contractors on the grounds that those contractors aren't full employees. If you want to pursue civil action in the wake of an accident, you cannot name Walmart as a liable party if you're suing an independent contractor. You need to know what position a truck driver specifically holds before you go to court.
That said, companies like Walmart can also misrepresent the role of their full-time employees if they want to avoid culpability for your losses. If you think that Walmart may be misrepresenting the responsibilities they owe to a truck driver, tell our Walmart truck accident attorneys in Albany. We can dig into your case and make sure you target the appropriate party.
Our Attorneys Defend Your Right To Comprehensive Truck Accident Compensation
Car accidents are relentlessly expensive. When you consider the size difference between a truck and a car, or even a truck and a person, the expenses tied up in a Walmart truck accident can seem insurmountable. This is not the case. When you pursue a civil lawsuit against an offending party, you can make your post-accident bills easier to handle.
More specifically, a Walmart truck accident claim allows you to request accident compensation from the party believed to be liable for your losses. So long as you can prove your right to that compensation, an offending party can take on the expense of your:
Medical bills
Property damage
Lost wages
Lost opportunities for work
Loss of consortium and/or companionship
At-home care
Emotional distress
Pain and suffering
You can work with our Albany, NY, Walmart truck accident lawyers to calculate the value of these losses ahead of time. When you know what the average value of your case may be, you can more effectively negotiate for a comprehensive settlement.
Reacting To Settlement Offers From Walmart
Because Walmart is one of the largest corporations operating in the United States today, the company has extensive means available to it. A representative is likely to reach out to you in the wake of an accident with a settlement offer. Settlements can stand in for compensation awarded by a court, keeping both you and Walmart from having to go before a judge.
However, corporations like Walmart are often quick to underestimate the value of your case. Fortunately, you can weigh the value of the offer alongside an attorney and negotiate for more coverage.
When To File An Albany Walmart Truck Accident Complaint
To request compensation in the wake of an accident with a Walmart employee, you need to file a civil claim. These claims provide a civil judge with details regarding your case as well as evidence of your losses.
You need to act quickly if you want to file a Walmart truck accident claim in civil court. The amount of time in which you can file a civil claim is limited by New York's statute of limitations. New York Civil Practice Law & Rules § 214 notes that survivors of truck accidents have three years to submit accident claims in pursuit of civil compensation.
Three years is a considerable amount of time, but your physical recovery may still be first and foremost on your mind. That's why our team can step in and do the heavy lifting on your case. When you collaborate with our team, you can trust us to gather evidence, establish your story, and manage your legal schedule.
Our Attorneys Know How To Challenge Walmart In Civil Court
Corporations like Walmart don't have the right to march over your legal rights. If you get into an accident with a truck driver employed by Walmart or its associates, you have the right to take legal action against them. Our team of Walmart truck accident lawyers in Albany, NY, has experience prosecuting these cases and can bring your concerns before a civil judge.
Filing a complaint against a corporation like Walmart can help you financially recover from a truck accident. For more information about how to bring a Walmart truck accident complaint to a local county clerk, you can meet with our team at Morelli Law Firm. Request a case evaluation by calling our office or sharing information about your case through our website.