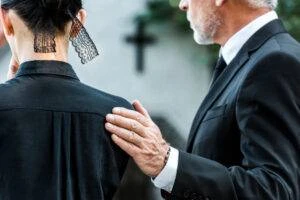 States like New York require their truck drivers to undergo intensive training for a reason. Truck drivers who lose control of their vehicles or otherwise fail to appropriately operate them on the road endanger everyone around them. The accidents that stem from truck drivers' failure to control their vehicles can see victims left with life-long disabilities and financial woes.
In worst-case scenarios, these accidents can even prove fatal.
If you've come away from a truck accident having lost a loved one, you deserve justice. Fortunately, Morelli Law Firm's truck accident wrongful death lawyers in Albany, NY, can help you seek it. You can file a claim against a negligent truck driver or their parent company to seek damages on behalf of a departed loved one.
Breaking Down a Family's Rights After a Fatal Truck Accident
When a person dies in a fatal truck accident, the responsibility for their estate and post-life affairs most often falls to their family or personal representative. Who, though, has the right to take legal action on behalf of the deceased? Families can turn to New York Consolidated Law §4-1.1 for answers.
This statute dictates that should parties want to pursue legal action on the part of a party killed in a truck accident, those parties must bring forward proof that they are the deceased's parents, spouse, or child. These are the only parties who can file a personal injury claim on behalf of the deceased.
If none of these parties are available to file a claim for the deceased, responsibility for post-life legal action falls to the representative of the deceased's estate. Interested parties can discuss the election of a personal representative or matters relating to the personal representative with Morelli Law Firm's fatal truck accident attorneys in Albany, NY.
When to File an Independent Personal Injury Claim
If you don't qualify to file a fatal truck accident claim on a deceased individual's behalf, there may still be paths through which you can secure loss-based financial support. You may have the right to an individual civil claim, provided that you can bring forward evidence outlining your role in a recent truck accident.
Filing a personal injury claim detailing your own losses can give you the right to fight for equivalent damages in civil court. You may even have the right to request wrongful death damages based on your grief. You cannot, however, request that the liable party compensate you for the departed's injuries or post-accident care.
You can discuss your right to an independent truck accident claim with Morelli Law Firm.
New York Confines Your Right to Legal Action to a Tight Deadline
You must bring a completed civil complaint forward within New York's personal injury statute of limitations to qualify for fatal truck accident damages. The state outlines your filing deadline in New York Law §5-4.1. This statute states that you have no more than two years to act on your losses. You cannot file a claim after this statute of limitations expires.
How to Investigate a Fatal Truck Accident
You've decided to take action against the party liable for your loved one's fatal truck accident. How do you begin to hold that person responsible? You file a personal injury claim on behalf of the deceased. Your complaint needs to be comprehensive if it's going to travel through New York's civil courts. It should specifically address:
The negligence that led to your loved one's passing

Your evidence of that negligence

The economic impact your loved one's passing had on your life

What evidence you have of that economic impact
Fortunately, you're under no obligation to compile a fatal truck accident complaint alone. Experienced attorneys can investigate your case while you and your loved ones grieve. We can file your completed complaint together before negotiating for damages or fighting for them in civil court.
Step 1: Establish Negligence and Liability
You need evidence, from video footage to bystander accounts, to make a fatal truck accident claim. However, evidence isn't the only factor to determine liability in accidents involving commercial drivers. You have to consider what contracts exist between truck drivers and their agencies before you file your claim.
Independent truck drivers must bear responsibility for any accidents they cause themselves. However, drivers who constitute employees in the eyes of today's corporations or agencies may benefit from those institutions' legal protections. If you get into an accident with a company's employee, you may have to name that company liable for your loved one's death.
Our team can break down the role contracts play in your loved one's fatal truck accident case before helping you move your civil claim forward.
Step 2: Know Your Case's Value
New York's civil courts require you to submit an estimate of your fatal truck accident case's total value before the case moves forward in civil court. In turn, you need to estimate the sum of your case's economic and non-economic damages. The damages that you can request on a loved one's behalf can include coverage for their and your:
Medical expenses

Pre-death assistance

Lost wages

Long-term reduced income

Property damage

Loss of consortium

Loss of companionship

Pain and suffering

Mental anguish

Emotional distress

Funeral expenses
You can discuss how to defend your claim to any of the above forms of compensation with a fatal truck accident attorney in Albany, NY.
Take Control Over Your Loved One's Post-Life Care
Fatal truck accidents leave you with more than immeasurable grief. These accidents can rob you of essential income and force you to contend with the bills generated by your loved one's pre-death care. You shouldn't have to address these losses when someone else bears fault for your loved one's unexpected and unnecessary passing.
It's time for you to take action. You can request a case evaluation with the fatal truck accident lawyers in Albany, NY, to learn more about your right to legal action on a loved one's behalf. Morelli Law Firm can help you compile a fatal truck accident complaint and fight for the compensation you need to address the bills you're left with.