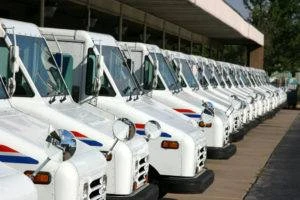 UPS drivers do essential work throughout the United States. The responsibilities foisted onto these drivers require them to protect other drivers, themselves, and the goods they carry. Failure to protect your packages or your loved ones on the road can make UPS and its drivers liable for your related losses.
That said, bringing a case up against a company like UPS can be both intimidating and complicated. While you can pursue a case without representation, it's often easier with help from an Albany, NY, UPS truck accident lawyer. Morelli Law Firm can put you in touch with a team that can help you secure compensation for your UPS truck accident losses.
Liability in a UPS Accident
Car accidents with UPS trucks in Albany, NY, can look like any other truck accident on the road. You may find yourself in a head-on, side-impact, or rear-end collision with an offending driver. However, if you want to hold a driver accountable for their behavior, you must present evidence of negligence to a civil court.
The evidence you present must indicate that:
The UPS truck driver owed you a duty of care at the time of the accident
The UPS driver violated the duty of care owed to you
Said violation occurred as a result of roadway negligence
Said negligence resulted in severe losses for you or your loved ones
UPS Hires Part-Time and Independent Drivers
When it comes time to assign liability for your accident, you need to determine what role a driver played within UPS as a company. UPS will protect its full-time and part-time employees from the legal consequences of their driving behavior. If you get into an accident with one such driver, you must name UPS, the company, liable for your losses.
Should you get into an accident with an independent contractor, however, your circumstances change. Accidents involving independent drivers operating for a company like ups are equivalent to car accident cases involving private drivers. You can only take up your case against that individual.
There have been instances, however, of Corporations like UPS misrepresenting the role that a full-time employee plays within their company. Corporations that want to protect their bottom lines may claim that an employee operates as an independent contractor. That's why it is important to research the role a person plays within their company before you press your suit.
Demanding Compensation for UPS Truck Accident Losses
Not all UPS trucks are the size of 18-wheelers. That does not mean, however, that the consequences of these accidents cannot be costly. Your recovery may be expensive, but you don't have to contend with your bills on your own. Instead, you can request all of the following damages when presenting a civil complaint to an applicable court:
Medical expenses related to post-UPS truck accident care
At-home care services
Lost time at work
Lost opportunities for alternative employment
Property damage related to your accident
Emotional distress
Stress
Pain and suffering
Wrongful death and funeral expenses, as needed
Our team uses the sum of your accident's bills alongside state-approved multipliers to establish your case's value. An Albany UPS truck accident attorney can determine what dollar value you might apply to your case during your first few consultations with our team.
When to Accept a UPS Truck Accident Settlement Offer
At the end of the day, UPS is a corporation. Like other corporations, UPS wants to protect its bottom line from undue expenses. As such, the corporation may take several steps to avoid going to court over a truck accident injury. You, in turn, may receive a settlement offer from the company in the days following your accident.
The timing of the settlement offers can make them seem more benevolent than they actually are. In reality, you should not accept the first settlement offer that comes to your doorstep after a truck accident. Instead, you should compare that settlement offer against your own estimate of your accident's value.
Our truck accident lawyers can calculate the sum of your losses and compare that sum against the settlement offer. If the offer seems unfair, we can negotiate for more coverage on your behalf. We can also advise you when a settlement may be acceptable to take.
When to Bring Your UPS Truck Accident Losses to the Attention of a Lawyer
Whether you want to take up a complaint against an independent driver or UPS, the company, you must do so within New York's personal injury statute of limitations. Your UPS truck accident qualifies as a personal injury case in part due to the category's significant legal breath.
New York Civil Practice Law & Rules §214 notes that survivors of UPS truck accidents have three years to present their cases forward. Any survivor that does not take advantage of this time block will waive their right to compensation. You cannot, in other words, pursue compensation for your losses without submitting a civil claim.
If you are in the process of recovering from injuries in the immediate wake of your accident, don't worry about this deadline. Instead, let UPS truck accident attorneys in Albany, NY, go to work for you and let you know if any exceptions apply. We can gather evidence from the get-go and make sure you have what you need to present your case within the time limit established by the state.
Let Morelli Law Firm Stand With You After a UPS Truck Accident
UPS drivers and their employer are as liable for roadway accidents as the average carrier. You don't have to let these parties get away with the roadway negligence that resulted in your accident. Instead, you can collaborate with our team of UPS truck accident lawyers in Albany, NY. We can take up action against UPS and any drivers associated with your accident.
It's time for you to file a claim against the party responsible for your UPS truck accident. Request a case evaluation from our team today. You can get your name on our books by calling our office during operating hours. We are also available to discuss your availability via our online form.