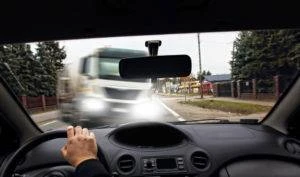 A CMV accident is a collision that involves a commercial motor vehicle (CMV), such as a bus, semi-truck. When a commercial vehicle strikes a passenger vehicle, the passenger vehicle occupants often suffer significant injuries. The reason is that CMVs are generally larger and heavier than smaller cars, trucks, and SUVs. Many also carry heavy or hazardous materials.
Even in relatively low-speed accidents, traumatic or fatal injuries are possible. If you or a family member had a CMV accident, you could hold the driver, their employer, and other parties responsible for the resulting damages.
Types of Commercial Motor Vehicles
According to United States Code § 31132, CMVs include vehicles that are:
Over 10,001 pounds
Designed to transport 16 or more people
Designed to transport certain hazardous materials.
CMVs frequently transport goods, passengers, or equipment for commercial purposes. Common examples of CMVs include:
Tractor-trailer trucks, semi-trucks, and 18-wheelers
Delivery trucks and vans
Garbage and recycling trucks
Dump trucks
Tow trucks
Buses and coaches
Construction and landscaping vehicles
Due to their size and the cargo they usually carry, any of these vehicles could cause catastrophic damage in a collision. This could include permanent or life-threatening harm, such as traumatic brain injuries (TBIs), spinal cord injuries, broken bones, and internal bleeding.
Negligent Acts That Can Cause CMV Accidents
The drivers of these vehicles are generally on the clock while they are behind the wheel. However, even qualified commercial drivers can make careless mistakes and cause traffic accidents. In some cases, the fact that they are working increases the risk of an error. For example, they may have been speeding to meet their deadlines or delivery quotas.
CMV drivers and trucking companies must follow state safety regulations for the upkeep and operation of these vehicles. This includes:
By not adhering to these laws, the chances of a serious CMV accident increase. Examples of negligence that can lead to collisions include:
Driving while fatigued
Driving while distracted
Driving carelessly during extreme weather or road conditions
Driving while under the influence of alcohol or drugs (including prescription and over-the-counter drugs)
Failing to secure cargo or load the trailer properly
Failing to conduct regular vehicle maintenance
Failing to hire trained and licensed drivers – or to provide training and licensing
When you hire our firm for your case, we can help identify the cause of the CMV accident and who to hold liable for the damages.
Vicarious Liability and Other Laws in CMV Accident Cases
In general, the way you pursue damages for a CMV accident does not differ dramatically from how you seek compensation for any other type of collision. However, more than one party is often liable in these cases.
In addition to filing an insurance claim or lawsuit against the CMV driver alone, you could also file one against their employer under the legal principle of vicarious liability. Under this doctrine, employers are responsible for their workers' actions while completing their job duties—such as driving a CMV. Trucking companies could also be liable for:
Encouraging their drivers to violate FMCSA regulations
Failing to perform background checks on their drivers
Other negative hiring practices
Allowing drivers to operate their CMVs without valid licenses
These factors could be relevant in establishing liability for commercial vehicle accidents. Our hit-and-run accident attorneys in New York will review such details while investigating your case.
Recoverable Damages in an Insurance Claim or Civil Cuit for a CMV Accident
Depending on the nature of your accident, your injuries, and personal injury laws in your state, the following damages may be recoverable in a car accident case:
Current and future treatment, medical care, and other expenses
Current and future lost income and any related benefits
Diminished earning ability from long-term injuries
Repair or replacement of your damaged vehicle
Out-of-pocket costs related to the accident
Pain and suffering damages
Other intangible losses
Our legal services include identifying and estimating the value of your damages after a car or truck accident. You should not have to shoulder the financial consequences of a CMV accident or watch the liable parties get away with their negligence.
The Statute of Limitations for CMV Accident Lawsuits
Each state has a statute of limitations, or legal deadline, for filing a personal injury lawsuit after a car or truck accident. These include:
New York: A general three-year statute of limitations, per CPLR § 214
New Jersey: A general two-year statute of limitations, per NJ Rev Stat § 2A:14-2
Pennsylvania: A general two-year statute of limitations, per C.S.A. § 5524
Failing to file a lawsuit within the statute of limitations could result in its dismissal. You could lose the opportunity to collect compensation from any liable parties. When hired soon after the collision, our attorneys will keep your case on track.
Protecting Your Rights After a CMV Accident
Just like in a passenger car crash, if you've been injured in a commercial vehicle accident, it's crucial to take the necessary steps to protect your rights. If you were involved in an accident involving a commercial motor vehicle and your injuries allow, make sure to:
Stay at the accident scene.
Check on all drivers and passengers to see if anyone needs medical attention.
Contact the police because there is evidence of property damage, injury, or death.
Get the names, contact information, driver's license numbers, license plate numbers, and insurance information from all drivers involved.
Inform your insurance company.
Collect evidence, such as the police report and pictures of the accident scene, your injuries, and property damage.
Seek medical attention and keep records of your appointments, medications, and treatments.
CMV accidents are complicated, but a CMV accident lawyer from our firm can help ease the stress of this process and protect your right to seek damages. We offer many types of legal services.
Hiring a Personal Injury Attorney
Getting a personal injury lawyer can bring you peace of mind as you recover and tend to your family members and other priorities. Our legal professionals will do the research necessary to support your case and guide you through each step of the process. We focus on the legal legwork so that you don't have to.
Furthermore, our attorneys can handle your case on a contingency fee basis. This means you will not need to pay us anything for our legal services unless and until we recover a settlement offer or court award in your collision case. For more insight into how our firm supports accident victims and their families, you can review our results.
Call Morelli Law Firm Today to Get Started with a Free Case Review
If you were hurt in a CMV accident, Morelli Law Firm is here to help you. We take on CMV collision cases in:
Our New York car accident attorneys will review your case for free if your accident occurred in one of these areas. Call to get started today.