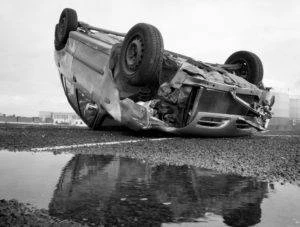 There are a few factors that qualify a car crash to be considered a Department of Transportation (DOT) reportable accident. The Electronic Code of Federal Regulations (eCFR) §390.5T states that the following circumstances make a crash involving a commercial vehicle reportable:
Someone is injured and must leave the crash scene to receive immediate medical treatment
Someone dies in the accident
One of the vehicles involved in the accident must be towed away
What Is the Purpose of a DOT Report?
The purpose of a DOT report is to help determine the safety rating of commercial trucking companies.
Most states have a point system in place for all drivers. Various traffic offenses can add points to your license. Receiving too many points in a set time frame can result in the suspension of your driving privileges. The DOT maintains a similar system for trucking companies.
Trucking companies must report certain types of accidents to the Department of Transportation. If their incident rate is too high, they can face many repercussions, including sanctions. Since most trucking companies operate across state lines, their records are tracked on the federal level rather than at the state level, like with most driving offenses for individuals.
What Is Included in a DOT Report?
According to the Federal Motor Carrier Safety Administration (FMCSA), accident reports with the DOT must show:
The date that the crash occurred
Where it occurred, including the nearest city or town
The name of the driver involved
How many injuries or deaths occurred in the accident
If any hazardous materials besides fuel were spilled or released in the accident
The FMCSA uses comprehensive accident data to track and monitor both motor carriers and their drivers. The FMCSA may use crash reports to determine whether or not a motor carrier or commercial driver is safe to continue operating their vehicle on the roads with other drivers.
If You Were Hurt in an Accident With a Commercial Motor Vehicle
If you were hurt in an accident involving a commercial motor vehicle, the responsible party may owe you compensation for your damages.
Depending on the nature of your accident, the liable party may be:
A commercial vehicle driver
The company that employed the commercial vehicle driver
A negligent mechanic or component manufacturer
A negligent municipality
Other liable parties
A DOT accident report may be used as evidence of the responsible party's liability in your case. Other types of evidence may include:
A police accident report
Photos, videos, or dashcam footage from the scene of the accident
Witness statements
Your medical records
Testimony from accident reconstruction data
Recoverable Damages in a Car Accident Case
Depending on the nature of your accident, your injuries, and the personal injury laws of the state you are filing in, the recoverable damages in a car accident case may include:
Ambulance fees and emergency medical treatment received after the accident
Current and future medical care, therapies, and medication for accident-related injuries
Lost wages for the time when your injuries prevented you from working
Property damage
Reduced earning capability
Pain and suffering
These are just a few of the damages you may be eligible to recover after an accident. The specific damages for which you qualify will depend on the specifics of your case. A car accident lawyer can review the costs you incurred and advise you of the full value of your claim.
If your loved one passed away in a commercial vehicle accident, an alternate set of damages may be available to you in a wrongful death lawsuit.
Working With a Lawyer on Your Case
A lawyer that handles commercial vehicle accidents may be able to represent your personal injury or wrongful death lawsuit. This may allow you time and space away from the legal proceedings while your lawyer pursues compensation on your behalf.
A lawyer may be able to:
Manage your insurance claim, settlement negotiations, or lawsuit
Handle all communications with insurance companies, lawyers, and other parties on your behalf
Manage the legal deadlines and paperwork in your case, including a DOT report
Investigate your accident and identify the liable party
Collect evidence of their liability and the extent of your damages
Negotiate for a settlement that reflects the value of your claim with the responsible party's insurance company
Go to trial and defend your case before a judge or jury if a fair settlement offer is not made
The Cost of Legal Representation
Most people would prefer to have a lawyer representing their case in these situations. However, many people shy away from the notion because they are afraid of the cost. While it is true that many lawyers charge hefty fees for their services, this does not hold true for most personal injury lawyers.
The vast majority of personal injury lawyers work on a contingency-fee basis. Under this system, clients are not obligated to pay attorney fees unless and until they win their case and receive a payout via a settlement offer or court award. When a client does receive compensation, their lawyer's fees will be taken directly from the payout at a pre-discussed percentage.
With this payment system, clients can feel confident that their lawyers will do everything in their power to ensure they get the most money possible for their claim.
Generally, clients who hire personal injury lawyers receive far greater compensation than those who attempt to represent themselves. Even after their attorney has deducted their fee, these people are typically in a much better financial position.
Morelli Law Firm May Be Able to Help You
If you were hurt in a collision with a commercial vehicle that was considered a DOT reportable accident, you may be facing some legal complexities.
At Morelli Law Firm, our team of attorneys represents victims of commercial vehicle accidents in New York City, Long Island, New York state up to Albany, Northern New Jersey, and Philadelphia.
We understand both state and federal rules that apply to commercial vehicles. We are not afraid to take on a major company or corporation whose employee may have injured you.
To speak to someone in our office about your current situation, reach out and call us today or fill out our online form. We offer free case evaluations to accident victims in our service area. A member of our team is standing by to discuss your accident, injuries, and legal options today.