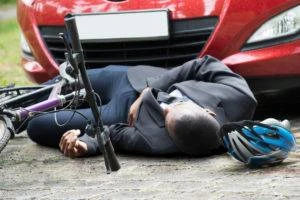 A bicycle accident can leave you with serious injuries and expensive medical costs. Moving on after an accident can be extremely challenging without recovering fair compensation for your losses. If you have been injured in a bicycle accident, hiring an experienced attorney is one of the most important steps you can take toward getting your life back on track.
At the Morelli Law Firm, we understand the challenges faced by bicycle accident victims. Our team of bicycle accident attorneys in North Bergen can help you get the money you need from the liable party while you focus on recovering.
What a Bicycle Accident Lawyer Will Do for Your Case
When you hire a bicycle accident lawyer, they will take over every aspect of your legal case and fight to get you the compensation you deserve. One of the first steps they will take will be to launch an investigation into your case. The main objectives of this inquiry will be to prove liability and collect evidence to bolster your compensation claim.
Some of the likely steps in this investigation include:
Visiting the site of the accident to gather evidence and take photographs

Interviewing all potential witnesses

Consulting various experts

Procuring a copy of the official accident report

Reviewing your medical files
Upon concluding their investigation, your attorney will calculate the total value of your damages. They will then speak to you and inform you of the strength of your claim and your best options for moving forward. The next step will most likely be to either file a personal injury lawsuit with the court or submit an insurance claim to the liable party's insurer.
Should you choose to pursue a lawsuit, your lawyer will begin the steps of the pretrial process as they continue to build your case and prepare to represent you in court. However, there is a high likelihood that your case will never reach the trial stage. Throughout the process, your attorney will attempt to negotiate a fair settlement deal with opposing counsel.
Bicycle Accident Lawyers Work on a Contingency Fee Basis
Bicycle accident lawyers in North Bergen, like all personal injury lawyers, work on a fee structure based on results. While other lawyers charge their clients based on the number of hours they spend working on their case, bicycle accident attorneys charge based on results.
When you hire a personal injury lawyer, you will agree to pay them a percentage of the money you recover from the liable party. This fee will be the entirety of the money that your lawyer receives from you for their services. The more money you collect, the bigger the payday for your attorney. Alternatively, if you don't recover compensation, your lawyer doesn't get paid.
This system ensures that the interests of your attorney match your own. You can rest assured that they will work diligently to get you as much money as possible for your claim. Additionally, this gives all accident victims an opportunity to hire an experienced legal professional to help them get the money they deserve after suffering an injury.
Damages You Can Seek After a Bicycle Accident
When you suffer an injury in a bicycle accident, there are many damages you will likely be able to claim. The specifics of your case will determine what damages may be on the table. The damages suffered in a bicycle accident can be divided into three main categories:
Economic

Non-economic

Punitive
Economic Damages
Economic damages are sometimes also referred to as monetary damages. That is because these are the losses that directly affect your financial situation. Economic damages include both money you need to spend and money you are unable to earn because of your accident. These damages include both present and future losses.
Common economic damages include:
Medical costs

Future medical bills

Property damage

Lost income

Diminished earning capacity
Non-Economic Damages
The rest of the losses you suffer fall under the categorization of non-economic damages. These losses often impact the lives of accident victims far more profoundly than economic damages. Because most of these losses can never be truly replaced, the compensation awarded for non-economic damages often comprises the bulk of the money victims receive.
Common non-economic damages include:
Decreased quality of life

Permanent disability

Loss of consortium

Pain and suffering
Punitive Damages
Punitive damages are rarely awarded in bicycle accident cases. Unlike the compensatory damages listed above, punitive damages do not focus on the accident victim. Instead, the aim of these damages is to punish the liable party for their actions.
Punitive damages are only awarded in cases where the at-fault party acted in a manner that was criminally negligent or carried out with the deliberate intention of causing harm.
Don't Delay When Filing a Bicycle Accident Lawsuit
When you file a bicycle accident lawsuit, it is critical to be aware of the statute of limitations. In the majority of bicycle accident cases, New Jersey gives victims two years from the date of the accident to file a claim. However, there are special circumstances that can change the amount of time you have to file.
To make sure that you meet all deadlines and don't miss out on your chance to collect compensation, you should hire an experienced bicycle accident attorney in North Bergen shortly after your crash. This will have the added benefit of putting your lawyer in the best position to gather evidence and build a strong case on your behalf.
Discuss Your Case With a North Bergen Bicycle Accident Lawyer Today
At the Morelli Law Firm, we are dedicated to helping our clients get the financial compensation they need and deserve after an accident. Our team of North Bergen bicycle accident lawyers has a proven track record of securing favorable outcomes for injury victims.
For a free consultation, give us a call or fill out our online contact form to request a free case evaluation. We will review your case and advise you about your legal options.