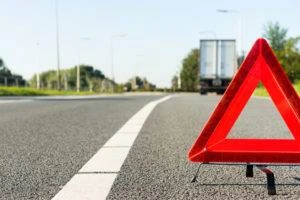 Road accidents happen daily in Newark, and you may need a lawyer if a Walmart truck is involved. Recently, many cargo companies have appeared in the news for car accidents related to driver negligence.
If you were a victim in an accident with a Walmart truck, this situation could be very different from a regular car accident. Trucks are heavy vehicles that can cause severe damage. Let us show you some of the most important things to consider when filing a lawsuit against a major trucking company.
Types of Truck Accidents in Newark, NJ
According to the Comparative Data Report for the State of New Jersey, in 2019, more than 10% of road accident fatalities were related to large trucks, while almost 40% of fatalities in accidents were caused by small trucks. Victims of those incidents suffered damages from bruises and scratches to brain injuries to wrongful death.
There are many causes behind truck accidents in Newark. In our years of practice, our attorneys have seen most accidents happen due to:
Driver's inattentiveness

Wrongfully executed wide turns

Rear end crashes

Rollovers

Lost load
Many accidents, such as those caused by weather conditions, are impossible to avoid. Still, most Walmart truck collisions in Newark result from human error, meaning a driver who got drunk on the job, worked excessive hours or was impaired by a medical condition.
Talk to your attorney to determine which was the cause of your accident. They will evaluate the facts and the evidence and present you with the most appropriate course of legal action. Your lawyer will also help you find who is liable for your damages after a truck accident in Newark.
Liability for a Truck Accident in Newark
Although in most cases, the one to blame is Walmart or any other trucking company, there are some instances where other parties can be found guilty.
Third parties.

Other drivers who bypassed any transit law can be found liable when those violations caused the truck accident.

Lack of maintenance.

Sometimes trucking companies ignore regular maintenance to save some time or money.

Cargo loading workers.

Bad planning or lack of attention can damage property and people.

Maintenance teams.

Trucking companies must provide appropriate maintenance either by themselves or by a third party.

Newark City or its contractors.

When damages result from bad city planning or inadequate road infrastructure, the City can be held liable.
Sometimes an attorney is not enough to determine who is liable and in what percentage. However, a prestigious law firm can provide experts in many fields to determine damages and compensation.
Compensation Amount You Can Get After a Truck Accident in Newark, NJ
Large trucks or semi-trucks are considerably heavy vehicles, which can be dangerous for pedestrians and other drivers. Fatalities are more common in truck accidents for that reason, and often cost thousands or even millions in compensatory damages.
If you were a victim of a truck driver's negligence, that could result in expensive medical bills due to specialized treatments, rehabilitation, and surgeries. Your attorney should also make a case to add lost wages, mental health therapy, and future treatment expenses.
Sometimes a family member was the victim. If someone close to you lost their life due to a truck accident in Newark, your attorney can add wrongful death charges to the claim.
A Truck Accident Lawyer Can Build a Strong Case Against Walmart
Getting legal representation on time can mean the difference between getting a financial arrangement to cover all your medical expenses and walking out empty-handed. As we can see in this case, the driver of a van was suspected of being under the influence, driver's negligence or poorly executed maneuvers can lead to terrible consequences for the victims.
Your Attorney Will Prove Liability
A lawyer can examine the facts that led to the accident and demonstrate the liability of Walmart or any other trucking company. Depending on that, they can also guide you through the complex legal system to help you get the maximum compensation possible.
An Experienced Law Firm Will Help You Put a Price on Your Claim
Truck accidents in Newark are complicated to price since many factors are usually involved. Your attorney will need to research, find evidence and talk to experts to determine how much money you are entitled to. Compensatory damages should cover medical bills, mental health therapy, and physical treatments for life.
There Is a Walmart Truck Accident Attorney in Newark to Help You
If you were a victim of a Walmart truck accident in Newark, getting medical attention should be a priority. After that, contact our law firm. We will give you a free case evaluation and all the legal assistance you need to get the compensatory damages you deserve.
Remember, big corporations like Walmart can use all sorts of methods to pay as little as possible, and if they can get away with it, they will completely deny your case. Let one of our experienced Walmart truck accident attorneys fight the legal battle while you recover your health.